Turkey's nationwide house prices soared by 30.6% during the year to Q1 2021, to an average of TRY 4,054 (US$502) per square metre (sq. m.), according to the Central Bank of the Republic of Turkey (CBRT), following y-o-y rises of 32.6% in Q4 2020, 28.1% in Q3, 23.7% in Q2, and 15.1% in Q1.

However in real terms house price growth is far more modest, at 13% during the year to Q1 2021, due to persistently high inflation. Yet this remains one of the strongest y-o-y episodes of real house price growth over the past decade.

On a quarterly basis, nationwide house prices increased 4.3% in Q1 2021 but were actually unchanged when adjusted for inflation.

In Turkey's major cities:

In Istanbul, Turkey's largest city and most expensive housing market, the average house price rose by 20.8% during the year to Q1 2021 to TRY 6,312 (US$782) per sq. m.  Adjusted for inflation, house prices were up a modest 4.5% y-o-y.
In Ankara, the country's capital, house prices rose by 28.3% y-o-y in Q1 2021 (11% inflation-adjusted) to an average of TRY 2,972 (US$368) per sq. m.
In Izmir, the country's third largest city, house prices went up by almost 40% y-o-y in Q1 2021 (21% inflation-adjusted) to TRY4,911 (US$608) per sq. m.

Turkey's housing market was mainly buoyed by local demand.  Foreign investment fell last year due to coronavirus-related restrictive measures.

During 2020, the total number of home sales in Turkey rose by 11.2% to almost 1.5 million units, in contrast to y-o-y declines of 1.9% in 2019 and 2.4% in 2018, according to Turkish Statistical Institute (TurkStat). Home sales increased 11.5% in Istanbul and surged by 18.6% in Ankara.

Foreign home purchases fell by 10.2% y-o-y to 41,298 units in 2020 due to coronavirus restrictions, according to TurkStat figures, having risen more than 38% annually during the years 2017-19. 

In what is likely further to encourage foreign purchases, in March 2021 the Turkish lira lost almost 8% of its value against the US dollar from just a month earlier, to TRY 7.68 per USD 1, after Erdogan unexpectedly sacked central bank governor Naci Agbal, on top of a 50% currency devaluation over the past three years.  For foreigners, the currency's devaluation means that the property market is very attractively priced, luring many buyers from the Gulf.

"Property values are low in dollar terms," said Priti Pandey of the School of Real Estate, RICS School of Built Environment, Amity University in Mumbai. "The Turkish government's decision to postpone the imposition of the luxury housing tax for one year, to 2021, impacted house demand positively, although the Covid situation did set a cautious approach to investment."

However Turkey's housing market growth is expected to moderate this year, as interest rates remain stubbornly high, and with the luxury housing tax now in force.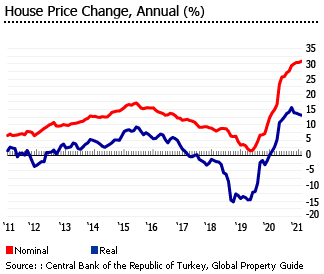 Turkey's economy grew by 1.8% during 2020, emerging as one of only few countries globally to avoid a contraction due to the COVID-19 pandemic. The growth was mainly driven by a burst of credit in mid-2020, with state banks lending almost doubled in 2020 from a year earlier.

Economic growth is projected to accelerate this year, with the International Monetary Fund (IMF) forecasting a 6% expansion – slightly more optimistic than the World Bank's estimate of a 5% growth.