Turkey is currently experiencing hyperinflation, with its overall inflation surging to a record high of 85.51% in October 2022, before easing slightly to 84.39% in November and 64.27% in December 2022. These figures were far from the annual average of 10.9% from 2000 to 2021.

Predictably, house prices are skyrocketing, too!

Turkey's nationwide house prices rose by a whopping 189.9% in November 2022 from a year earlier, to an average of TRY 16,984 (US$904) per square metre (sq. m.), according to the Central Bank of the Republic of Turkey (CBRT), following y-o-y rises of 64% in 2021, 32.6% in 2020, and 2.9% in 2019. It was one of the strongest y-o-y episodes of house price increases ever recorded.

Despite the huge difference between the nominal and real figures, inflation-adjusted house price growth during the year to November 2022 remains very high at 57.2%.

In Turkey's major cities:

In Istanbul, Turkey's largest city and most expensive housing market, the average house price soared by 193.9% during the year to November 2022 to TRY 26,904 (US$1,432) per sq. m. Adjusted for inflation, house prices were up by 59.4% y-o-y.
In Ankara, the country's capital, house prices rose by a huge 195.9% y-o-y in November 2022 to an average of TRY 12,446 (US$663) per sq. m. When adjusted for inflation, house prices increased 60.5%.
In Izmir, the country's third largest city, house price growth accelerated to 202.9% y-o-y in November 2022 (64.3% inflation-adjusted) to TRY20,861 (US$1,110) per sq. m.


New dwelling prices rose by 164.5% (43.4% inflation-adjusted) y-o-y in November 2022 while existing dwelling prices increased 176.4% (49.9% inflation-adjusted).

Overall property demand is more or less steady. In the first eleven months of 2022, the total number of home sales rising slightly by 1% to 1.28 million units as compared to the same period in the prior year, following a 0.5% decline during 2021, according to the Turkish Statistical Institute (TurkStat).

Foreign home purchases in Turkey rose by a huge 20.4% to 61,104 units in the first eleven months of 2022 as compared to 50,735 units in the same period a year ago, based on figures released by TurkStat. This was the highest sales to foreign homebuyers ever recorded.

In what is likely further to encourage foreign purchases, in the past three years, the Turkish lira lost about 69% of its value from just TRY 5.85 per USD 1 in December 2019 to TRY 18.66 per USD 1 in December 2022, as the central bank continued its unorthodox rate-cutting policy against a backdrop of soaring prices and trade imbalances.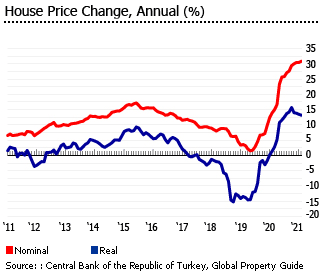 For foreigners, the currency's devaluation means that the property market is very attractively priced, luring many buyers from the Gulf.

Turkey's economy grew by about 5% during 2022, following annual expansions of 11.4% in 2021, 1.9% in 2020, 0.8% in 2019 and 3% in 2018, buoyed by strong investment, production and exports. Though economic growth is projected to slow this year, with the International Monetary Fund (IMF) forecasting a modest 3% expansion – slightly more optimistic than the World Bank's estimate of a 2.7% growth.