Montenegro's housing market condition is now rapidly worsening, amidst pandemic-induced economic recession.

The average price of new residential dwellings in Montenegro plummeted by a huge 21.93% to €876 per square metre (sq. m) during the year to Q3 2020, according to the Statistical Office of Montenegro, much worse than the previous year's 2.43% y-o-y fall and the biggest decline on record. When adjusted for inflation, new residential prices actually fell 22% y-o-y in Q3 2020.

During the latest quarter, the average price of dwellings dropped 12.4% q-o-q (-12.73% inflation-adjusted).

Demand is plummeting, especially from foreign homebuyers. In the first three quarters of 2020, foreign direct investment in real estate plunged 44.1% y-o-y to just €72.4 million, according to the October 2020 central bank report.

Surprisingly, construction activity continues to rise. During the first three quarters of 2020, the number of dwelling permits rose by 9.8% to 1,131 units from the same period last year, according to the Statistical Office of Montenegro.

The housing market is expected to remain depressed in the medium-term, amidst struggling economy caused by depressed tourism and persistently low oil prices. Montenegro's housing market, as well as the wider economy, is strongly influenced by the tourism sector, which accounts for about 20% of GDP. During the first three quarters of 2020, arrivals in collective accommodation plunged almost 80% to just 240,395 people, from 1,079,186 people last year, due to the pandemic and the subsequent lockdowns and travel restrictions imposed worldwide.

As a result, the European Commission downgraded its 2020 economic forecast for Montenegro to a contraction of 14.3%, much worse than its earlier estimate of a 5.9% decline, after a much bigger and extended second wave of infections adversely impacted tourism and retail services, as well as trade and investment. The economy grew by an annual average of 3.6% from 2013 to 2019.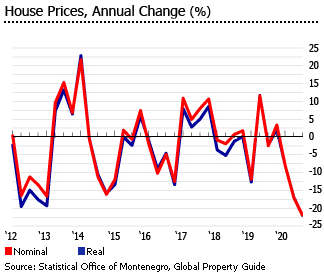 There are no restrictions on foreigners buying property, except for land, which can only purchased by foreigners through a company. After a building is constructed, ownership can be transferred to individuals through a simple procedure.

In 2015, the federal government passed a law allowing foreign homebuyers to obtain a residency permit in Montenegro upon purchase of a property, regardless of its value, according to IvanaVukicevic of property firm Montenegro Prospects.