Italy's housing market stable, but Covid-19 clouds outlook
Lalaine C. Delmendo | April 28, 2020
Italy's housing market was stable last year.  There was a strong increase in demand, but less residential construction. However Italy has been hard hit by the coronavirus outbreak, with uncertain implications for the housing market.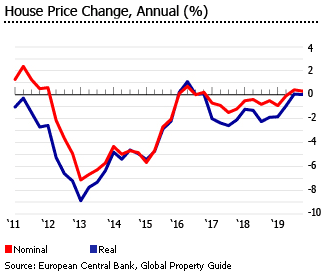 The nationwide house price index rose slightly by 0.31% in 2019 (unchanged when adjusted for inflation), according to the ISTAT. Quarter-on-quarter, house prices fell slightly by 0.2% in Q4 2019, but actually increased 0.22% in real terms.
During 2019:
New house prices rose by 0.98% (0.68% inflation-adjusted)
Existing house prices were up by a minuscule 0.1% (down 0.19% when adjusted for inflation)
In the country's eight metropolitan cities, the average price of new homes rose by 2.2% y-o-y to €4,470 (US$4,925) per square metre (sq. m.) in 2019, according to Centro Studi di Abitare Co.
During 2019, new home sales in Italy rose strongly by 9.8% from a year earlier, while sales in the metropolitan cities increased 5.9%. In contrast, the total number of dwellings in new residential buildings fell by 1.4% y-o-y in H1 2019, according to ISTAT.
Property sales and home prices are expected to fall sharply in the first half of 2020, as homebuyers cancel or delay their purchases until the coronavirus outbreak is contained and the overall economy gets back to normal.
Italy's economy grew by a miniscule 0.3% last year, after expanding 0.8% in 2018 and 1.7% in 2017, amidst trade tensions and a weaker investment outlook. The COVID-19 pandemic is expected to drag Italy's already ailing economy into recession this year.
Oxford Economics projects the eurozone's third largest economy to contract by 3% this year but other forecasts suggest that the economy could shrink by as much as 7%, despite the Italian government committing €25 billion to support the economy over the coming months, including measures to suspend first mortgage loan payments.
Italy's long house-price decline
From 2000 to H1 2008, house prices in Italy rose 85% (53% inflation-adjusted), according to Nomisma. However house prices started to fall in H2 2008, and unlike in Europe's more economically vibrant countries, house prices have not yet recovered.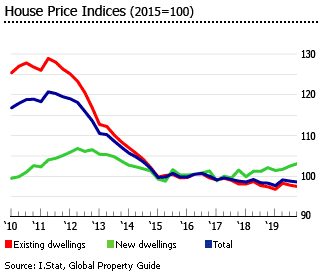 From H2 2008 to 2011, house prices fell 1.9% (-7.8% inflation-adjusted). The price drop worsened dramatically from 2011 to 2014, with the Euro crisis impacting Italy's sluggish economy, and the property tax Tassa sui Servizi Indivisibili (TASI) hindering any recovery. During this period, house prices fell by 13.5% (-16.3% inflation-adjusted), according to the ECB figures.
From 2015 to 2019, house prices fell by 1.2%, and in real terms, prices were down by 3.9%.
Local house price variations
Milan is the most expensive city in Italy, with the average price of new homes rising by 6.6% to €5,600 (US$6,170) per sq. m. during 2019, according to according to Centro Studi di Abitare Co.
In Rome, Italy's capital and largest city, new home prices stood at €5,160 (US$5,685) per sq. m., on average, in 2019, up 0.9% from a year earlier.
In other major Italian cities:
In Florence new home prices increased 2.1% y-o-y to an average of €4,950 (US$5,454) per sq. m. in 2019.
In Turin, Italy's chocolate capital and home to grand squares such as Piazza Castello and Piazza San Carlo, the average price of homes rose by 1.4% to €4,600 (US$5,068) per sq. m.
In Naples, Italy's third biggest city, home prices increased by a miniscule 0.5% y-o-y to an average of €3,950 (US$4,352) per sq. m.
House prices also increased by 0.6% to €4,480 (US$4,936) per sq. m. in Genoa; by 3.5% to €4,000 (US$4,407) in Bologna; and by 2.1% to €3,030 (US$3,338) in Palermo.
Italian towns selling homes for €1
Since early-2016, a growing number of small, rural towns in Italy have been selling abandoned, dilapidated homes for €1 to international buyers.
"In the last 40 years people, especially young people, left the countryside to find work in bigger cities, and those small villages like Mussomeli became abandoned all over Italy," said Italian real estate expert Stefan Neuhaus. "One of the ideas to revitalize these places is the $1 offer to attract international clients to buy, invest and spend their holidays there."
The Italian towns that currently offer €1 homes include: Ollolai (Sardinia), Sambuca (Sicily), Cantiano (Le Marche), Mussomeli (Sicily), Zungoli (Campania), Gangi (Sicily), Bivona (Sicily), Cammarata (Sicily), Borgomezzavalle (Piedmont), Nulvi (Sardinia), and Fabbriche di Vergemoli (Tuscany).
However, there is a catch. Prospective buyers must agree to repair and restore the property, which could cost a lot. In addition, the buyers also need to comply with a number of conditions. First, buyers must provide an insurance deposit of between €1,000 and €5,000 depending on the town. Then, buyers need to submit their renovation plans to the town council, which must be completed within a set time frame, typically in a period of three years. The specific process and requirements vary by municipality.
New tax measures to boost the housing market
From January 2019, pensioners who decide to retire to southern Italy will receive tax privileges. More specifically, the pensioner should transfer his tax residence to an Italian municipality with no more than 20,000 inhabitants located in one of the following regions: Sicily, Calabria, Sardinia, Campania, Basilicata, Abruzzo, Molise, or Puglia.
The new rule applies a substitute tax of 7% on pensions and all other foreign incomes. Other benefits include an exemption from the tax obligations for tax monitoring, as well as for the payment of tax on the value of real estate located abroad (IVIE) and the tax on the value of financial assets held abroad (IVAFE).
Earlier, other tax measures were launched by the government aiming to boost the country's property market:
Abolition in 2016 of the Tassa sui Servizi Indivisibili (TASI) and Imposta Municipale Propria (IMU), which are taxes on principal homes (except luxury homes and castles).
25% discount on the IMU tax for houses being lent on an "agreed rental" (canone concordato) contract for a minimum of 3 years plus two years of automatic renewal which complieswith the local authorities' minimum and maximum rents.
Flat rate of 4 per thousand and a €200-worth standard deduction on IMU tax for luxury homes and castles.
Differentiation between mountain land and land on the flat, with the first getting IMU exemption.
Demand is rising
During 2019, new home sales rose by 9.8% from a year earlier, according to Centro Studi di Abitare Co.  Milan recorded the largest increase of 12.4% during 2019, followed by Rome (where sales rose 9.7%), Bologna (5.4%), Naples (4.8%), Genoa (4.8%), and Florence (4.5%). Sales also rose, albeit by a lesser extent, in Turin (3.5%) and Palermo (1.8%).
Milan and Rome accounted for more than a third of the new home market last year. There were followed by Turin, with 11.7% market share, Bologna (10.2%), Palermo (6.8%), Florence (6.5%), Naples (5.5%) and Genoa (3.6%).
It takes an average of 5.4 months to sell a new house in Italy in 2019, according to Centro Studi di Abitare Co. Milan has the shortest average time-to-sell a property, at 2.5 months.
Residential construction remains weak
In H1 2019, the total number of dwellings in authorized new residential buildings fell by 1.4% to 26,969 units from a year earlier, according to ISTAT.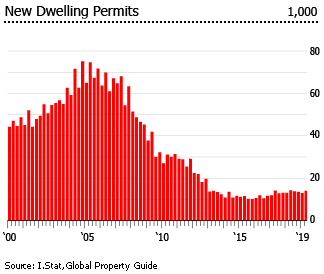 Residential construction activity fell to an average of just 49,000 dwelling permits annually from 2013 to 2018, far lower than the annual average of 129,000 units in 2008-12 and 265,00 units in 2004-07.
Poor rental yields make private letting unappealing
Private renting is unattractive for Italian landlords.  There are very poor returns on rental propertiesbecause of rent controls and other restrictions.
Gross rental yields in the historical centre of Rome and of Milan - the return earned on the purchase price of a rental property, before taxation, vacancy costs, and other costs - range from 2.4% to 4.4%. Yields in Rome are lower than in Milan, according to Global Property Guide research. Yields on 120 square metre (sq. m.) apartments are really low, while yields on smaller apartments are a little better.
Round trip transaction costs can be very high on residential property in Italy and the country's predatory taxation system makes things worse.
Typical rentals:
Rome: A 120 sq. m. apartment located in the historical centre of Rome can be rented for €2,584 (US$2,858) per month. Monthly apartment rents outside Centro Storico range from €17 (US$19) to €22 (US$24) per sq. m., or around €2,198 (US$2,431) per month for a 120 sq. m. apartment.
Milan: In the historical centre of Milan, a 120 sq. m. apartment can be rented for about €2,837 (US$3,138) per month. The same-sized apartment can be rented for €2,671 (US$2,954) per month near Fiera, Milan and for €2,717 (US$3,005) per month in Moscova-Repubblica.
Venice: A 120 sq. m. apartment can be rented for €2,147 (US$2,374) per month.
The standard rental contract allows free negotiation of the initial rent, but commits the landlord to a four-year contract and gives the tenant the option of extending for another four years. Rents can only be increased annually by 75% of the cost of living index; i.e. if inflation is 2%, then you can only increase your rent by 1.5%.
Because of these restrictions on rent increases, most landlords prefer to 'frontload' long rental contracts to take account anticipated future rent increases, and inflation and capital value appreciation. Frontloading, in turn, artificially raises rents for new contracts.
Despite this, average rents have failed to keep up with inflation since the mid-1990s. While house prices rose by an average of 6.3% from 2000 to 2008, rents rose by an average of only 2.5% over the same period. However in recent years, the gap has been narrowing because of the continuous decline in house prices.
Housing loan interest rates are at historic lows
The average interest rate for new housing loans in Italy is very appealing, falling to 1.87% in January 2o2o, from 2% a year earlier, according to the European Central Bank (ECB). But very short-term loan rates are rising.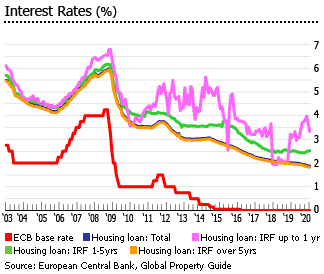 In January 2020 these were housing loan rates in Italy:
Initial rate fixation (IRF) up to 1 year: 3.33%, up from 3.08% a year earlier and 1.92% two years ago
IRF of 1-5 years: 2.52%, almost unchanged in the past two years
IRF of over 5 years: 1.87%, down from 2% a year earlier and 2.08% two years ago
Italy's mortgage market is small
Italy's mortgage market is still small, with outstanding mortgages equivalent to less than 22% of GDP in 2019, less than half of EU 28's average of about 47% of GDP, based on estimates by the Global Property Guide.
This is largely attributable to the length and cost of the loan recovery process, which makes Italian banks very cautious.
From the time a borrower defaults, legal proceedings usually take from five to seven years. Italian house buyers are also reluctant to use mortgage facilities, despite tax benefits, according to the Royal Institution of Chartered Surveyors (RICS). The takeup of mortgages expanded sharply when interest rates on new house purchases fell to historical lows of 2.7% in 2010, but since then the demand for new loans for house purchases has slowed sharply, despite generally very low interest rates.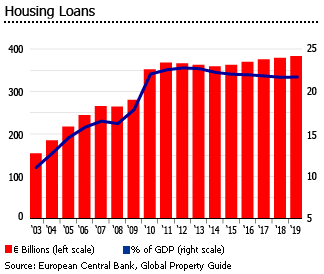 That mortgage market's small size means interest rate reductions tend to have a relatively small effect on the Italian housing market, even though about 50% of housing loans were variable rate.
In February 2020, outstanding housing loans rose slightly by 1% to €384.24 billion (US$426.3 billion) from a year earlier, up from an annual average growth of just 0.5% in 2012-2019 but sharply down from 12% annual growth in 2004-2011, according to the ECB.
Why do more Italians now live in their own homes than in the 1980s?
In 2019, around 72.4% of the country's total households were owner-occupiers, an increase from 59% of total households in 1980, according to Eurostat figures.
Sardinia and Sicily have most owner-occupiers, at around 84.1%. The South and North-West regions have relatively lower rates of owner-occupiers at 78.7% and 77.7%, respectively.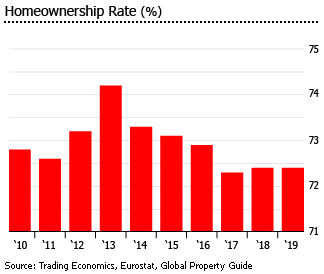 Why the rapid increase in home ownership?
Living standards have risen, despite relatively slow economic growth.
There are tax breaks for ownership, mortgage relief, and low value assessments when calculating imputed income tax and capital gains taxes.
New housing supply is almost exclusively destined for homeownership.
The Fair Rent Act of 1978 established a common four-year lease, and continued rent controls, making being a landlord unattractive.
Italy's economy is forever struggling
Even before the financial crisis, the Italian economy was growing sluggishly, with average GDP growth of 1.2% from 2001 to 2007.
It has been a miserable decade since then. Italy's economy contracted by 1.1% in 2008 and by another 5.5% in 2009. The country went back to 1.7% growth in 2010 and 0.6% in 2011, but contracted by 2.8% in 2012 and 1.7% in 2013, according to the International Monetary Fund (IMF). Italy's economy then grew by 0.1% in 2014, 0.9% in 2015, and 1.1% in 2016. Italy's economy grew by a miniscule 0.3% last year, down from expansions of 0.8% in 2018 and 1.7% in 2017, amidst trade tensions and weaker investment outlook.
The COVID-19 pandemic is expected to drag Italy's already ailing economy into deep recession this year, after the government imposed travel restrictions, and closed businesses except food and medicine for weeks. Oxford Economics projects the eurozone's third largest economy to contract by 3% this year but other forecasts are more pessimistic, suggesting that the economy could shrink by as much as 7%.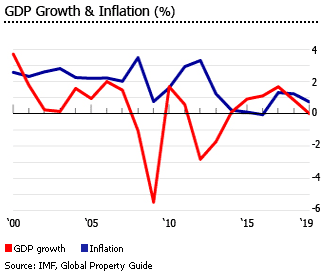 The Italian government recently committed EUR25 billion to support Italy's ailing economy in the coming months. Italy and eight other EU member states have pushed the EU to issue joint "corona bonds" – a move opposed by Germany and the Netherlands.
Italy's budget deficit fell to 1.6% of GDP in 2019, the lowest deficit since 2007. This year, the government plans to raise the deficit above 2.5% of GDP to cushion the economy from the coronavirus outbreak.
Consumer prices in Italy rose slightly by 0.3% in February 2020, a slowdown from the previous year's 1% inflation, according to ISTAT.
Unemployment was about 9.8% in January 2020, unchanged from the previous month but slightly down from an average of 11.4% from 2012 to 2018.
Another banking crisis is looming
Italy's banking system has not yet fully recovered from a crisis four years ago, and clearly, remains very vulnerable to any unprecedented shocks like the COVID-19 outbreak.
"It's likely that banks will need to be rescued," said Nicola Borri, a professor at Luiss, a university in Rome. "The economy has basically been stopped. We are probably going to see massive defaults. Clearly, Italian banks will be badly hit."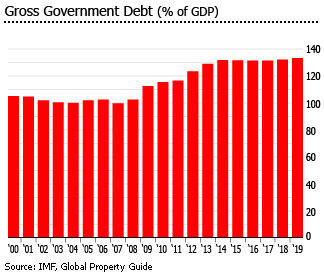 The amount of bad loans held by Italian banks remains high, but has continuously declined in recent years – €100 billion (US$ 11o billion) in early-2019, down from €178 billion (US$ 196 billion) in 2017 and €215 billion (US$ 236 billion) at the end of 2016, according to the Bank of Italy.
Italy has the second-highest public debt to GDP ratio in Europe, next only to Greece. Italy's public debt surged to around 134.8% of GDP in 2019, up from 131.3% of GDP in 2017 and the highest on record, according to ISTAT.
Guiseppe Conte has retained power, vowing to end anti-EU populism
A law professor without a high national profile, Giuseppe Conte was appointed compromise Prime Minister after the inconclusive 2018 national election, heading a coalition government of the right-wing Northern League and the Five Star Movement, both populist parties. The formation of a populist government sent the Italian bond markets plunging and caused alarm in Brussels. Both allies are anti-EU, anti-immigrant, and are supported by ecosystems of fake news, pushing anything from anti-Semitic and racist propaganda about George Soros to claims about the Obama administration plotting to smuggle migrants from Libya to Italy, or anti-vaccine conspiracies.
The Five Star Movement has been particularly good at presenting sanitised messages in mainstream media while allowing their social media followers to spread hate, racism and fake news. The two parties' informal media networks are separate, but interconnected, and have links to far-right and pro-Russia propaganda sources in the West.
In August 2019, League leader Matteo Salvini withdrew from the government in the hope of sparking early elections and improving his party's position in parliament. But the Five Star Movement and centre-left Democratic Party upset his plans by agreeing to form a new coalition, with Giuseppe Conte retaining his position as prime minister.
However after the coalition broke up last year, the prime minister vowed to end Italy's anti-EU populism.
"We want to put behind us the din of useless declarations and belligerent, bombastic statements," said Conte. "The language of this government will be mild-mannered."
"I remain firmly convinced...that it is within the confines of the European Union and not outside, that we must work for the good of Italians,"Conte added.
Sources:
Italy - More data and information