Italy's housing market remains stable, supported by strong demand. However, the outlook is now bleak, amidst surging inflation, slowing economy, and ongoing political uncertainty, coupled with the adverse impact of Russia's invasion of Ukraine.

During the year to Q2 2022, nationwide house prices rose by a miniscule 1.4% to an average of €1,827 (US$1,868) per square metre (sq. m.), according to real estate portal Idealista. When adjusted for inflation, house prices actually declined 6%.

In Rome, Italy's capital and largest city, homes prices stood at €3,008 (US$3,074) per sq. m., on average, in Q2 2022, up by just 0.9% from a year earlier but dropped 6.5% in inflation-adjusted terms.

Milan, Bolzano, and Venice have the most expensive housing in the country, with average house prices currently at €4,828 (US$4,935), €4,479 (US$4,580)  and €4,394 (US$4,493) per sq. m., respectively.

Nationwide, the latest figures from National Institute of Statistics (ISTAT) showed that the overall house price index rose by 4.65% during the year to Q1 2022, but fell by almost 1% when adjusted for inflation. Over the same period:

New house prices rose by 4.98% (-0.66% inflation-adjusted)
Existing house prices were up by 4.51% (-1.1% inflation-adjusted)

"The increase of HPI occurred in the context of a clear and persistent growth in sales volumes (it was +12.0% the annual rate of change registered for the residential sector in the first quarter of 2022 by the Observatory of Real Estate Market belonging to Tax Office, from +15.7% of the previous quarter)," said ISTAT. "Also the increase on quarterly basis of the HPI was due to both the prices of new dwellings, that rose by 0.7%, and those of existing dwellings which increased by 1.9%."

Demand is rising strongly. In Q4 2021, residential property transactions increased 14.1% to 263,795 units as compared to a year earlier, according to ISTAT. All regions saw strong sales increases during the period – South (18.3%), Centre (14.6%), Northwest (13.7%), Islands (11.1%), small cities (15.1%) and large cities (12.9%). For the whole year of 2021, property sales transactions in Italy surged by more than 30% y-o-y to reach 982,260 units, following a 10% drop in 2020.

But there are now signs of housing market slowdown, with house prices expected to fall during the remainder of the year. "The outlook has deteriorated both for the agents' own markets and for the national market," according to the Banca D'Italia's Q2 2022 Italian Housing Market Survey of 1,465 real estate agents. "Prices are now expected to decline in the current quarter, after having remained in positive territory for three quarters."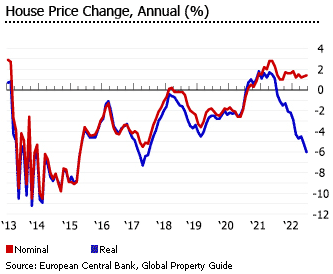 "These assessments factor in higher energy prices and the invasion of Ukraine, which are believed to contribute to a downward pressure on both the number of potential buyers and house sale prices," the report added.

The wider economy is projected to slow, too. Economic growth is expected to slow to 2.9% this year and 0.9% in 2023, based on estimates released by the European Commission (EC). During the onset of the Covid-19 pandemic, the eurozone's third largest economy suffered a huge contraction of 9% in 2020. Then in 2021, the economy grew by 6.6%, amidst easing of pandemic-related restrictions – but still inadequate to fully offset the prior year's sharp decline.