Nationwide house prices continue to rise, but the story is different in the city centres. In recent years, many Parisians are moving to quieter, less crowded suburbs, which offer cheaper but more spacious residential properties.

In Metropolitan France, the price index of second-hand dwellings rose by 6.44% (0.6% inflation-adjusted) during the year to Q3 2022, following y-o-y growth of 6.88% in Q2 2022, 7.34% in Q1 2022, 6.93% in Q4 2021 and 7.43% in Q3 2021, according to the National Institute for Statistical and Economic Studies (INSEE).

Quarter-on-quarter, house prices rose by 1.4% (0.3% inflation-adjusted) in Q3 2022.

However, house prices have been either falling or rising meagerly in the centre. During the year to Q3 2022:

In Île-de-France, the country's wealthiest and most populated region, the average apartment price rose by a meager 0.3% y-o-y to €6,860 (US$ 7,373) per sq. m., according to the La Chambre des Notaires de Paris.
In the Petite Couronne the average price of apartments rose slightly by 0.9% y-o-y to €5,570 (US$ 5,988) per sq. m.
In the Grande Couronne the average price of apartments increased 2.9% y-o-y to €3,500 (US$ 3,763) per sq. m.
In Hauts-de-Seine, one of the country's most populous departments, apartment prices increased by a miniscule 0.4% y-o-y to €6,770 (US$ 7,277) per sq. m.

In Paris, house prices even declined slightly – it seems the capital's high cost of living is prompting some rural relocations. The average price of existing apartments in the capital city fell by 1.1% (-6.6% inflation-adjusted) to €10,660 (US$11,458) per sq. m, based on figures from the La Chambre des Notaires de Paris. In a recent study conducted by the University of Paris and King's College London, almost half of Parisians think that the city is too expensive and 43% believe that they could find a better quality of life elsewhere. The pandemic has clearly been pushing people away from cities towards greener areas.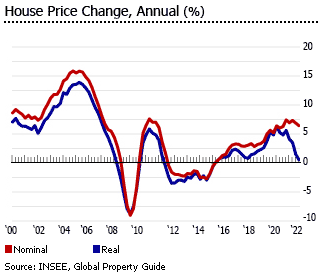 Demand is falling. Existing home sales in France were down by 6.1% y-o-y in the twelve months to November 2022, at 1,116,000 units, according to the General Council for the Environment and Sustainable Development (CGEDD). Likewise, new home sales dropped 10.1% y-o-y to 79,876 units in the first three quarters of 2022, based on figures from the Ministère de la Transition Écologie.

The French economy, eurozone's second largest, was estimated to have expanded by a modest 2.6% during 2022, following a 6.8% expansion in 2021 and a huge 7.9% contraction in 2020, based on forecasts released by the European Commission. However, the economy is projected to slow further, with a projected real GDP growth rate of just 0.4% in 2023.