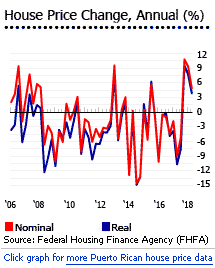 Puerto Rico's housing market is showing signs of recovery, after several years of house price falls.  During the year to end-Q2 2018, the seasonally-adjusted purchase-only house price index rose by 4.88% (3.88% inflation-adjusted), in sharp contrast to a y-o-y decline of 8.97% a year earlier, according to the Federal Housing Finance Agency (FHFA) .
However during the latest quarter, house prices fell 5.73% (-6% inflation-adjusted) in Q2 2018 - so things are still volatile.
Nevertheless demand is rising again, thanks to new initiatives, including tax incentives and other housing stimulus measures.  Insurance and federal aid money is coming in, coupled with growing interest from Americans looking for a bargain. During the first three quarters of 2018 the number of houses sold rose by 9.9% y-o-y to 8,072 units, according to the Government Development Bank (GDB), with the value of home sales rising by 9% to about US$1.14 billion.
However, construction remains weak. In 2017, the value of residential construction fell 16.7% y-o-y to US$507.9 million, according to the Puerto Rico Planning Board - far below 2007´s US$2.33 billion. That´s because the economy is weak, there is massive debt, and continuing population loss.
Foreigners can freely buy property in Puerto Rico. It is important to hire a real estate agent as knowledge of Spanish is essential. A foreigner can alternatively buy through a corporation (US$300 for Corporate Resolution). Registering a property by a corporation can be completed in around 15 days.
The economic crisis and the housing market
Historically, Puerto Rico´s economy has closely mirrored trends in the United States. However the latest economic downturn has been more intense and has lingered longer in Puerto Rico.
Puerto Rico´s recession began in the fourth quarter of 2006. GDP has grown very little or declined over the past decade, contracting every year from 2007 to 2017, with an exception in 2012 when the economy grew slightly by 0.5%.
There´s been high unemployment, massive emigration, and a near-catastrophic national debt crisis and credit rating downgrades. In 2017, Puerto Rico´s real GNP growth was -2.4%, after falling 1.3% in 2016, 0.8% in 2015, 1.8% in 2014 and 0.1% in 2013, according to GDB.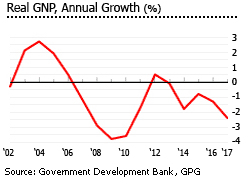 Puerto Rico has lost about 20% of its jobs since 2007. The population has shrunk by about 10% in the past decade. The poverty rate is now at 45%. And public health and retirement systems are insolvent.
Puerto Rico filed for the equivalent of bankruptcy protection in May 2017, unable to pay its massive debt or provide its citizens effective services. With US$70 billion in debt and US$50 billion in pension liabilities, Puerto Rico´s bankruptcy filing is the biggest in the history of the United States, dwarfing Detroit´s US$18 billion bankruptcy filing in 2013.
The housing market has suffered tremendously. After huge annual house price increases in the early 2000s, the housing market came crashing down in 2008. House prices fell 31% (38.6% inflation-adjusted) from Q1 2008 to Q2 2017.
While unemployment has fallen, gradually reaching 8.4% in September 2018 - down from 16.4% in 2010, and 15.9% in 2011 - it remains far above the United States´ 3.7% jobless rate. Many of the new jobs are in rebuilding, which has created many construction jobs. These additional jobs, however, are temporary.
The loss of net worth among Puerto Ricans from real estate price falls has been close to USD30 billion, according to economic consulting firm Estudios Tecnicos ´s director, Jose Villamil.
Puerto Rico´s banking sector is also in crisis, with nonperforming loans at elevated levels. Most of the problem is in the housing market, which accounts for about 2/3 of total loans, according to Scotia Bank . At the start of 2006, before the crisis, the prime interest rate was at 7.26%. It fell to 3.25% in 2009 and interest rates remain very low, but despite this around 80,000 families have been unable to refinance their loans and risk losing their homes.
To remedy the situation many new initiatives have been introduced, including tax incentives and other housing stimulus measures. But demand, though now rising, remains far below pre-crisis levels, and residential construction remains very weak.
Hurricane Maria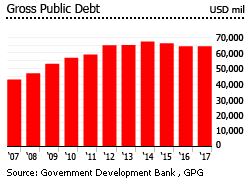 Hurricane Maria struck the island on September 2017 – killing an estimated 2,975 people, severely damaging the island's infrastructure, adversely affecting thousands of small businesses, and destroying nearly all agricultural production. The category 4 storm caused an estimated US$90 billion in damage. It left the entire island without power – the longest power blackout in US history. It was only in August 2018 that electricity was fully restored.
A total of 357,492 homes in Puerto Rico were damaged by Hurricane Maria, according to the Federal Emergency Management Agency (FEMA). Overall, about 23% of the island's housing stock was affected, with around a third of them located in the San Juan metropolitan area and other coastal counties.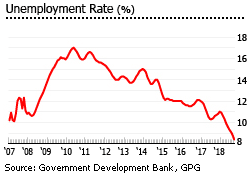 Hurricane Maria aggravated a mass exodus from Puerto Rico that has only recently begun to slow down. During the fiscal year 2018, a net total of 150,000 Puerto Ricans left the island, about twice the average migration over the past two years, according to the Puerto Rico Institute of Statistics.  Between 2010 to 2016 Puerto Rico´s population had already fallen by about 310,000 - an 11% population decline - the largest migration wave since the 1950s, when close to 500,000 Puerto Ricans migrated to the mainland.
Nearly half of Puerto Rico's population lives in poverty, and household income is about US$18,000 annually – less than half that of Mississippi, the poorest U.S. state.
Foreclosure relief has temporarily reduced mortgage delinquency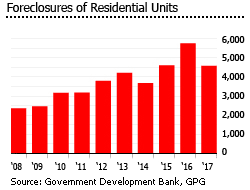 As delinquent mortgages swelled to 143,200 in the immediate aftermath of the storm, a foreclosure relief program was introduced to help struggling Puerto Rican homeowners.
"It's clear that FHA homeowners in these areas need more help to get back on their feet as they recover from these storms," said HUD Secretary Ben Carson.
FHA-insured homeowners qualify for the foreclosure relief under the following conditions, according to the U.S. Department of Housing and Urban Development (HUD):
The household lives within the geographic boundaries of a presidentially declared disaster area impacted by Hurricane Maria
A household member has been injured directly, missing or deceased due to the disaster
The borrower's ability to make mortgage payments is directly or substantially affected by a disaster
The foreclosure moratorium was extended thrice – giving homeowners a year to recuperate from the impact of the storm with the final deadline set to September 16, 2018.
In addition, the Federal Housing Authority (FHA) introduced a new Disaster Standalone Partial Claim option, which helps struggling borrowers to resume their mortgage payments without a payment shock. The program wraps up to 12 months of missed mortgage payments into an interest-free second loan on the mortgage. The second loan is then payable when the borrower sells their home or refinances.
As a result, the number of foreclosures in Puerto Rico dropped more than 73% to just 1,002 units from January to July 2018 as compared to last year.
However with the foreclosure moratorium already expired, mortgage delinquency is expected to surge again in the coming months.
Homes sales rising again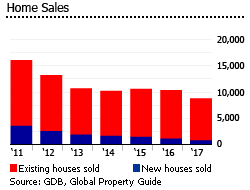 During the first three quarters of 2018, the total number of houses sold rose by 9.9% y-o-y to 8,072 units, according to the GDB. This was in sharp contrast with the almost 15% annual home sales decline recorded in 2017.
From January to September 2018:
Existing home sales: up 4.8% y-o-y to 6,982 units
New home sales: up by 60.1% y-o-y to 1,090 units
Likewise, the total value of home sales rose by 9% to about US$1.14 billion from January to September 2018 as compared to the same period last year.
Amendments to Acts 20 and 22 did attract some foreign businesses to Puerto Rico - but not enough
Two laws, which came into effect in early 2012, provided significant new tax benefits to foreign individuals and businesses relocating to Puerto Rico:
The Export Services Act 20 offers tax incentives to export services.
The Individual Investors Act 22 provides total exemption from Puerto Rican income taxes on all passive income realized or accrued after becoming a bona fide resident of Puerto Rico.
Then in December 2014, the government expanded the coverage of both Act 20 and 22. When Act 22 went into effect in January 2012, it was only applicable to new migrants to Puerto Rico who had not been residents for the last 15 years. That period has now been reduced to 6 years. And Senate Bill 1020, also signed into law in December 2014, has also expanded the types of businesses eligible to take advantage of the Act 20 program.
On July 11, 2017, the government signed into law House Bill 878 (as Act 43) and Senate Bill No. 369 (as Act 45) that improve and further expand the coverage Acts 20 and 22, adding "medical tourism services" and "telemedicine facilities" as eligible services under Act 20; abolishing the minimum number of employees required for most Act 20 businesses, and eliminating bureaucratic restrictions and requirements that limit the concession of tax incentives.
However so far none of these incentives have been sufficient to pull Puerto Rico out of its decline.
The Housing Stimulus Act
A stimulus program "Impulso a la Vivienda" (Act 152) was passed in 2010  to cut home inventories and stimulate new housing construction.
Act 152 provided:
Loan-to-value mortgage ratios of 105%, allowing loans to be made without a down payment
A 100% exemption from net rental income tax, for a 10-year period.
A 100% tax exemption during a 10-month window, plus a 100% exemption from capital gains tax at the time of resale of new property, and a 100% exemption from fees, stamps and vouchers. There also is a 100% exemption on temporary property tax, and a five-year exemption from property taxes.
The government then launched the "Ahorro Hipotecario" program in July 2014, offering mortgage-refinancing to some 10,000 low- to moderate-income Puerto Rican families, backed by a USD63 million fund.
Under the scheme, qualifying homeowners can get new loans worth 100% of the appraised value of their property. This permits a considerable reduction in their interest rate, resulting in lower monthly payments.
New law to expedite permits
In another move to attract investment "Act 19-2017", better known as the Puerto Rico Permit Process Reform Act, was signed into law in April 2017 to improve the island´s competitiveness, attract investment and buoy the ailing economy. Major effects:
The introduction of a single permit, in which all licenses, authorizations and certifications will be consolidated;
The imposition of time limits for the issuance of permits, ranging from 30 days from ministerial permits to 180 days for projects that require either a public hearing or an environmental impact evaluation.
The establishment of Unified Information System for the filing and processing of permits, authorizations, licenses and certifications for land uses and operation of businesses;
Rental yields are good, but rental market remains soft
Rental yields in Puerto Rico remain good, according to the Global Property Guide research. Average rental yields on 2 bedroom apartments in San Juan stood at 7.1%, slightly down from 7.3% a year earlier. For 3-bedroom apartments, the average rental yield stood at 7.3%, down from 8.3% the previous year.
There was insufficient data on apartments in coastal areas of Puerto Rico such as Condado, Miramar and Dorado, but two years ago they had much lower rental returns at 3.8%.
Despite good yields, Puerto Rico's rental market remains soft, with currently about 12.8% vacancy rate, up from 10% in 2010 and 7.4% in 2000, according to the U.S. Department of Housing and Urban Development (HUD).
"Continued population loss in Puerto Rico has led to increasingly soft rental market conditions and rising vacancy rates," said HUD.
San Juan metro area's average monthly rent for 2-bedroom apartments amounted to about US$720 while the average rent on 3-bedroom apartments was US$850 per month.
Round trip transaction costs, i.e., the costs of buying and selling a property, are very low in Puerto Rico.
Residential construction remains very weak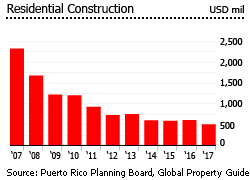 During 2017:
Private residential construction fell by 16.5% to US$480.4 million from a year earlier. This was far below the US$2.1 billion residential construction recorded in 2007, according to the Puerto Rico Planning Board .
Public residential construction was US$27.5 million, down 20.5% from a year earlier and just one-eighth of 2007´s US$223.1 million public residential construction.
Cement sales, the construction industry´s key indicator, dropped 11.2% to 10.3 million bags in 2017 from the previous year, according to the GDB.
Tourism has not recovered since Hurricane Maria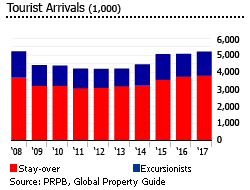 The island declared itself open for tourism and embarked on a campaign to encourage vacationers only three months after Hurricane Maria and Hurricane Irma struck Puerto Rico. Despite this, tourist arrivals remain sharply down.  From January to August 2018, the total number of tourist hotel registrations dropped sharply by 42% y-o-y to about 1.07 million, according to the GDB.
"This has been one of the biggest challenges the tourism industry has faced to this day," said Carla Campos of government-owned Puerto Rico Tourism Company (PRTC). "No destination is ever ready to face two back-to-back storms like Irma and Maria."
The figures were in sharp contrast to a year ago, when about 5,196,800 people visited Puerto Rico, the highest level since 2008, according to Puerto Rico Planning Board.
About 87% of stay-over visitors in Puerto Rico in 2017 came from the United States.
Tourism accounts for about 7% of Puerto Rico's GDP last year.
Puerto Rico - More data and information