Belize's thriving property market
August 02, 2015
House prices in Belize are now back at pre-crisis levels.  That´s the opinion of realtor Michel Chebat of M.H. Chebat & Company. Actually, it is difficult to be sure how much house prices have changed in Belize recently, as there are no official house price figures.
However, realtors estimate that house prices declined by as much as 25% to 30% during the global economic crisis. The property rebounded strongly in 2012, and has continued to rise since then.
Outside interest in Belize expanded rapidly from 2000 to 2007, partly due to the passage of the Retired Person Incentive Act (RPIA) in September 1999, and to the tourism boom.  Tourists flocked to Belize's natural wonders - beautiful beaches and tropical forests, plus ancient Mayan temples. From 2003 to 2007, property prices in coastal and tourist areas rose by as much as 30% annually, while prices of inland properties rose by around 15% annually, according to local real estate agents.
Ambergris Caye and southern Belize – Placencia – continue to be the two most popular areas for foreign homebuyers, said Chebat. Ambergris Caye has the most expensive housing in Belize where tourists and expats are attracted of the beauty of the Barrier Reef.  Oceanfront condominium units are priced at about US$500,000,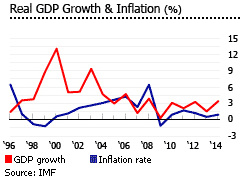 More reasonable house prices can be found in the south, especially in the Placencia Peninsula and nearby areas such as Sitee River, where residential properties are usually priced 40% lower than those on Ambergris Caye. A two-bedroom oceanfront condominium unit is priced between US$350,000 and US$450,000.
Moreover, some expats also choose to settle in areas close to the border with Mexico or Guatemala. Corozal Town in the north (bordering Mexico), and the Cayo District in the west (bordering Guatemala) are some of the popular places for expat retirees.
Most foreign buyers in Belize come from the United States. Direct flights to the island are available from numerous U.S. cities, including Houston, Chicago, Dallas, Miami, Charlotte, Atlanta, Los Angeles, and Newark. There is also a growing interest from Canadians, Britons, Italians and Russian investors.
Most property transactions are done in cash, as Belize's banks charge high interest rates.
Belize's natural attractions
A combination of natural factors – climate, the Belize Barrier Reef, a Caribbean flavor, as well as the Maya ruins make Belize truly Mother Nature's best kept secret. Bordered to the north by Mexico, to the west and south by Guatemala and to the east by the Caribbean, Belize considers itself to be both Caribbean and Central American.
Belize has the world's second largest reef barrier, and its Blue Hole can be seen from outer space. Three of the Western hemisphere's most breath-taking coral atolls are off the coast of Belize. There are numerous varieties of wildlife shelter in the inlands. Bird watching, nature trailing, and water sports are popular in Belize.
Belize prides itself on being the seat of Mayan civilization. The Caracol, Lamanai and Xunantunich  archeological sites are well-preserved, and easily accessible to tourists.
Some of the best spots in Belize include the following:
San Ignacio Town – tourists usually enjoy a tranquil exploration of the well-preserved ancient wonder, Maya ruins of Cahal Pech. The Cahal Pech Village Resort hosts a wide range of adventure tours.
Caye Caulker - a small limestone coral island off the coast of the island in the Caribbean Sea, is the second largest of the Belizean cayes.
Toledo – located in the coastal town of Punta Gorda, tourists will adore the untouched beauty of the extensive Toledo cave networks, or experience the rich cultural diversity of Belize by taking interactive lessons in the Garifuna or Creole drumming and dancing schools.
Placencia Village – it offers 16 miles of stunning white sand beaches. It has emerged as a popular eco-destination in the Caribbean, which offers a host of outdoor activities including deep sea fishing, snorkeling, hiking, and kayaking, among others.
Hopkins – offers the best access to the Mayflower Bocawina National Park, which offers over 7,000 acres of hiking, scenic waterfalls, and Mayan ruins, along with a complex of jungle ziplines. Tourists will also adore the submerged coral structures of the Glover's Reef Marine Reserve.
Mountain Pine Ridge in Cayo District – located in the Cayo district, this marvelous pine forest covers over 100,000 acres, and is home to a large variety of wild mammals, including Baird's Tapir, Belize's national animal.
South Water Caye – a beautiful coral island which is considered as a hidden treasure for diving and snorkeling. More specifically, the Blue Marlin Beach Resort offers fly-fishing excursions to the saltwater flats, and a variety of other watersports.
Dangriga - sits right at the mouth of the North Stann Creek River, Dangriga is the home and cultural center of the Garifuna people in Belize. It is also an excellent place from which to launch nautical or jungle excursions.
Tobacco Caye – is one of the tiniest but most beautiful islands in Belize and is perfect for travellers looking for solitude, warm waters, palm trees and a star-streaked sky.
Turneffe Atoll – a 30-mile long smattering of islands, Turneffe Atoll is known for its incredible diversity in marine life, and was recently declared as a marine reserve.
Belize's real estate hotspots
The most popular destinations are Ambergris Caye and Placencia, which have most vacation and second homes. Corozal and Caye Caulker are also getting attention.
Ambergris Caye has the highest home prices in Belize, with two- to four-bedroom oceanfront houses costing around US$1 million while oceanfront condominium units are priced at about US$500,000, according to Brittany McCann of Belize Sotheby's International Realty. On the other hand, inland homes are valued substantially less than oceanfront properties, typically priced at around US$200,000. The number of developments in Ambergris Caye has grown tremendously in recent years.  The new 'Costa del Sol' area west of San Pedro is just now starting to attract developers and investors. House prices in San Pedro, the island's main town, are quite expensive as compared to the other parts of the country, although still more affordable than prices in other Caribbean islands.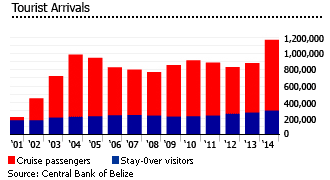 Southern Belize is currently seeing numerous developments. Most developments in the area can be found in Seine Bight village and Placencia village. Placencia, a thin, twisted peninsula in the southern Belize, has continued to grow in popularity with foreign homebuyers.
Prices in southern Belize are about 40% lower than those on Ambergris Caye. However, prices in southern Belize have continued to rise in the past years. A two-bedroom oceanfront condominium unit is priced between US$350,000 and US$450,000, according to Dan Dunbar of CPC Real Estate Solutions. On the other hand, prices of oceanfront lots ranged from US$150,000 to US$250,000.
Buyers beware! In Belize, there are two prices for everything—the local price and the "rich foreigner" price. Since majority of properties for sale are not advertised, the best way to get a feel of the difference between the Belizean price and the non-Belizean price is to travel to the country and spend time there.
Famous retirement spot
Among the Central American countries, Belize (pop. approximately 357,000 in 2014) has the largest foreign population. Around 15% of the Belizean population is composed of foreigners, according to International Organization for Migration.  Yet it is one of the world's least densely populated countries, averaging 15 persons per kilometre in 2014, according to the World Bank.
Aside from being the only English-speaking Central American country, and natural beauty, what attracts foreigners, specifically retirees, is the "Qualified Retired Persons" (QRP) program.  Similar to Panama's Popular Pensionado Program, the QRP program gives tax and residency breaks to foreigners with the status of a Qualified Retired Person (QRP). To be designated a QRP under the program, the applicant should be:
Aged 45 or older
Citizen of the US, the UK, Canada or Belize
Earning a monthly income of at least US$2,000 from investments or pensions
Beneficiaries of the QRP status are:
Exempted from all taxes on income and receipts
Exempted from all import duties and taxes on personal and household effects upon first importation into Belize (up to a maximum value of US$15,000)
Exempted from all import duties and taxes every five years on approved means of transport (such as a motor vehicle, boat, or light aircraft)
Have their dependents included in the program (spouse and children under the age of 18 or under the age of 23 if enrolled in college)
Can conduct business within Belize, if the business activities are mainly outside the country, and not with Belizeans. QRPs can also own rental properties.
In the September/October 2012 issue of the American Association of Retired Persons (AARP)'s The Magazine, Corozal, Belize was named as the 2nd top rated place to retire abroad. Cayo, Belize was also ranked 3rd on Huffington's "21 Best Places To Retire Overseas In 2015" while Northern Belize was ranked 4th on U.S. News' "10 Surprisingly Affordable Retirement Hotspots" in 2015./
Slow mortgage market growth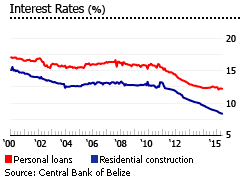 Belize has a relatively small mortgage market, although loan-to-value (LTV) ratios offered range from 60% to 80% of the appraised value of the property, with 15 to 20 year terms. Reasons for the small market include:
Little demand for mortgage loans, as few Belizean property buyers meet the financial criteria
Most buyers usually pay in cash;  some foreigners tap into a home-country based line of credit
Only a handful of local and international banks provide mortgage loans, making it difficult for non-resident buyers to get finance from banks
Mortgage interest rates are higher than US rates, now ranging from 8.5% to 12%.
Owner financing is now available where the seller provides part financing for the buyer at an LTV of 70% with a term period of 5 to 10 years. The owner typically finances the balance at rates ranging from 6% to 8%.
Modest economic growth
In 2014, the economy grew by 3.6% from a year earlier, up from 1.5% in the previous year, according to the International Monetary Fund (IMF). In Q1 2015, Belize's economy grew by a noteworthy 7%, a significant improvement from a growth of 1.6% in the previous quarter, and the highest growth since 2011. This was mainly fueled by growth in agriculture, manufacturing and tourism, according to the Statistical Institute of Belize.
In June 2015, Belize's total imports rose by 20% to US$189.2 million from a year earlier. On the other hand, exports dropped 21% to US$52.6 million over the same period.
In 2014, the total number of stay-over visitor arrivals rose by 9.3% y-o-y to 297,527 persons while cruise passengers soared by 42.9% to 871,318 persons. However from January to April 2015, stay-over visitors in Belize dropped 1.3% to 120,024 persons from the same period last year, according to the Central Bank of Belize. In contrast, cruise passengers continued to rise by 4.9% y-o-y to 402,525 persons.
Unemployment was 12.9% in 2014, down from 14.1% in 2013, according to the IMF. Unemployment is expected to remain unchanged this year.
In June 2015 inflation was -0.8%.
Belize - More data and information