---
House prices in South Korea are slowing down
Last Updated: January 13, 2017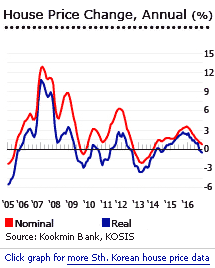 South Korea´s housing market is slowing, after two years of increasing house prices. The national housing purchase price index rose by 0.79% during the year to end-November 2016, according to the Korean Statistical Information Service (KOSIS). However when adjusted for inflation, house prices were actually down by 0.51%.
Seoul´s house price index rose more than the national index, up by 2.35% y-o-y (1.04% inflation-adjusted) in November 2016.
Busan, the country´s second biggest city, had the highest house price rises of 2.95% during the year to November 2016.
Busan and Seoul were followed by Incheon (0.79%), Ulsan (0.69%), Gwangju (0.49%), and Daejeon (0.20%). In contrast, Daegu, the country´s fourth biggest city, saw a house price decline of 1.83%.
Out of the country´s 9 provinces, Jeju had the sharpest house price hike of 6.27%. It was followed by Gangwon (1.39%), Jeonnam (0.99%), and Gyeonggi (0.98%). House prices in Jeonbuk saw no rise.
The provinces of Chungnam (-1.60%), Gyeongbuk (-1.58%), Chungbuk (-0.80%), and Gyeongnam (-0.30%) saw y-o-y house price declines.
Why the slowdown? Because lending rules were tightened by the government at the start of 2016, and there´s an oversupply of housing. "Purchasing sentiment was dragged down by the government measures, along with a rising supply of new houses," said the Korea Development Institute (KDI).
Already in the second half of 2015, pre-sales were way beyond the inventory needed, raising oversupply concerns, according to ratings company Nice Investors Service. The ratio of housing supply to households went up from 98.3 in 2005, to 103.5 in 2014, according to the Ministry of Land, Infrastructure and Transport (MOLIT), indicating that housing supply currently exceeds the number of households. Unsold houses declined to around 61,512 units in 2015, from a peak of about 123,297 unsold houses in 2009.
In addition, the country´s large household debt - about 88.4% of GDP - has made repayments onerous for some households, compelling South Korea´s Financial Services Commission (FSC) to increase the minimum proportion of fixed-rate and amortising home loans to around 30% of the banks´ total mortgage loans in 2016, and around 40% by 2017. However outstanding mortgages were only 32% of GDP in 2015, up from 28% of GDP in 2007.
A fresh set of curbs introduced by the government in November 2016 required property buyers in Seoul to retain ownership for 18 months from the date of purchase, a substantial increase on the current six months waiting period. Aside from that, downpayments will also be increased to 10% of the housing values.
"We plan to take preemptive measures to stabilise the property market in all of Seoul, Sejong, and parts of Gyeonggi province and Busan, to make sure the market is focused on actual demand," said outgoing Finance Minister Yoo Il-ho.
Robust mortgage lending growth
South Korea´s mortgage loans expanded by 11.57% y-o-y during the first three quarters of 2016, while household debt (in general) increased by 11.23%, according to the Bank of Korea (BOK).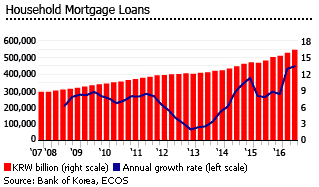 Borrowers have been attracted by the BOK´s low key rate, cut twice in 2015 ― from 2% to 1.75% in March, and to 1.5% in June. In June 2016, the BOK lowered the key rate once again, reducing it by 25 basis points to 1.25%.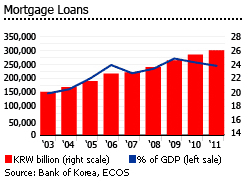 Yet the banking system is in good health, with the average bank loan-to-deposit ratio at 116.55 in Q3 2015, down from a range of 120 to almost 140 between 2007 and 2009.
Unique rental system hits young people
According to Population and Housing Census Report 2000, 54% of households live in owner-occupied houses, while 28% are under chonsei contracts. The remaining 18% are under a monthly rental system called wolse.
In Korea´s unique chonsei (or jeongsei) rental system, the tenant deposits a lump-sum amount to the owner for the use of the property, with no additional requirement for periodic rent payments. The deposit is fully refunded at the end of contract period with no interest.
The Chonsei system eliminates the likelihood of tenant´s default on monthly rent as the deposit is maximized until the end of the contract period. However, the lump-sum deposit, equivalent to 70% to 80% of the property value, imposes a huge burden on younger renters and new households.
Korean house prices are strongly steered by the government
The peak of South Korea´s house price boom was reached in 2006, when Seoul prices rose almost 20%. Then the government applied the brakes, imposing controls on housing loans, and hiking capital gains taxes on "speculative areas". These cooling measures caused a slight slowdown in 2007, with 5.4% price rises in Seoul (1.75% in real terms) and 3.1% nationally (0.6% in real terms). In 2008, house prices rose 5% in Seoul (0.86% in real terms) and 3.1% nationally (-1.5% in real terms).
From April to October 2009 there were house price declines, triggered by the Lehman shock and government curbs. Property transactions (but not prices) fell 35.8% y-o-y to September 2010, in the midst of a cycle of overbuilding. The mini-slump caused the construction industry severe problems.
The government began reviving the housing market in 2009 by purchasing KRW 2 trillion (US$ 1.79 billion) worth of unsold newly built housing, and KRW 3 trillion (US$ 2.68 billion) of land from construction firms wishing to repay their debts.
This was followed by a more intensive expansion measures in August 2010, as the government partially eased real estate lending restrictions through the following measures:
Restrictions on total debt payment ratios in non-"speculative areas" were abolished;
Households with annual incomes of KRW 40 million (US$ 35,787) or lower can now avail loans worth up to KRW 200 million (US$ 178,937) for house purchases;
The grace period for extra tax on asset transfer income was extended; and
Housing registration tax exemptions were also extended.
In early-2011, the government raised tax incentives for real estate investment trusts that buy unsold housing. It also halved home purchase taxes to 1% to 2%, from between 2% to 4%. It also announced the establishment of a "bad bank" - the Project Financing Stabilization Bank (PFSB) - to take on as much as KRW 1.2 trillion (US$ 1.1 billion) of non-performing loans, beginning June 2011.
In December 2011, the government revealed another new set of policy measures including:
Abolition of punitive capital gains taxes on owners of more than one property
Securitization of up to KRW 2 trillion (US$ 1.79 billion) worth of debt owed by construction companies
Rules preventing the quick sale of properties in Seoul´s real estate hotspots lifted
Expansion of eligibility for cheap loans offered to first-time buying married couples and low income-earners, and the reduction of lending rates by half a percentage point to 4.2%.
Reduction of the levy to 6% - 35% on profits obtained from home sales made by multiple homeowners from 50% - 60% rate introduced in 2005.
However these measures were not enough. There were house price declines from 2012 to 2013. House prices in Seoul fell further than national prices, declining by an average of 2.32% in 2012, and 3.62% in 2013. A report from Colliers cited economic uncertainty, a seasonal slowdown, mortgage restrictions, fears of another housing market recession, among other reasons for the slowdown.
Further measures were taken such as introduction of tax breaks to induce more demand, as well as other supply control measures for the improvement of prices. The effects of these measures was seen after a year, and has been reflecting the gradual improvement of prices for the past two years.
Low interest rates prevail; shifting mortgage borrowing to fixed-rate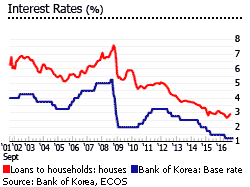 Korean interest rates are quite low. As of October 2016, the average interest rate on housing loans was at around 2.89%, significantly lower than the 7.58% peak recorded in October 2008, according to the Bank of Korea (BOK).
The Korea market has historically been very sensitive to interest rate changes, as traditionally around 80% to 95% of housing loans have been floating rate. The Korean government has promoted fixed rate loans to reduce default risks since the second half 2011. In February 2014, South Korea´s Financial Services Commission (FSC) stated that by 2017 banks will be obliged to hold a minimum of 40% of the banks´ mortgage portfolios in fixed-rate and amortising home loans, with targets of 20% for 2014, 25% in 2015 and 30% in 2016.
As of October 2016, around 45.7% of total new homes were fixed-rate loans. Floating-rate loans, on the other hand, had the remaining total loan share of 54.3%, according to the BOK.
Manufacturing decline weakened South Korean economy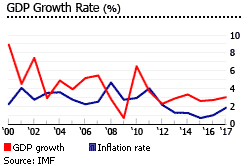 South Korea is Asia´s fourth largest economy and the world´s 7th biggest exporter, with exports accounting for half of its GDP. So the sluggish performance of exports in 2015 was a major drag on the economy. During the year exports dropped by 7.9% in 2015, the country´s worst decline since 2009.
Exports improved in 2016, increasing by 2.7% during the year to Q3 2016, according to the Bank of Korea (BOK), driven by semiconductor and chemical product sales.
In the third quarter of 2016, the economy expanded by 2.6% from the previous year. The construction sector´s gain of 3.5% q-o-q (11.4% y-o-y) supported growth in Q3, but manufacturing contracted by 0.9% due to the current troubles faced by two of Korea´s famous brands, Samsung Electronics and Hyundai Motor.
"Growth in manufacturing slowed considerably as halted production of Samsung´s Galaxy Note 7 and strikes at Hyundai Motor hit overall production, consumption and exports of the auto and smartphone industries," according to Chung Kyu-il, a director at the Bank of Korea (BOK).
"Losses linked with the Note 7... may further impact fourth-quarter growth as well,"said Chung.
Hyundai, a top South Korean automotive manufacturer, was also facing turmoil due to strikes from July to October 2016.
In November 2016, inflation rose by 1.3% y-o-y, up from 1% in November 2015.
Unemployment was 3.1% in November 2016, unchanged from November 2015, according to the Korean Statistical Information Service (KOSIS).
On August 20 2015, tensions between North and South Korea rose after North Korea fired a shell on South Korea´s borders, causing the latter to respond by launching artillery rounds. A few days later, both parties reached an agreement.
In January 2016 North Korea claimed to have tested a hydrogen bomb estimated to be "50 to 100 times the power of the bombs on Hiroshima and Nagasaki," according to nuclear scientist Imad Khadduri. Before North Korea announced the claim, South Korea´s meteorological agency detected a 5.1 magnitude earthquake near a recognized test site.
On January 13, 2016, South Korea warned North Korea of ´bone-numbing´ sanctions that the United States and its allies might impose.
Another presidential scandal!
The fate of Park Geun-hye as South Korea´s president is currently in the hands of the Constitutional Court of Korea, which must decide whether to accept her impeachment, voted by 234 out of 300 members of the National Assembly on December 9, 2016. The court´s process is expected to take up to 180 days. Prime Minister Hwang Kyo-ahn will meanwhile be the country´s acting president.
The impeachment stems from investigations into President Park Geun-hye´s relationship with Choi Soon-sil, daughter of shaman-esque cult leader Choi Tae-min, which started in October 2016. Choi Soon-sil, a presidential friend with no government position, was reported to have had access to confidential government documents and to have acted as an informal adviser to the president. Choi was also reported to have used her connection to the president to pressure large companies to donate millions of dollars to the Mir and K-sports foundations ― non-profit foundations that Choi controls.
Choi was formally charged on November 20, 2016. Aside from Choi, two presidential staff members, An Chong-bum and Jung Ho-sung, were also charged for abuse of authority and for aiding Choi. President Park was also said to have a role in the corruption scandal.
A few days after President Park publicly acknowledge her close ties with Choi, the president dismissed key members of her staff. Her approval ratings fell to a historic low of 4%.
On November 12, there were mass protests demanding Park´s impeachment or resignation at Gwanghwamun Square. Another national protest was held on November 19, after Park had declined to aid the investigation.
On November 29, 2016, Park offered to resign as president, and invited the National Assembly to arrange an orderly transfer of power. However, the opposition parties were against Park´s proposal and accused her of attempting to avoid impeachment.