Unsold apartments in Malaysia's major cities are currently valued at MYR 8.3 billion (US$ 1.9 billion), the result of a serious overbuilding of top-end properties during the recent boom.

To combat this over-building, the government has introduced multiple measures to control speculation and discourage developers from over-building. Stamp duty was increased from 3% to 4% on properties worth above MYR 1 million (US$ 229,384). The government also introduced an additional 5% in real property gains tax (RPGT) on sales of properties owned from 6 years and beyond.

Partly as a result, Malaysia's house price index rose a minuscule 0.41% to Q3 2019, according to the Valuation and Property Services Department (JPPH). This is a sharp slowdown from an annual price growth of 8.3% from 2010 to 2018.

When adjusted for inflation, house prices actually fell 0.66% y-o-y in Q3 2019.On a quarterly basis, the house price index fell by 0.76% (-1.09% inflation-adjusted) in Q3 2019. The COVID-19 outbreak is making things even worse.

Malaysia's average house price stood at MYR 423,179 (US$ 97,070).

Performance by property type:

Terraced house average prices rose slightly by 0.79% (fell 0.29% inflation-adjusted) to MYR 387,532 (US$88,894) during the year to Q3 2019.
High-rise residential properties' average price increased 0.56% y-o-y (-0.52% inflation-adjusted) to MYR 341,660 (US$78,371).
Detached house average prices were down slightly by 0.14% y-o-y (-1.21% inflation-adjusted) to MYR 660,760 (US$151,568).
Semi-detached house average prices fell by 0.51% y-o-y (-1.57% inflation-adjusted) to MYR 658,241 (US$ 150,990).

Kuala Lumpur has Malaysia's most expensive housing, with an average price of MYR 763,935 (US$ 175,235), followed by Selangor, at MYR 486,604 (US$ 111,619); Sabah, at MYR 460,221 (US$ 105,567); and Sarawak, at MYR 455,169 (US$ 104,409).

The cheapest housing in Malaysia can be found in Melaka and Kelantan, with average prices of just less than MYR 200,000 (US$45,877).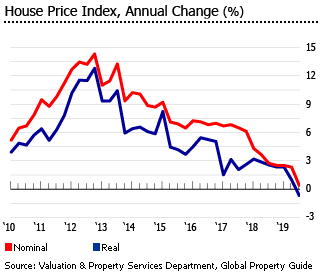 The Malaysian economy expanded by 4.3% in 2019, notably lower than the expansions of 4.7% in 2018 and 5.9% growth in 2017, mainly due to a decline in output of crude oil, natural gas, and palm oil and a fall in exports due to the US-China trade tension.

The economy is widely expected to slow further this year. Bank Negara Malaysia (BNM) projects that the economy will see a contraction of 2% at its worst and growth of 0.5% as its best in 2020, due to the imposition of global and domestic measures to contain the COVID-19 pandemic.