After a decade-long house price boom, Malaysia's housing market has been cooling in the past two years due to massive oversupply. There are YR 18.48 billion (US$ 4.41 billion) unsold apartments in Malaysia's major cities, the result of a serious overbuilding of top-end properties during the recent boom.  But the measures taken by the government to buoy the market are (partly) working.

To combat this over-building, the government has introduced multiple measures to control speculation and discourage developers from over-building. Stamp duty was increased from 3% to 4% on properties worth above MYR 1 million (US$ 238,578). The government also introduced an additional 5% in real property gains tax (RPGT) on sales of properties owned from 6 years and beyond.  However these measures have been temporarily relaxed to deal with the impact of the pandemic on the property market.

The COVID-19 pandemic has crippled demand, adding to downward pressure on house prices.  As a result, Malaysia's house price index rose a minuscule 0.3% during the year to Q1 2021, down from the previous year's 1.9% y-o-y increase, according to the Valuation and Property Services Department (JPPH). This is also a sharp slowdown from an annual price growth of 7.5% from 2010 to 2019.  When adjusted for inflation, house prices actually fell 1.3% y-o-y in Q1 2021.

On a quarterly basis, the house price index increased 1.7% (but fell by 0.2% in real terms) in Q1 2021.

Malaysia's average house price stood at MYR 432,220 (US$103,106) in Q1 2021.

During 2020:

Terraced house average prices rose by 2% y-o-y to MYR 400,252 (US$95,491).
High-rise residential properties' average price fell by 0.8% y-o-y to MYR 338,628 (US$80,789).
Detached house average prices were down by 1.1% y-o-y to MYR 661,623 (US$157,849).
Semi-detached house average prices fell slightly by 0.6% y-o-y to MYR 661,178 (US$157,743).

Kuala Lumpur has Malaysia's most expensive housing, with an average price of MYR778,143 (US$185,648) during 2020, followed by Selangor, at MYR 486,659 (US$116,106); Sarawak, at MYR 475,899 (US$113,539); Sabah, at MYR 456,262 (US$108,854); and Pulau Pinang, at MYR 438,301 (US$104,569).

The cheapest housing in Malaysia can be found in Melaka, with average prices of just less than MYR 200,000 (US$47,716).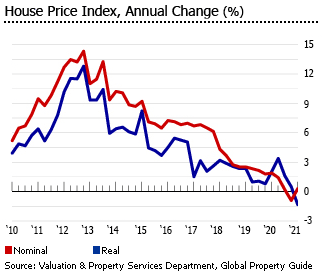 The Malaysian economy shrank by 5.6% in 2020, in stark contrast to an annual growth of 4.3% in 2019 and the biggest decline since the Asian Financial Crisis in 1998. The economy grew by a healthy annual average of 5.3% from 2010 to 2019.

The economy is expected to return to growth this year, with a projected real GDP expansion of 6.5%, according to the International Monetary Fund (IMF).