Malaysia's house prices remained more or less steady, as the positive impact of strong demand is being offset by massive oversupply. During the year to Q3 2022, the nationwide house price index rose by a meager 0.72%, a slowdown from y-o-y increases of 2.62% in Q2 and 2.4% in Q1, based on figures released by the Valuation and Property Services Department (JPPH). Though when adjusted for inflation, house prices actually dropped 3.6%, its worst showing in recent history.

On a quarterly basis, the house price index fell by 2.11% (-2.79% inflation-adjusted) in Q3 2022.

Malaysia's average house price stood at MYR 438,967 (US$103,076) over the same period.

By property type:

Terraced house average prices rose by 1.34% y-o-y to MYR 418,592 (US$98,291) in Q3 2022. Quarter-on-quarter, prices fell by 2.17%.
High-rise residential properties' average price rose slightly by 0.78% y-o-y to MYR 342,506 (US$80,425) in Q3 2022. On a quarterly basis, prices dropped 1.54%.
Detached house average prices were down by 3.01% y-o-y to MYR 617,432 (US$144,981) over the same period. Quarter-on-quarter, detached house prices fell by 1.68%.
Semi-detached house average prices rose slightly by 1.16% y-o-y but dropped 2.93% q-o-q to MYR 669,402 (US$157,185) in Q3 2022.

Demand is robust. In Q3 2022, the total number of residential property transactions reached 64,989 units, up by 11.2% from the previous quarter and by a whopping 52.5% compared to the same period last year, according to the JPPH. Likewise, residential transaction value increased 10.4% q-o-q and by 40.4% y-o-y to MYR 25 billion (US$5.8 billion).

Though there remains a vast amount of unsold housing stock. In Q3 2022, residential overhang totalled 29,534 units worth MYR 19.95 billion (US$4.61 billion). Johor accounted for the biggest overhang, at 5,348 units, followed by Penang (with 5,222 units) and Klang Valley (with 4,386 units).

"Perhaps it is time to reduce new supply in the states of Johor and Penang to address this overhang in the years to come. More study and better assessment matrix need to be in place to determine actual demand before new supply enters the market," said Chan Ai Cheng, president of MIEA.

Despite massive oversupply, residential construction activity remains high. During the first three quarters of 2022, the total number of housing starts for landed and high-rise residential buildings rose by 4.2% y-o-y to 72,993 units, while completions increased slightly by 0.5% y-o-y to 51,558 units in Q1-Q3 2022.

Malaysia's housing market is expected to be buoyed by the government's recent announcement of subsidies and incentives totaling MYR 55 billion (US$12.71 billion), in an effort to address worsening housing affordability. According to Sheldon Fernandez, country manager for PropertyGuru Malaysia, the programme will give first-time homebuyers up to 75% stamp duty discount on properties valued at MYR 500,000 (US$116,300) to MYR1 million (US$232,600) through the end of 2023.

"This will hopefully encourage homeownership among first-time homebuyers and further spur the property market," said Fernandez.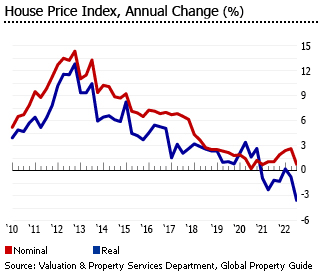 The Malaysian economy expanded strongly by more than 7% during 2022, following a 3.1% growth in 2021 and a 5.5% contraction in 2020. It was the country's best economic performance in more than a decade. The economy had grown by a healthy annual average of 5.3% from 2010 to 2019.

However, economic growth is projected to moderate this year, as global economic outlook remains gloomy and geopolitical conflict suppresses growth. The Finance Ministry forecasts a real GDP growth rate of between 4% and 5% this year, in line with the recent projections released by the International Monetary Fund (IMF) and World Bank.