After three years of strong growth, Ghana's high-end housing market is now struggling, as demand has been adversely affected by the COVID-19 pandemic and related restrictions.

"Sales transactions declined significantly as potential investors held onto their funds due to the financial crisis and the general uncertainties," said Broll Ghana.

Before the pandemic, Ghana's residential property prices have been rising rapidly, thanks to robust local demand, as well as the influx of non-resident Ghanaians and foreign investors. "Prior to the pandemic, the real estate sector's contribution to GDP was robust due to growing transaction volumes and an increase in the supply of real estate assets," according to Northcourt's Ghana Real Estate Market Report 2021.

"Most real estate transactions in the Ghanaian market are concentrated in Accra and Kumasi."

However, the pandemic led to heightened health scares among potential buyers, and the imposition of travel restrictions has prevented foreign investors from coming into the country.

In January 2021, international tourist arrivals plunged 58.5% y-o-y to 36,838 people, following an almost non-existent tourism sector last year, according to figures released by Bank of Ghana.

Despite an expected economic rebound this year, the outlook for the high-end housing market remains gloomy, at least for the remainder of the year.

"Looking ahead, we anticipate that demand will continue to fall within the short to medium term especially for high-end apartments. This will be as a result of a decline in growth of Ghana's tourism industry which is the main driver of the high-end residential market," said Broll Ghana.

After registering a meager growth 0.9% during 2020, Ghana's economy is expected to bounce back this year with forecast real GDP growth of 4.6% in 2021 and another 6.1% in 2022, according to the International Monetary Fund (IMF).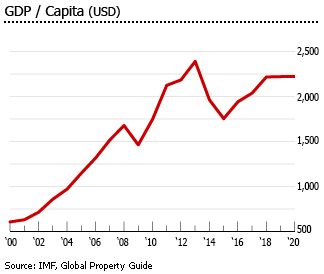 There are no restrictions on foreigners buying property in Ghana. However, there are four forms of land ownership, some of which cannot be privately owned. Each involves differing modes of acquisition. These are: Government Land, Vested Land, Customary/Stool Land, and Family/Private Land.

Potential buyers should first consult the Ghana Investment Promotion Center regarding procedures, and to be directed to the appropriate agencies involved in legally acquiring property, since identifying legal ownership can be a problem.