Botswana's residential property market, while relatively underdeveloped, seems to offer huge growth potential. This beautiful country offers marvelous wildlife tourism, with excellent all-year weather, and its thriving diamond mining industry gave it the world's highest average growth rate from 1966 to 1999, transforming it into a middle-income country with a per capita GDP of almost US$8,000 in 2018.

However the imposition of a 30% transfer tax on foreign property buyers will dampen demand.  But this has not yet stalled the rise in house prices.

In the first quarter of 2019, the average price of residential property rose by 11.4% to BWP 852,529 (US$78,430) from the same period last year, according to Bank of Botswana's Monetary Policy Report October 2019. Quarter-on-quarter, residential property prices rose 11.1% in Q1 2019.

Land prices are rising too, though inexpensive by international standards. Freehold land within the city centre of Gaborone had an average price of BWP1,320 (US$121) per square metre (sq. m.) in 2018, according to CAHF. This means that a small plot of 300 sq. m. in the city would cost around BWP396,000 (US$36,400).  Land in rural and urban villages is still cheap, with prices ranging from BWP 230 (US$ 21) to BWP 260 (US$ 24) per sq. m.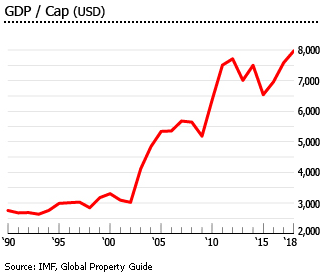 The continued rise in house prices was partly because Botswana is rated as one of the top 5 most attractive investment destinations in Africa by the Africa Investment Index 2018 published by Quantum Global Research Lab, due to its improved credit rating, favourable current account ratio, import cover, and ease of doing business, and it is rated one of Africa's freest economies by Heritage's 2019 Index of Economic Freedom.

The Botswana Government actively seeks out foreign investment and is happy to sell land to foreigners. Only tribal land and state land cannot be sold to foreigners, and in most areas of Gabarone (and indeed Botswana) land can be bought.