This content is archived and no longer updated.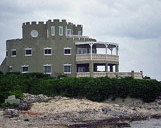 Rents: Can landlord and tenant freely agree rents in the Cayman Islands?
Rents and leases are not regulated. A price gouging law was passed recently, but most experts believe it does not apply to house rents.
In practice, landlords can increase rents in the middle of the lease contract, impose surcharges for late rents, and throw out tenants to accommodate higher paying ones.
Deposits
One month's security deposit as well as the first month's rent is usually required before the tenant moves in. Security deposits are returned without interest and after deductions for damages are made (notwithstanding normal wear and tear).
What rights do landlords and tenants have in the Cayman Islands, especially as to duration of contract, and eviction?
There are no specific provisions in the law for termination of contracts. In practice, the landlord's power to evict is very strong. There are times that tenants are given only a few days' notice to leave a place or face a very high rent increase.
EVICTION FOR NON-PAYMENT OF RENT

Duration until completion of service of process
30
Duration of trial
136
Duration of enforcement
14
Total Days to Evict Tenant
180
Courts: The Lex Mundi Project
How effective is the Cayman Islands' legal system?
The law of contracts is not strictly observed in the Cayman Islands. Landlords are known to increase rents by as much a 30% in the middle of the lease agreement. The supply of rental housing shrunk after Hurricane Ivan in 2004. About 10% of the already small housing stock was destroyed. The fall and supply and increase in demand gave landlords tremendous market power.
It has been reported that landlords even remove water meters and cut electricity to remove tenants. The landlord, as reported, wanted to rent out the unit to someone willing to pay a higher rent.
Legislation
Several laws supposedly cover landlord and tenant relations such as the Landlord and Tenants Law (1998 Revision), The Registered Land Law (2004 Revision) and general common law principles. However, none of these laws detail the rights and responsibilities of landlord and tenants.
STAMP DUTY

DURATION OF LEASE
STAMP DUTY RATE
Up to 5 years
5%
5 years - 10 years
10%
10 years - 30 years
20%
Source: Global Property Guide
Brief History: Recent changes in Cayman Islands' landlord and tenant law
Due to the events after the hurricane such as too many rent adjustments and numerous complaints from tenants, the government has been trying to review the laws covering landlord and tenant relations. One proposal is to introduce a rent control law; however, it is unlikely that this will be passed.
The stamp duty for lease contracts of more than 30 years is computed similarly to the stamp duty for a conveyance on sale. The stamp duty is imposed on the property's full market value and the rate is generally around 7.5%.
Cayman Is. - More data and information