Tax on property income in Anguilla
INDIVIDUAL TAXATION
There are no income taxes in Anguilla. But stamp duties and fees are levied on certain types of income.
RENTAL INCOME
Business License Fee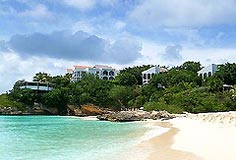 An annual fee for renting is required. The rate is ECD2,500 (US$958) for the first 200 ft2, ECD0.50 (US$0.20 for each additional covered ft2 and ECD0.25 (US$0.10) for each additional uncovered ft2 .
Goods and Services Tax
Properties leased to tourists are subject to 13% Goods and Services tax, levied on the gross rent starting from July 1, 2022.
CAPITAL GAINS
No capital gains tax is applicable. However, stamp duties are levied on transfers of real property in Anguilla.
Transfer Duty on Real Property
A transfer duty of 5% is levied either on the assessed value of the property or the sales proceeds, whichever is greater. Transfer duties are payable by the buyer.
PROPERTY TAX
Real Property Tax
Property taxes are levied on the value of the real estate. The rate of tax is 0.3% for residential real estate and 0.325% on short term rental properties.
Anguilla - More data and information