WHO WE ARE
A niche site for the residential property investor
The Global Property Guide appeals to the financially-oriented buyer of residential property. Buyers use our site to understand where in the world to make money from owning and renting property.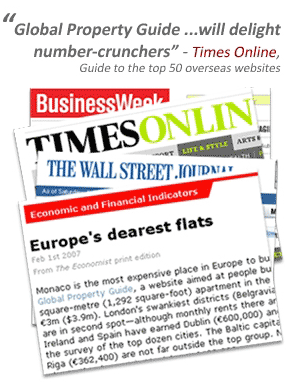 We have:
Path-breaking investment numbers
High-end profile and readership
Navigational ease
WHY ADVERTISE WITH US?
The Global Property Guide is recognized as an authority on property investment information.
Our research is distributed to around 4,000 journalists throughout the world. Within the first year of officially launching Global Property Guide we were featured in the International Herald Tribune, Forbes, the Wall Street Journal, BusinessWeek,the Economist, and the London Times. Our data is No1 in the Nubricks.com list of Essential Overseas Property Resources.
Listings backed by regional information
We combine space for property listings with in-depth data. Each country has a clickable regional map, and a premier city map. These maps lead to well-researched regional and district data, which helps users discover the country.

Advertising opportunities
Individuals
Private owners can list property on a network of sites that includes Global Property Guide, TheMoveChannel.com, A Place in the Sun, Homes Go Fast, Medhead, Eurobrix, Move Worldwide and Nubricks. Feel free to ask any questions using the form on the right.
Agents & Developers
If you are an international real estate agent or property developer looking to advertise property on this site, or sponsor a report, please contact us using the form on the right. Global Property Guide is part of a specialist international real estate marketing network meaning your properties can be seen by millions of potential buyers. Call or email us today for more information on our advertising packages, which include property listings, email campaigns and qualified telephone leads.
Banner Advertising
We offer competitive rates for banner advertising. The advertising can appear on a specific country, or continent, or run-of-site. Usually we bundle in some email newsletter advertising to increase the take-up. If you are interested, please email contact details to [email protected].