UAE's property prices subdued
February 20, 2018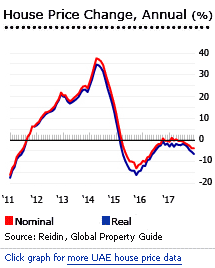 For now, residential markets in Dubai and the UAE are heading down. Dubai´s all-residential property price index (RPPI) declined by 3.85% during 2017, according to Reidin.com. When adjusted for inflation, Dubai house prices actually fell 6.4%.
Dubai´s apartment sales prices fell by 3.82% (-6.37% inflation-adjusted) during the year to December 2017.
Villa sales prices in Dubai also dropped by 3.83% (-6.39% inflation-adjusted) y-o-y during the same period.
In Abu Dhabi, the all-residential property price index has fallen even further, posting a 9.02% y-o-y decline in December 2017.
Apartment sales prices in Abu Dhabi suffered a sharp price decline of about 10.23% (-12.61% inflation-adjusted) in 2017.
In contrast, villa sales prices increased by 3.24% (0.5% inflation-adjusted).
Sales prices of both apartments and villas in Abu Dhabi fell slightly during the last quarter of 2017 as investor sentiment remains negative, according to JLL MENA.
But there are signs of a revival. Political tensions in the region are making Dubai and UAE more attractive to regional investors. Price declines in Dubai slowed during the latest quarter, notes JLL Mena. And property transactions in Dubai were up by 14% y-o-y in terms of number, while transaction value was up by 6% y-o-y in 2017, according to the Dubai Land Department (DLD).
What has changed in the market? Strong off-plan sales. "2017 is set to record the highest level of off-plan sales in Dubai since 2008," said JLL MENA. Cluttons attributes higher off plan sales to the "persistence of favourable payment plans, stretching well beyond handover".
Abu Dhabi has strengthened the protection of off-plan buyers. It´s recent real estate law (No. (3) of 2015) appoints Abu Dhabi´s Department of Municipal Affairs (DMA) as real estate regulator, performing the same functions as Dubai´s RERA. The reforms, as outlined by The National, include:
A central government database/register for all property projects in Abu Dhabi, including off-plan sales;
Developers are only allowed to charge DMA-approved administrative fees, and are barred from collecting registration fees from investors;
 Rules are laid down for the creation of owners´ associations;
Developers are allowed to sell off-plan units as long as they own a real estate right over the project land. A "disclosure statement" is also required, providing information on the development to home buyers.
Developers marketing off-plan units are required to open an escrow account.
In case of "substantial prejudice", off-plan buyers can terminate their purchase.
Developers will be fined by the DMA if their projects are delayed by more than six months. If there is a significant delay, the new law allows for cancellation of projects or the appointment of anew developer.
A 10-year liability period for developers regarding structural building defects.
Meanwhile prices are expected to remain subdued in Dubai due to the projected amount of supply in 2018, according to Asteco. In 2018, about 43,000 units are expected to be added to Dubai´s total residential stock (around 491,000 units at end of 2017), but only 8,000 new housing units will be added to the Abu Dhabi market (251,000 units at end of 2017), according to JLL MENA.
Several other factors have affected the market. The Federal Mortgage Cap, introduced in 2013, has slowed the pace of residential value appreciation in Abu Dhabi and Dubai. In addition, the Dubai Land Department recently doubled property registration fees from 2% to 4% to dampen property demand.
Finally the implementation of the value added tax (VAT), which became effective in January 2018, is another factor. The 5% VAT only applies to home sales after three years of the project´s completion. Sales within three years of completion have 0% VAT rate.
However Knight Frank´s outlook for Dubai´s real estate market remains positive, noting that the anticipated acceleration of GDP growth in 2018 would provide support to the residential market. "Overall the risks may be outweighed by the expectations of stronger global economic and trade growth in 2018 than previously forecast, which Dubai would certainly benefit from given its standing as a regional trading hub and safe haven," according to Knight Frank.
Foreign ownership
Foreign ownership rules are quite liberal:
Foreign nationals are now allowed to buy freehold properties in designated areas in Dubai.
Gulf Cooperation Council (GCC) nationals are allowed freehold ownership anywhere in the Emirates.
Abu Dhabi´s government introduced new regulations in 2014 allowing foreigners to own property in designated investment zones on a freehold basis. Previously, foreign investors were generally limited to leasehold arrangements with 99-year leases. This followed Abu Dhabi´s previous market-boosting measures.  In 2012, the government compelled public sector employees living outside Abu Dhabi to relocate within the emirate´s borders. Then in November 2013, the government cancelled a 5% cap on annual rent increases.
Most residential property buyers in Dubai are UAE nationals, followed by Indians, Saudis, British, and Pakistanis.
The great crash - a history lesson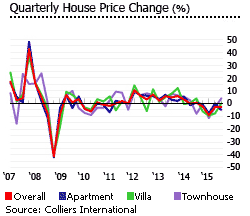 From 2002 to 2008, Dubai´s property prices almost quadrupled, and large-scale developments turned Dubai into one of the fastest growing cities in the world. Some of the biggest projects include Jumeirah Garden City (estimated cost: US$95 billion), Dubailand (US$64 billion), The Lagoons (US$25 billion), Palm Jumeirah (US$14 billion), and The World (US$14 billion).
After March 2006, a deluge of foreign money boosted Dubai´s ambitions following the passage of the long-awaited foreign property ownership law. Europeans, including Russians, accounted for 20% of the buyers of all property categories. GCC, Arab nationals and UAE nationals made up 28%, Asians 40%, and Iranians 12%, according to figures from Global Realty Partners.
Then the global credit crunch hit. Foreign investors disappeared at the end of 2008. Transaction volumes plummeted. Almost half construction projects in the UAE, worth around AED1.1 trillion (US$582 billion), were either put on hold or cancelled.
As the economy returned to growth, halted construction projects were resumed. From January 2012 to end-2014 Dubai experienced skyrocketing house prices, averaging 21.5% annually. However, house price growth in Dubai slowed by end of 2014. In 2015, Dubai´s all-residential property price index (RPPI) fell by 11%, and Abu Dhabi´s RPPI fell by 0.8%, due to the significant drop in global oil prices, the strengthening of the US Dollar, the central bank´s Federal Mortgage Cap, and geopolitical tensions in the Middle East
Moderate rental yields in Dubai
Gross rental yields in Dubai are moderate to good, ranging from 5.2% to 5.9%, according to the Global Property Guide´s research of September 2016. Smaller apartments (90 sq. m.) have higher yields,  averaging 5.91%, while medium-sized apartments (120 sq. m.) have yields averaging around 5.19%.
Rent cap laws return, but are more pro-landlord now.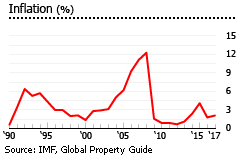 Since December 2013 a new rent cap law, Dubai Decree No. 43/2013 (the "New Decree") has imposed the same 20% rent increase cap as the previous rent cap law (Decree No. 2 of 2011, known as the "the Old Rent Cap"), which had been temporarily abolished.
However landlords can now increase rents on lease renewal, or as soon as the rent for a property falls 11% below the average market rental rate.The New Decree also makes clear that the rent cap also applies to special development areas and free zones, including the Dubai International Financial Centre (DIFC).
NEW RENTAL LAW

CURRENT RENTAL RATES
RENT INCREASE FOR 2013
if existing rent is:
 
Equal to or 10% below the average rental rate
Nil
11% to 20% below the average market rental rate
5%
21% to 30% below the average market rental rate
10%
31% to 40% below the average market rental rate
15%
More than 40% below the average market rental rate
20%
In Abu Dhabi, the Department of Municipal Affairs and Transport (DMAT) has reinstated (on December 13, 2016) the annual 5% rent cap which had been abolished in 2013.
Rents are down in Dubai and Abu Dhabi
Rental rates of residential properties are declining in both Dubai and Abu Dhabi, according to Asteco.
In Dubai, rental rates for apartments were down by 4% in Q4 2017 from the previous quarter, based on the figures from Asteco. Rental rates for villas also fell by 3% q-o-q during the same period. In Q3 2017, rental rates for apartments actually fell by 12% y-o-y, and for villas by 10% y-o-y, according to Asteco.
In Abu Dhabi, the average rental rates for both apartments and villas declined by 3% q-o-q in Q4 2017. In Q3 2017, rental rates for apartments fell by 10% y-o-y, while villa rental rates dropped by 6% y-o-y.
In Q4 2017, annual rents in Dubai ranged from AED 40,000 (US$ 10,892) to AED 110,000 (US$ 29,952) for one-bedroom apartments, and from AED 95,000 (US$ 25,868) to AED 200,000 (US$ 54,459) for three-bedroom apartments, according to Asteco.
In Abu Dhabi, rents ranged from AED 67,000 (US$ 18,244) to AED 138,000 (US$ 37,577) for one-bedroom apartments, and from AED 109,000 (US$ 29,680) to AED 240,000 (US$ 65,351) for three-bedroom apartments.
Rents in specific developments:
At the Discovery Gardens, annual rents for one-bedroom apartments range from AED 50,000 (US$ 13,615) to AED 65,000 (US$ 17,699); and two-bedroom apartments from AED 80,000 (US$ 21,784) to AED 100,000 (US$ 27,229).
In International City, annual rents for studio apartments ranges from AED 25,000 (US$ 6,807) to AED 38,000 (US$ 10,347), while rents for one-bedroom apartments range from AED 35,000 (US$ 9,530) to AED 52,000 (US$ 14,159).
At the Golf Gardens, located next to the Abu Dhabi Golf Club, annual rents were from AED 210,000 (US$ 57,182) to AED 225,000 (US$ 61,266) for a three-bedroom villa.
Annual rents for three-bedroom apartments in MBZ City start at AED 70,000 (US$ 19,061).
Interest rates are heading up in 2018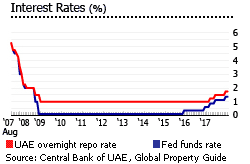 For the third time in 2017, the Central Bank of the UAE raised its benchmark rate by 25 basis points in December, a day after the US Federal Reserve rate hike. The Federal Open Markets Committee (FOMC) expects three or more Fed Funds rate hikes in 2018, which UAE is likely to follow (mortgage interest rates in Dubai have, in the past, followed key US Fed rates, because the dirham (AED) is pegged to the US dollar at AED3.67 = US$1).
Tight mortgage rules have constrained the housing market
The UAE´s mortgage market has grown strongly over the past decade. More fixed-rate mortgage products have been introduced. In addition "fee free" products, which allow borrowers to switch to a new lender at a lower cost, have been offered starting during the last quarter of 2010. Tamweel, one of the largest Islamic mortgage lenders, is back in the market, having stopped trading its mortgage shares in November 2008 due to the global credit crunch.
However a new set of mortgage regulations were introduced to cool the property market In 2013, which strongly affected sales. The rules involved lower Loan-to-value (LTV) rates, as follows:
UAE FEDERAL MORTGAGE CAPS (MAXIMUM LOAN-TO-VALUE-RATIO)

First home (Owner-occupier)
Second home or investment property
Off-plan purchase
NATIONALS
Property valued under
80%
65%
50%
AED5 million (US$1.36 million)
Property valued over
70%
65%
50%
AED5 million (US$1.36 million)
EXPATRIATES
Property valued under
75%
60%
50%
AED5 million (US$1.36 million)
Property valued over
65%
60%
50%
AED5 million (US$1.36 million)
Source: UAE Central Bank, Cluttons
UAE economic growth to accelerate in 2018
The UAE´s economy is expected to recover this year with growth of 3.9%, according to the Ministry of Economy. The IMF meanwhile forecasts 3.5% growth. "We see a gradual recovery for the UAE over the next few years on the back of firming oil prices, a pick-up in global trade, investment for Expo 2020 and easing fiscal consolidation," says IMF mission chief to the UAE Natalia Tamirisa.
Abu Dhabi´s oil-rich economy is predicted to grow by 3.2% in 2018, from meagre 0.3% growth in 2017, mainly due to the expected recovery in oil exports.
Oil prices are crucial
2017 was a disappointing year. The UAE´s economy grew by only 1.6% in 2017, its slowest pace of growth since 2010, according to the UAE Central Bank. This slower growth, following a 3% GDP growth in 2016, was partly due to the reduction of oil output as part of the agreement among the Organization of the Petroleum Exporting Countries (OPEC) member countries in November 2016.
Brent oil prices posted a 13.8% y-o-y increase in Q3 2017, and an 8.8% price hike from the previous quarter, after the implementation of the OPEC agreement. Oil prices are expected to continue rising during 2018, according to the central bank.
The non-oil sector is growing too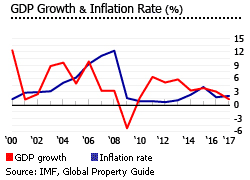 Driving the country´s economic diversification is the Abu Dhabi´s Economic Vision 2030, and Dubai´s Strategic Plan 2015, which aim to increase investment in industrial and export-oriented sectors. At the federal level, the UAE´s "2021 Vision" positions science and technology, research, and innovation at the centre of a knowledge-based and highly competitive economy by 2021.
"The non-oil sector both in Dubai and Abu Dhabi is almost growing at the same speed, around 3%," according to IMF´s Middle East and Central Asia Department head Jihad Azour. Non-oil sectors account for around 83.2% of the country´s GDP in 2016.
The UAE´s annual inflation rate rose to 2.73% in December 2017, according to Federal Competitiveness and Statistics Authority.
United Arab Emirates - More data and information