The UAE's property market continues to gather pace, supported by robust demand, healthy economic growth, and strong foreign interest.

Dubai's all-residential property price index (RPPI) rose strongly by 9.53% y-o-y (4.14% inflation-adjusted) during 2022, at par with the previous year's 9.25% increase, according to Reidin.com. On a quarterly basis, Dubai prices were up by 2.93% (1.69% inflation-adjusted) in Q4 2022.

By property type:

Dubai's apartment prices rose by 8.98% (3.61% inflation-adjusted) during 2022.
Villa prices increased sharply by 12.78% (7.22% inflation-adjusted) last year.

The average purchase price of apartments in Dubai was AED1,917,510 (US$522,127) in 2022, based on figures from Mortgage Finder. On the other hand, the average purchase price of villas stood at AED3,112,546 (US$847,528).

Abu Dhabi's housing market growth is more subdued, with the all-residential property price index rising by just 1.46% (-3.54% inflation-adjusted) in 2022 from a year earlier. Over the same period:

Apartment sales prices in Abu Dhabi increased slightly by 0.91% (-4.06% inflation-adjusted).
Villa sales prices rose by 4.07% (-1.05% inflation-adjusted).

Demand is surging. During 2022, Dubai's registered property sales transactions increased by a huge 44.7% y-o-y to 122,658. Likewise, the total value of transactions reached a record-high of AED 528 billion (US$143.8 billion), up by 76.5% from the prior year, according to a report released by a Dubai Media Office.

2022 also saw 80,216 investors registering 115,183 new real estate investments valued at AED 264.15 billion (US$71.93 billion) – an annual growth of 59.5% in volume and 78.4% in value.

"Dubai remains one of the world's most attractive investment destinations due to its stable economy, strong financial fundamentals and ability to constantly find new opportunities for growth," said Sheikh Hamdan bin Mohammed bin Rashid Al Maktoum, Crown Prince of Dubai and Chairman of Dubai Executive Council.

"Moreover, global investors, institutions and businesses continue to have high confidence in Dubai's economy due to its growing profile as one of the best metropolises to live and work, its exceptional infrastructure and supportive regulations," he added.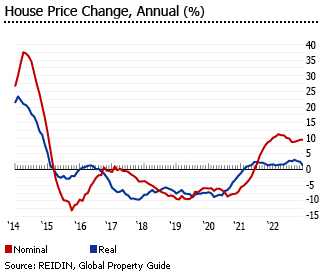 The UAE economy grew by around 5.9% in 2022 from a year earlier, on the back of the strong expansion of the non-oil sector, according to the World Bank. This followed a modest growth of 3.8% in 2021 and a contraction of 4.8% in 2020.

The economy will likely expand by a more moderate, but still healthy pace of 4.1% this year, amidst global economic slowdown.


Analysis of United Arab Emirates Residential Property Market »