Oman's property market is now showing signs of recovery, thanks to improving economic conditions and rising crude oil prices, according to local real estate experts.
In Q1 2018, the average value of real estate traded in Oman rose by 14% to OMR 37,854 (US$98,332) from a year earlier, according to the Ministry of Housing. In fact in Muscat, which accounts for more than 65% of property transactions, the average value of real estate traded surged 67.6% y-o-y to OMR 136,558 (US$354,733) over the same period.
However, real estate property prices continue to fall in all other governorates, with Al Wusta registering the biggest decline of 63.2% during the year to Q1 2018, followed by Musandam (-47.3%), Al Buraymi (-36.1%), Al Batinah North (-34%), Dhofar (-26.5%), Adh Dhahirah (-20.5%), Ash Sharqiyah North (-20.4%), Ad Dakhliyah (-13.1%), Ash Sharqiyah South (-11.8%), and Al Batinah South (-1%).
Demand is now rising. In Q1 2018, the total value of property traded in Oman increased 6.5% y-o-y to OMR776.3 million (US$2.02 billion), in sharp contrast with the 61% decline seen in 2017, based on figures from the National Centre for Statistics and Information (NCSI).
The government's efforts to boost the economy has resulted in several encouraging developments for the property market, such as the creation of a real estate investment fund (REIF), which is expected to increase investments in larger scale real estate projects. However, the Ministry of Manpower's decision to extend the temporary ban on the issuance of work permits to expats in key sectors is expected to adversely impact demand for residential rental properties, according to Cluttons.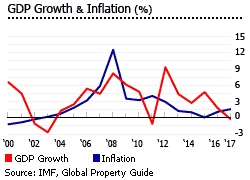 Overall, Oman's real estate market is projected to stabilize in the medium term, supported by improving economic conditions, as well as the construction of a new airport in Muscat and the production of natural gas at the Khazzan gas field, according to Cluttons.
The economy contracted by 0.3% in 2017, after annual growth rates of 1.8% in 2016, 4.7% in 2015, 2.8% in 2014, 4.4% in 2013, and 9.3% in 2012, according to the International Monetary Fund (IMF), as oil output contracted by 2.8% due to the implementation of the OPEC agreement. The economy is projected to improve, with a modest growth of 2.1% this year, amidst rising oil prices.
In May 2018, crude oil prices increased to an average of US$76.98 per barrel, up from US$54.25 in 2017 and US$43.5 in 2016 and the highest level since November 2014.
Demand rising again
In the first quarter of 2018, the total value of property traded in Oman increased 6.5% y-o-y to OMR776.3 million (US$2.02 billion), in sharp contrast with the 61% decline seen in 2017, based on figures from the Ministry of Housing.
Over the same period:
There were 16,045 sales contracts, valued at OMR257.5 million (US$668.8 million), according to the NCSI.
There were 4,025 mortgage deals, amounting to OMR514.1 million (US$1.34 billion)
About 62,127 plots were allocated in Q1 2018, down slightly by 1.8% from the same period last year.
Positive developments in the real estate market
Early this year, the Capital Market Authority (CMA) unveiled the introduction of Real Estate Investment Funds (REIFs) in the Sultanate through the issuance of Administrative Decision No 2/2018. This allows residents in Oman, whether citizens or expatriates, to purchase a share in real estate development projects in Muscat Securities Market, similar to the purchase of shares in the stock market.
In November last year, the Ministry of Housing issued the Ministerial Decision No 95/2017, which permits ownership of properties in Oman, but limits purchases in certain areas.
The decision allows ownership of residential complexes provided the area shall not be less than 10,000 square meters (sq. m.) but the funds shall not own empty lands or properties of agricultural use.
"The regulation makes investment in such funds easy and less risky besides providing employment opportunities for citizens," said Abdullah bin Salim al Mukhaini, the secretary-general of Real Estate Register.
Integrated Tourism Complexes
Oman's real estate market began to be opened to foreigners in 2002, as part of the "Vision 2020" plan, which aimed to reduce Oman's dependence on oil revenues. GCC nationals first gained the right to own real estate, then in February 2006 other nationalities were also given the right to own real estate, but only in ITC developments.
Under current laws, expatriate owners automatically get residency rights for themselves and their immediate families when they buy property in designated ITC developments.
The major ITCs such as Al Mouj Muscat (formerly The Wave), Muscat Bay (formerly Saraya Bandar Jissah), and Muscat Hills Golf and Country Club have led the country's housing market in terms of growth and value. These ITC developments have continuously attracted owners and tenants, with low vacancies and high rents, due to their superior design, setting and facilities. 
In Al Mouj Muscat, the average price of a one-bedroom apartment was OMR132,400 (US$ 343,994) in Q1 2018, according to Cavendish Maxwell Research. Over the same period, two-bedroom and three-bedroom apartments were priced OMR189,000 (US$491,049) and OMR237,500 (US$617,059), respectively.
In Muscat Hills, the average price of two-bedroom apartments stood at OMR145,000 (US$ 376,731) in Q1 2018 while it was OMR180,000 (US$ 467,666) for three-bedroom apartments. Four-bedroom villas are sold for about OMR475,000 (US$1.23 million).
RESIDENTIAL PROPERTY PRICES, Q1 2018

Property type
Property price (OMR)
Property price (USD)
 
Lowest
Highest
Lowest
Highest
Apartment
 
 
 
 
1 bedroom
21,850
132,400
56,758
343,922
2 bedroom
26,600
189,000
69,096
490,946
3 bedroom
31,980
237,500
83,071
616,930
Villa
 
 
 
 
3 bedroom
81,700
180,000
212,224
467,568
4 bedroom
147,200
199,500
382,367
518,221
5 bedroom
161,500
475,000
419,512
1,233,860
Sources: Cavendish Maxwell Research, Savills Oman
Aside from the continuous interest in the ITCs, there have been significant 'off plan' sales of new apartment developments in the Muscat neighborhood.
Newly launched off-plan apartment developments in Oman, Q1 2018:
In Ruwi/East of Centre, the main business and commercial district of Muscat, the average price of two-bedroom apartments was OMR 57,900 (US$150,433) in Q1 2018, according to Cavendish Maxwell Research.
In Qurum, Muscat's upmarket suburb, one-bedroom apartments are sold for about OMR 57,600 (US$149,653). Prices of two- and three-bedroom apartments start from OMR 63,600 (US$165,242) and OMR 76,000 (US$197,459), respectively.
In Al Khuwair, prices of two-bedroom apartments start from OMR 70,000 (US$181,870) while for three-bedroom apartments, prices start from OMR 76,000 (US$197,459).
In Bawshar, one of the newly established residential areas in Muscat, one-bedroom apartments are priced OMR 35,100 (US$91,195); two-bedroom apartments, at OMR 54,400 (US$141,339); and three-bedroom apartments, at OMR 99,700 (US$259,035).
Oman will open more areas to expat homebuyers
The government has recently embarked on opening up more areas for expats and foreign homebuyers.
In April 2017, the Ministry of Tourism signed an agreement with Amouage Hotels and Resorts for the development of Naseem A'Sabah, an integrated tourism complex worth OMR400 million (US$1.03 billion). This will be located on North Al Mawleh Beach, in the governate of A'Seeb and will feature a five-star hotel, a marina, a yacht club and 1,200 housing units. Construction will begin this year.
"Any expatriate living in the country can own a house in this first project that is built on the sea-reclaimed land off Mawaleh," said Tourism Minister Ahmed bin Nasser al Mehrzi.
"This project is part of our Oman Tourism Vision 2040 and with this, we aspire to achieve rapid development of tourism in the Sultanate," the tourism minister added.
Another development, Sur Gate Project, a 146,000 sq. m. integrated complex worth OMR 120 million (US$311.8 million) offers residential apartments and villas alongside a hotel, mall, and leisure centre. The project was about 70% complete by end-2017.
In January 2018, construction works already began in Quriyat Project, a OMR380 million (US$1 billion) integrated tourism complex that will feature more than 3,000 residential units, as well as hotels, a golf course, a water park, cinemas, restaurants, and a health club.
Other ongoing ITC projects in Oman include Diyar Ras Al Hadd Resort with 700 residential units, Omagine Project with 2,000 units and Al Nakheel with 1,436 apartments and villas.
Residential construction rising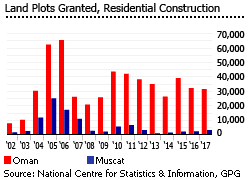 In 2017, the total number of planned land plots rose by 10.8% to 54,099 units from a year earlier, according to the NCSI.
Of the country's 11 governorates, Ad Dakhliyah, located in the northern part of Oman, accounted for the largest share in both land plots planned and granted, at 21% and 26%, respectively.
Residential building permits in Oman increased 2.14% to 31,868 units in 2016 from a year earlier (latest figures available). That's up from an average of 31,000 units in 2011-16, 15,000 units in 2007-10 and 7,000 units in 2002-06.
Oman had 551,058 housing units in 2010, 27.9% up on 2003. Arabic houses comprised 31.2% of the total housing stock; villas, 28.6%; apartments, 20.9%; rural houses, 3.2%; and improvised housing units, 2.4%.
Rents continue to fall
A few years back, Cluttons forecast that a two-tier market would develop. Properties well-matched to tenant desires in terms of quality and design would have high occupancy rates and relatively stable rental values. Poorly built properties would have declining rents, and be mostly uninhabited.
This is largely what has happened. There has been a continuous drop in demand and declining rental levels for older-style properties in the established central areas. The take-up of these properties has been very slow, due to a surge of new modern apartments with amenities and finish meeting international standards.
In 2017, residential rents in Oman were about 20% to 30% down from their peak levels seen in 2014, according local property experts.
In some areas, however, rents have remained stable, especially for bigger apartments.
For 2-BD apartments in central areas (excluding ITC's): monthly rents during 2017 range from OMR 200 (US$ 520) to OMR 850 (US$ 2,208), according to Savills Oman, lower than the previous year's OMR 3oo (US$779) to OMR 1,100 (US$2,858).
For 3-BD apartments: monthly rents range from OMR 300 (US$779) to OMR 1,000 (US$2,598) in 2017, down from OMR 350 (US$909) to OMR1,750 (US$4,547) in a year earlier.
For 4-BD apartments: rents are around OMR 550 (US$ 1,429) to OMR 2,500 (US$ 6,495) in 2017, almost unchanged from a year earlier.
In Al Mouj Muscat (formerly known as The Wave), rents range from OMR 700 (US$ 1,819) to OMR 2,200 (US$ 5,716) in 2017, down by about 15% from a year earlier. On the other hand, in Muscat Hills, rents fell by about 10% y-o-y in 2017 to about OMR 600 (US$ 1,559) to OMR 2,200 (US$ 5,716).
MONTHLY RENTS, 2017

Area
2-BR apartments
3-BR apartments
4-BR+ apartments
 
OMR
USD
OMR
USD
OMR
USD
MUSCAT EAST
Wadi Al Kabir
250-400
649-1,039
325-500
844-1,299
550-650
1,169-1,688
Ruwi
200-350
520-909
300-450
779-1,169
550-650
1,169-1,688
Darsait
250-400
649-1,039
325-500
844-1,299
550-650
1,169-1,688
Al Wattaya
200-400
510-1,039
450-550
1,169-1,429
550-650
1,169-1,688
MUSCAT CENTRAL
Qurum
300-550
779-1,429
400-800
1,039-2,078
600-1,500
1,559-3,896
Qurum Heights
350-650
909-1,688
500-750
1,299-1,948
800-2,200
2,078-5,715
Medinat Al Ilam
500-700
1,299-1,818
700-850
1,818-2,208
1,000-2000
2,598-5,195
Medinat Sultan Qaboos
500-700
1,299-1,818
700-900
1,818-2,338
1,000-2,000
2,598-5,195
Al Khuwair
300-500
779-1,299
400-600
1,039-1,559
750-950
1,948-2,468
Shati Al Qurum
600-800
1,559-2,078
650-1000
1,688-2,598
1,200-2,500
3,117-6,494
MUSCAT WEST
Ghubrah North
300-450
779-1,169
400-550
1,039-1,429
600-1,000
1,559-2,598
Ghubrah South
350-400
909-1,039
400-500
1,039-1,299
600-1,000
1,559-2,598
Azaiba
300-450
779-1,169
400-550
1,039-1,429
600-1,400
1,559-3,637
Bausher
300-450
779-1,169
400-550
1,039-1,429
700-1,200
1,818-3,117
Ghala
275-350
714-909
400-500
1,039-1,299
600-1,300
1,559-3,377
ITC PROJECTS
Al Mouj (The Wave)
700-850
1,818-2,208
900-1,200
2,338-3,117
1,650-2,200
4,286-5,715
Muscat Hills
600-750
1,559-1,948
800-1,000
2,078-2,598
1,350-2,200
3,507-5,715
WEST OF AIRPORT
Seeb
275-350
714-909
400-500
1,039-1,299
600-700
1,559-1,818
Al Khoud
275-375
714-974
400-550
1,039-1,429
550-750
1,429-1,948
Source: Savills Oman
The rents decline is expected to continue, because of the Ministry of Manpower´s decision to extend the temporary visa ban on expats in ten sectors for another six months from July 1, 2018, as part of the government's efforts to create more jobs for Omanis and reduce unemployment.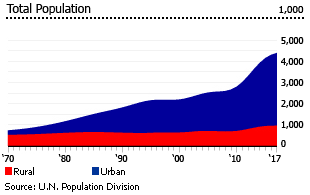 "Rents are expected to fall further due to the government's move for Omanisation," said real estate surveyors Cavendish Maxwell.  The expat population rose by more than 12% per annum during the period 2004-2016, however because of the expat visa ban, thousands of expats are now leaving the Sultanate.
As of May 2018, there were 1,830,394 expat workers in the Sultanate, down 2.1% from 1,854,880 expats by end-2017.
Foreigners account for almost 90% of all workers in Oman's private sector, according to the Manpower Ministry. In July 2018, Oman's population of 4.58 million was 56% native Omanis and 44% expatriates, far from the 75:25 ratio of Omanis and expats in 2004. Oman's population is young, with a median age of 24.9 years.
A less restricted rental market
Rental laws in Oman were last changed by the amended Royal Degree (107/2010). New rules included:
The rule that landlords may only increase rent every 3 years was modified. The parties can now agree otherwise.
The maximum rent increase of 7% of the annual rent stipulated in the lease contract has been removed.
The earliest period that a landlord can terminate a lease for commercial property was trimmed down to 5 years, from the previous 7, and from 4 to 3 years, in the case of residential properties.
Landlords can now retrieve expenses incurred in lawsuits related to eviction notices served to non-paying tenants, due to a new legal procedure.
Oil sector still dominates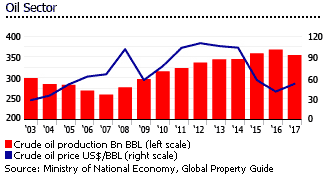 Oil remains Oman's top revenue generator. Oil and gas revenues accounted for about 84% of total government revenues in Q1 2018, up from 72.9% in 2017 and 68.2% in 2016, based on figures from the CBO.
Oman's gas output is expected to increase further after the massive Khazzan gas field began operations in September 2017. The country's production of crude oil, refined petroleum products and natural gas is projected to expand by 5.2% this year and by another 3.2% in 2019, up from 2% in 2017, according to BMI Research.
While Oman continues to enhance its oil recovery techniques to boost oil production, it also has simultaneously pursued a diversification plan "Vision 2020" that aims to reduce the oil sector's contribution to GDP from 46% today to 9% by 2020. Tourism is one of the key components of the government's diversification strategy.
Booming tourism
Tourism is currently one of the most vibrant segments of the Omani economy with arguably the highest untapped potential. In fact, World Travel & Tourism Council's The Travel & Tourism Economic Impact 2018 Oman report ranked the country 18th globally for its potential for tourism growth for 2018-2028.
The tourism sector's direct contribution to Oman's economy amounted to OMR 0.85 billion (US$2.21 billion), or 3.2% of GDP in 2017. In March 2018, a new airport terminal at Muscat International Airport was opened, which is expected to increase tourist arrivals and to attract new airlines. This year, Oman Air will introduce flights from Istanbul, Casablanca and Moscow.
Fiscal position improving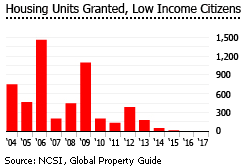 Oman's fiscal position is now improving, amidst rising oil prices and recovering economy. In 2017, the Sultanate's fiscal deficit narrowed to 12.8% of GDP, sharply down from 21.4% of GDP in 2016, due to increased oil revenues, and tight spending limits. Oman's fiscal deficit is projected at OMR3 billion (US$7.8 billion) this year, which is equivalent to about 10% of GDP, according to the Finance Ministry.
In May 2018, Standard & Poor's affirmed Oman's BB/B foreign and local currency credit rating, with a stable outlook, amidst narrowing fiscal and external deficits. Last year, Oman's sovereign debt long-term rating had been downgraded below investment grade by the three credit ratings agencies (Moody's, S&P's and Fitch) with a negative outlook.
Govt implements income tax changes, responding to the high fiscal deficit
In February 2017 the government made significant changes to the country's income tax laws, to address the fiscal deficit (Royal Decree 9/2017).
The key changes include:
The standard corporate tax rate was raised from 12% to 15%
A 3% tax has been introduced for micro businesses
The tax-free threshold of OMR30,000 (US$78,000) has been removed
Interest and dividend payments to non-residents are now subject to withholding tax of 10%
The withholding tax exemption for ministries and other government bodies has been removed.
Tax exemptions for hotels and tourist villages, mining, export of locally manufactured goods, agriculture, animal produce, fishing, education, and medical care have been removed.
Exemptions for manufacturing companies have been limited to five years.
Penalties and punishments for noncompliance have been strengthened.
Government housing projects, and subsidies for housing loans, have been cut substantially in recent years. The number of families benefiting from the housing assistance program dropped to just 115 in 2016 and 242 in 2017, sharply down from 1,955 families in 2015, 3,751 in 2014, and 4,137 in 2013, according to the Ministry of Housing.
Oman - More data and information