All is not well in Jordan.  High interest rates are impeding demand, and economic growth is weak - and there is socio-political unrest.  The government is seen as weak and incompetent, regional worries have hit exports, and local red tape is discouraging investment.

The nationwide residential real estate price index fell by 2.4% during the year to Q1 2019 (-2.43% inflation-adjusted), following y-o-y declines of 2.4% in Q4 2018, 2% in Q3 and 1.9% in Q2, and an annual increase of just 0.3% in Q1, according to the Central Bank of Jordan. Quarter-on-quarter, residential property prices fell 0.52% in Q1 2019 (up 0.47% when adjusted for inflation).

Apartments saw the biggest price decline of 2.59% during the year to Q1 2019 (-2.61% inflation-adjusted). House and villa prices fell by 1.3% and 0.45%, respectively. In contrast, residential land prices rose by 2.16% y-o-y in Q1 2019, based on the central bank figures.
In Amman, Jordan's capital city, the real estate price index fell slightly by 0.7% during 2018, after y-o-y decline of 0.4% in Q4 2018 and miniscule growth of 0.6% in Q3, 0.8% in Q2 and 0.4% in Q1.

The UAE-based property management firm Asteco produces figures based on observed sales prices. It saw Amman's apartment sales prices unchanged during 2018, noting that "it is unknown whether these improvements are based on actual transactions".

In Amman's major districts:

In Abdoun, the capital city's most affluent area, apartment prices were almost steady, ranging from JOD 1,250 (US$1,763) to JOD 1,600 (US$2,257) per square metre (sq. m.), according to Asteco.
In 4th Circle, apartment prices range from JOD 1,150 (US$1,622) to JOD 1,550 (US$2,186) per sq. m.
In Sweifieh, apartment prices range from JOD 1,100 (US$1,551) to JOD 1,300 (US$1,834) per sq. m.
In Um-Othainah, apartment prices range from JOD 1,150 (US$1,622) to JOD 1,350 (US$1,904) per sq. m.
In Al-Rabiah, apartment prices were stable at an average of JOD 1,100 (US$1,551) per sq. m.
In Der Ghabar, the average apartment price was also unchanged at JOD 1,200 (US$1,693) per sq. m.

Demand continues to fall. In the first two months of 2019, real estate transaction volume dropped almost 24% y-o-y to JOD695 million (US$980.3 million), following annual declines of 13% in 2018, 14% in 2017, 9% in 2016 and 2% in 2015, according to the Department of Land and Survey (DLS).

One factor that limits Jordanians buying homes is high mortgage rates. Arab Bank, Jordan's largest regional bank, charges lending rates ranging from 7.2% to 8.9% per annum. Unsurprisingly, loans to the construction industry have been slowing. In May 2019, the total amount of credit to construction rose by a meager 0.6% to JOD 6.82 billion (US$ 9.61 billion) over the same period last year, a sharp slowdown from the prior year's 8.8% growth and the lowest y-o-y increase in 16 years, based on the figures from the Central Bank of Jordan.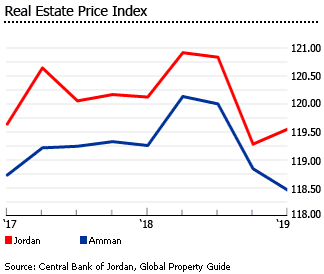 In hopes of stimulating capital inflows in the country, Jordan approved an investment program that grants citizenship or permanent residency of non-Jordanians in February 2018. This program includes permanent residency for non-Jordanians who purchase properties worth a minimum of JOD 200,000 (US$ 282,100) and hold the properties for 10 years. Grants of Jordanian citizenship or residency are limited only to 500 applicants per year, according to State Minister for Media Affairs and Government Spokesperson Mohammad Momani.

Foreigners are allowed to buy property in Jordan, provided Jordan and the buyer's country of residence have a reciprocal relationship, and that the approval of the Cabinet (Council of Ministers) is obtained. Foreigners can only sell the property five years after acquisition. Most properties for rent and for sale can be found in Amman, Jordan's capital city.