Denmark's housing market is noticeably cooling, amidst rising interest rates coupled with slowing economic growth. Demand is now plunging. Residential construction activity remains depressed. And, house price growth is decelerating.

The price index of one-family houses in Denmark rose by 5.5% in Q1 2022, a slowdown from y-o-y increases of 8.1% in Q4 2021, 10.7% in Q3, 13.5% in Q2, and 12.3% in Q1, based on figures released by Statistics Denmark. When adjusted for inflation, house prices increased by a miniscule 0.6%.

On a quarterly basis, house prices rose by 1.1% in Q1 2022 but actually declined by 1.1% in real terms.

Prices continued to rise for almost all regions and for all property types in Q1 2022, albeit at a much slower pace as compared to a year ago, according to the Association of Danish Mortgage Banks (ADMB).

By region:

In the Capital region, i.e. Copenhagen and its hinterland, the average asking price of owner-occupied flats rose by 8.4% (3.4% inflation-adjusted) y-o-y to DKK44,945 (€6,044) per square metre (sq. m.). This was a slowdown from the prior year's 14.3% price growth.
In Zealand region, asking prices for owner-occupied flats rose slightly by 1.8% (-3% inflation-adjusted) y-o-y to an average of DKK20,272 (€2,726) per sq. m. – a sharp slowdown from an 8.4% increase in Q1 2021.
In North Jutland, house prices increased 3% (-1.8% inflation-adjusted) y-o-y to an average of DKK19,213 (€2,583) per sq. m.
In Central Denmark, house prices rose by 3.8% (-1% inflation-adjusted) y-o-y to DKK27,284 (€3,669) per sq. m.
In Southern Denmark, house prices increased 5.1% (0.2% inflation-adjusted) to an average of DKK19,068 (€2,564) per sq. m.


By property type, during the year to Q1 2022:

The average transaction price on owner-occupied flats for sale rose by 7.1% (2.1% inflation-adjusted) y-o-y to DKK34,370 (€4,622) per sq. m.
Detached/terraced house prices rose by 6.2% (1.2% inflation-adjusted) y-o-y to an average of DKK16,705 (€2,246) per sq. m.
Holiday home prices increased 5.8% (0.8% inflation-adjusted) y-o-y to an average of DKK20,148 (€2,709) per sq. m.

Demand is falling sharply. In the first quarter of 2022, sales of detached/terraced houses plunged 29% to 10,254 units from a year earlier, following annual growth of 6% in 2021 and 15.2% in 2020, according to ADMB. Likewise, sales of owner-occupied flats fell by 27.8% y-o-y to 3,916 units in Q1 2022 while holiday home sales plummeted by 57.4% to 1,559 units over the same period.

The housing market will continue to slow in the medium-term, amidst rising cost of borrowing and surging inflation. Based on the recent forecast released by Danish bank Handelsbanken, property prices in the country will fall by 10% to 15% by end-2023.

"We expect that the many headwinds for the housing market will lead to price drops for the country as a whole, and these will become clearer after the summer," said Handelsbanken's senior economist Jes Asmussen. "And we would certainly not rule out such marked price drops in the most expensive areas like the apartment market in Copenhagen, which will also be impacted by a property tax reform that takes effect in 2024."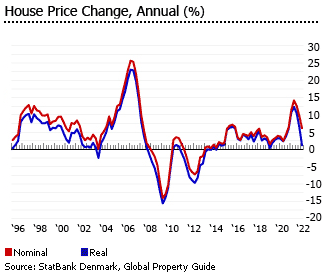 The Danish economy grew by 4.9% y-o-y in 2021, fully offsetting the 2% contraction seen in 2020, mainly driven by a rebound in domestic demand and strong investment, according to the European Commission (EC).

Despite strong start this year, with a registered real GDP growth rate of 6.2% y-o-y in Q1 2022, the country's economic growth is expected to slow to a modest 3.5% this year, mainly due to adverse impact of the Russian invasion of Ukraine, as well as the continued pandemic-related uncertainty, according to the Ministry of Finance. The IMF is even more pessimistic, projecting an economic growth of 2.3% for the full year of 2022.