Denmark's house price rises continue to accelerate, raising worries among policymakers. "During the pandemic, the Danish housing market has been characterised by both high trading activity and rapidly rising prices," said the DanmarksNationalBank in its H1 2021 Financial Stability report. "Sharp increases in housing prices increase the risk of subsequent price decreases."

The price index of one-family houses in Denmark soared by 14% (12.1% when adjusted for inflation) in May 2021 from a year earlier, after y-o-y increases of 4.8% in 2020, 3% in 2019, 3.9% in 2018 and 4% in both 2016 and 2017, according to Statistics Denmark. It was the third consecutive month of double-digit increase and one of the highest y-o-y increases ever recorded.

Prices continued to rise for all property types and for almost all regions during the year to June 2021, according to the Association of Danish Mortgage Banks (ADMB):

The average asking price on owner-occupied flats for sale rose by 11.6% y-o-y to DKK38,145 (EUR5,128) per square metre (sq. m).
Detached/terraced house prices rose by 11.1% y-o-y to an average of DKK18,910 (EUR2,542) per sq. m.
Holiday home prices rose strongly by 22.1% y-o-y to an average of DKK23,859 (EUR3,208) per sq. m.

By region, during the year to June 2021:<

In the Capital region, i.e. Copenhagen and its hinterland, the average asking price of owner-occupied flats soared by 14.4% y-o-y to DKK49,576 (EUR6,665) per sq. m.
In North Jutland, house prices rose strongly by 11.8% y-o-y to an average of DKK22,929 (EUR3,082) per sq. m.
In Central Denmark, house prices rose by 8.8% y-o-y to DKK30,984 (EUR4,165) per sq. m.
In Southern Denmark, house prices increased 1.9% to an average of DKK22,070 (EUR2,967) per sq. m.
In Zealand region, asking prices for owner-occupied flats fell slightly by 0.7% y-o-y to an average of DKK21,136 (EUR2,841) per sq. m.

Demand continues to rise rapidly despite the pandemic, buoyed by negative mortgage interest rates. In the first quarter of 2021, sales of detached/terraced houses rose by 40% to 13,632 units from a year earlier, following annual growth of 15.4% in 2020, according to ADMB. Likewise, sales of owner-occupied flats rose by 37% y-o-y to 4,980 units in Q1 2021 while holiday home sales almost doubled to 3,662 units over the same period.

To cool the housing market, the DanmarksNationalBank suggests higher downpayment  and amortisation requirements for highly indebted homeowners. Danish households are the most indebted people in the OECD, with an average personal debt equivalent to 258.3% of net disposable income in 2020.

"With rapidly rising housing prices and an existing basis for further price increases, there is reason to look at a tightening of the lending rules to limit vulnerability to a subsequent drop in housing prices," said the central bank. "At its next meeting, the Systemic Risk Council expects to recommend to the Danish Government that further measures be taken to limit continued risk build-up in the housing market."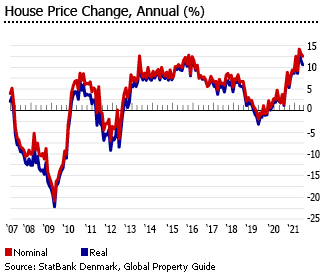 The Danish economy contracted by 3.3% y-o-y in 2020, the biggest decline since 2009, when the economy shrunk by 4.9% due to the global financial crisis, according to the International Monetary Fund (IMF). In Q1 2021, real GDP fell by another 0.8% y-o-y, after annual declines of 0.5% in Q4 2020, 2.2% in Q3 and 8% in Q2,largely due to declines in household spending.

The country's Ministry of Finance projects the economy to grow by a modest 2.4% this year and by another 3.6% in 2022. The European Commission is more optimistic, estimating that the Danish economy will expand by 3% this year.