Denmark's negative interest rates continue to work their dangerous magic on both the housing and mortgage markets.

The price index of owner-occupied flats in Denmark rose by 7.88% (7.25% when adjusted for inflation) during the year to February 2018, an acceleration from last year's growth of 6.87% (5.81% when adjusted for inflation), according to Statistics Denmark.

During 2017:

The average price of owner-occupied flats surged 8.5% y-o-y to DKK26,630 (EUR3,575) per square metre (sq. m).
Detached/terraced house prices rose by 5.3% y-o-y to an average of DKK13,191 (EUR1,771) per sq. m.
Holiday home prices rose by 6.4% y-o-y to an average of DKK14,546 (EUR1,953) per sq. m.

By region, during 2017:

In the Capital region, i.e. Copenhagen and its hinterland, the average price of owner-occupied flats rose by 10.4% y-o-y to DKK34,130 (EUR4,582) per sq. m.
In Zealand region, house prices rose by 1o.3% y-o-y to an average of DKK16,319 (EUR2,191) per sq. m.
In Southern Denmark, house prices increased 6.2% to an average of DKK15,086 (EUR2,025) per sq. m.
In Central Denmark, house prices increased 4.1% y-o-y to DKK21,410 (EUR2,874) per sq. m.
In North Zutland, house prices rose modestly by 2.9% y-o-y to an average of DKK16,910 (EUR2,270) per sq. m.

Demand is rising strongly. In 2017, registered sales for one-family houses increased 9.7% y-o-y to 47,444 units while sales for owner-occupied flats rose by 4.5% y-o-y to 17,977 units, according to Statistics Denmark.

Denmark is not open to foreign buyers
Despite Denmark's association with liberalism, it is not easy to acquire property here.

Nonresidents may not purchase real property here unless the person:

Has previously resided in Denmark for at least five years;
Is an EU national working in Denmark; or,
If a non-EU national, has a valid residence or business permit.

There are some special restrictions on foreign ownership in some areas, especially when buying summer holiday homes. This is particularly prevalent in coastal areas. These are popularly known as the 'anti-German rules'; because they are designed to prevent coastal areas from being overrun by German second home owners.

However, the purchase of "all-year-round" properties, which are not located in popular areas along the coast, is possible as long as you satisfy the aforementioned requirements.

The housing market is in fine shape
"The housing market is in fine shape, with prices rising across most of the county - and the outlook is for this to continue, supported by general economic growth and rising household income," said Danske Bank in its March 2018 report. "Relatively few properties for sale, short sales times and just modest price discounts support the picture of this being a seller's market." However, house price rises are projected to moderate during the remainder of the year, amidst tighter lending standards.

Weak construction activity supports the continued rise in house prices. In 2017, residential construction permits fell by 35.2% y-o-y to just 18,151 units, in sharp contrast to annual growths of 15.8% in 2016, 39.7% in 2015 and 41.1% in 2014.

In Q1 2018, total mortgage outstanding rose by 2.4% y-o-y to DKK2.7 trillion (EUR363 billion), according to the Association of Danish Mortgage Banks (ADMB).

Effective January 1, 2018, the government introduced tighter lending regulations, in an effort to reduce the share of more risky interest rate and repayment-free mortgages on the overall mortgage lending portfolio of banks. Banks will be limited from offering housing loans that do not have fixed interest rates, or monthly installments. Moreover, the number of mortgages available to households seeking to borrow more than four times their income, or more than 60% of the value of the property will be heavily restricted.

"These are reasonable guidelines that should ensure that homeowners are more robust," said Lars Krull of Aalborg University.

The move is also supported by Nordea economist Jan Storup Nielsen, who believes that the move "represents a major departure from previous policies and will likely help reduce the risk of a new housing bubble."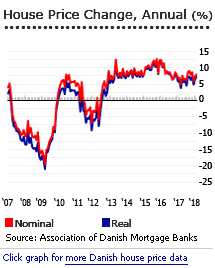 In the past recent years, the International Monetary Fund (IMF) had been urging the Danish government to reverse its negative interest rates mandate and introduce new policies to avoid a disastrous housing bubble.

In 2017, Denmark's economy grew by 2.2% - the highest growth since 2006. The economy is expected to expand by 1.8% this year and by another 1.9% in 2019, according to the European Commission.


Analysis of Denmark Residential Property Market »