Jamaican housing market set fair
September 04, 2014
"Basically, what we are seeing is that there is a lot more activity in the market," says Deborah Cumming, managing director of Century 21 Jamaica.  Boosted by investors seeking for alternatives to existing low interest rates, about 9,286 property transactions worth J$80 billion (US$ 711 million) were recorded during the year ending March 2013.  Listings have increased, as developers have responded to demand for middle-income houses.  The preferred properties are priced between J$20 million (US$ 177,700) to J$25 million (US$ 222,124), and vendors get several offers for properties.
However Jamaica is still far from a sellers' market, and high-end properties have not done so well.
Low mortgage rates combined with competition among leading mortgage providers have spurred real estate sector performance, according to Carlene Sinclair, President of the Realtors Association of Jamaica and a Property Solutions Limited broker. Sinclair also noted a trend of "downsizing" among buyers from larger homes to town houses, which allow communal living among consumers, for shared maintenance costs.
Demand is strongest for apartments, with developers seeking to maximize land space and buyers' affordability, according to Cumming.
Big news for the economy - the Jamaican Logistics Hub
A new a US$15 billion project, the Jamaican Logistics Hub (JLH), now aims to place Kingston as the forth node in the global logistics chain, along with Singapore, Dubai, and Rotterdam.  In April 2014, Jamaica entered an agreement with China for the first phase. In March 2014, a contract to develop a trans-shipment hub in Portland Bight with China Harbour Engineering Company (CHEC) was signed.
The logistics hub has a 20-year master development plan proposed by the Jamaica Chamber of Commerce to the government and World Bank (WB) in January 2013, which the WB agreed upon and has granted funding. The Jamaica Observer reported that the plan includes developments in:
Kingston Harbour shoreline — Port Royal to Kingston to Hellshire
Transportation systems for Kingston and Montego Bay
Caymanas logistics hubs
Montego Bay and Falmouth
Decline in cruise passengers
In 2013 Jamaica's tourism arrivals reached more than 2 million (about 2,008,409 stop-over visitors), about 1% up over the previous year. In contrast to increased stop-over visitors, the number of cruise passengers was reduced by 2.42% to 1.3 million passengers in 2013. The decline caused the total number of visitors to drop by 0.29% to around 3.3 million, based on the figures from the Caribbean Tourism Organization.
"We are coming from two years of record growth, so you are now seeing the stabilization of that activity," said William Tatham, Port Authority of Jamaica vice-president of cruise shipping.  In 2012 and 2013 there was 23.7% and 17.3% growth, respectively. 
One reason cruise ships are leaving Jamaica is due to poor state of the country's port facilities. "It has come to my attention that Carnival Breeze, one of the largest ships built for Carnival Cruises, as of May 2015, will no longer call on Ocho Rios," said Janaican Member of Parliament Shahine Robinson. "We are looking at a fall off of approximately 100,000 visitors per annum, and this is just for Ocho Rios alone."
Robinson also appealed to the Dr Wykeham McNeill, Minister of Tourism and Entertainment, for some action on the port:
Boost cruise ship arrivals and berthing capacity
Effectively balance cruise ship traffic spread
Improve resort towns to be more attractive and tourist friendly.
In April 2014, stop-over visitors rose by 1.24%, while cruise passenger arrivals went up by 3.6% as compared to previous year.

Crime and violence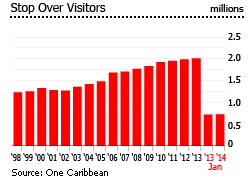 Petty theft and pick pocketing remain prevalent in some tourist areas, but visitors to the island are largely untouched by violent crime, since much of the criminality occurs in Kingston. Resort areas such as Montego Bay and Negril have been less affected.  Most criminal activity is still "Jamaican on Jamaican" violence involving gangs and organized criminal elements, with decline in serious violent crimes according to the Overseas Security Advisory Council's Crime and Safety Report..
Weak mortgage market growth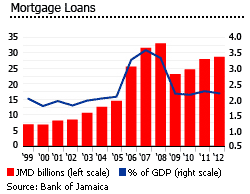 In 2013, there was a drop in household credit growth, with mortgage credit relatively flat, according to the Bank of Jamaica's (BOJ) 2013 Financial Stability Report.  From around 2% of GDP in 1999, the ratio of mortgages to GDP rose to 4% in 2007. In 2009, it slid back to around 2% of GDP and has been in that level since then, consistent with the economy's general weakness. 
The central bank noted that the weak performance of mortgage loans was due to:
Affordability challenges caused by weak real disposable income
High unemployment levels
The maximum loan-to-value (LTV) ratio for foreigners is about 70% of the appraised value of the property, with a term period of 20 years. A government-owned company, the National Housing Trust, leads the mortgage market with around 67.6% market share in 2012, based on the figures from the BOJ.
Building societies owns 25.8% of the market.
The National Housing Development Corporation's market share is at 5.8%.
Credit unions and insurance companies have the lowest market share at only 0.9%.
In October 2013, the Jamaican Cabinet finally approved the proposed amendment to the Mortgage Insurance Act, proposed in 2012 to make home buying easier for average Jamaicans. The amendment will raise the percentage of the appraised value covered by Mortgage Indemnity Insurance to 97%, up from 90%.  According to Minister Morais Guy of the Ministry of Transport, Works and Housing, the proposed amendment could make home mortgages more accessible and reduce costs since home buyers will be required to deposit only 10% of a property's value, including stamp duty and cost for transfer tax, instead of the previous 15%.
High rental yields
Rental yields on apartments have been strong, ranging from 9.34% to 10.08%, according to the Global Property Guide research.
But our understanding of yields in Jamaica is weak, because this data is now rather old, dating back to December 2011.   The same goes for data from the UN International Civil Service Commission which shows that in 2012, the rent for five-bedroom houses fell by 12.4% from the previous year, to J$ 318,511 (US$ 2,829), according to. Rent for three-bedroom apartments had an even sharper decline pf about 27.5%, to J$ 163,271 (US$ 1,450).  In contrast, the average rent for a small house with three bedrooms rose by 27.5% to J$ 223,214 (US$ 1,982).
Continuous economic recovery in 2014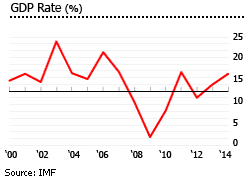 During IMF managing director Christine Lagarde's official visit to the country earlier this year, she commented that Jamaica's economic outlook "is improving". Lagarde said that as compared to the previous year, "growth has picked up, unemployment has declined, inflation has been brought under control, the current account deficit has shown an ongoing improvement, and reserves are starting to recover".
In reality, Jamaica's economic recovery in 2013 was anaemic, and though unemployment dropped from 16.3% in April 2013 to 13.6% in April 2014, GDP growth was only 0.5%.   In June 2014, the annual inflation rate was still high at around 8%, slightly down on the previous year.  Jamaica's debt-to-GDP ratio was reduced to around 139% in 2013 from 147% in 2012.
But the high debt ratio continues to be a cause of concern to the government. The World Bank has tagged Jamaica as "one of the most indebted middle income nations in the world".
Jamaica has a very poor performance in recent years.  GDP rose by an average of only 1.5% from 1999 to 2007, followed by a GDP contraction by 0.8% in 2008, when it was the only Caribbean country aside from the Bahamas to experience recession. GDP fell further by 3.4% in 2009, followed by a 1.4% decline in 2010. After weak growth of 1.4% in 2011, the economy slipping again into recession in 2012, contracting by around 0.5%.
Yet better times may be coming. During the first quarter of 2014, Jamaica's GDP rose by 1.6% from the same quarter of the previous year, according to the Statistical Institute of Jamaica (STATIN). This year the IMF expects 1.3% growth.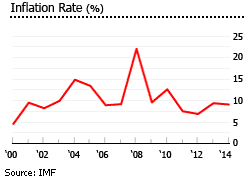 Jamaica's improving economy was also reflected on the recent credit rating upgrades last February from Fitch: from 'CCC' to 'B-' for long term issuer default rating for foreign and local currency; from 'B-' to 'B' for country ceiling; from 'CCC' to 'B-' for senior unsecured foreign and local currency bonds.
Months before, Standard & Poor's (S&P) also raised Jamaica's foreign currency sovereign credit rating in September 2013 from 'CCC+' to 'B-'.
In June 2014, the Executive Board of the IMF agreed to disburse US$ 70.9 million to Jamaica after passing its latest review. Through the extended agreement under the IMF's Extended Fund Facility agreed in May 2013, the country has already received an amount of US$ 414 million since the agreement.
"Jamaica's programme implementation under the Extended Fund Facility has been commendable. The achievement of a primary surplus in a short time is impressive. Essential social spending has been safeguarded and steps are being taken to strengthen the social safety net. Continued support by the international community remains crucial as Jamaica is undertaking this difficult adjustment," according to IMF deputy managing director and acting chair Naoyuki Shinohara.
The 2010 agreement, heavily directed towards deficit reduction, allowed Jamaica to receive financial support as long as it met IMF conditions. But the US$1.27 billion standby agreement lapsed in May 2012, having stalled in early 2011 due to Jamaica's inability to meet IMF performance targets.
Prior to the agreement, the Jamaican government had devised a plan to restructure its public debt known as the Jamaican Debt Exchange (JDX), encouraging residents holding certain debt instruments to exchange them for new longer-dated instruments. The JDX produced good results early on, providing remarkable decline in market interest rates as well as interest payments. The country even earned upgrades in credit ratings from Standard & Poor's and Moody's in early 2010.
However, the successful debt exchange in 2010 was not accompanied by fiscal consolidation, according to the IMF.
Prime Minister Portia Simpson Miller, who assumed office in January 5, 2012, has pledged job creation and growth, even while implementing austerity measures and tighter partnerships with its international partners, such as the IMF.
Jamaica - More data and information