Jamaica's housing market remains buoyant, despite a struggling economy caused by the COVID-19 pandemic.

"Investments in the sector have been resilient and reliable for many owners, as properties continue to hold their value and have even increased in worth, despite the climate," said Petal James, Chief of Branches at JN Bank. "And, while some levelling off has been predicted, prices are not expected to decline."

The government-owned company, the National Housing Trust (NHT), which leads the mortgage market with almost 50% market share, recently introduced special relief measures to continue to stimulate the housing market in the wake of the global pandemic. These include:

A reduction in interest rates on all new loans by 1%, effective April 1, 2020
A reduction in interest rates on all existing NHT loans by 0.5%, benefitting around 100,000 households
Interest rate discounts to special groups, such as those mortgagors aged 55 and above, the disabled, as well as public sector workers
Greater benefits to NHT contributors over 65 years.

"These measures are to safeguard persons from losing their homes while improving their disposable income," said Prime Minister Andrew Holness. "Effective immediately, mortgagors who are laid off can apply for a moratorium on all loan payments of three months in the first instance," Holness added.

Foreign interest in Jamaica's housing market has risen in recent years. Vacation homes located in Montego Bay area, Ocho Rios, and Negril are attracting foreign homebuyers. Interest in Port Antonio is also slowly rising after an airport expansion in the area, according to Nicola Delapenha of Coldwell Banker Jamaica.

Vacation homes are priced from US$ 800,000 to US$10 million, according to Seventh Heaven Properties managing director Walter Zephirin.Foreign investors dominate this high-end market, while young Jamaican professionals who are first-time homebuyers fuel demand for mid-income bracket properties.

Demand for homes costing J$25 million (US$ 174,800) and below have grown strongly in recent years, while houses worth above J$40 million (US$279,700) had the least growth. Demand remains stable for townhouses, apartments, and for properties in gated communities.

Low mortgage rates and competition among mortgage providers have spurred home purchases, says Carlene Sinclair, President of the Realtors Association of Jamaica.

Jamaica's economy contracted by a record 8.6% in 2020, following y-o-y expansions of 0.9% in 2019, 1.9% in 2018, 0.7% in 2017 and 1.5% in 2016, after tourism took a severe hit due to the COVID-19 pandemic, according to the International Monetary Fund (IMF).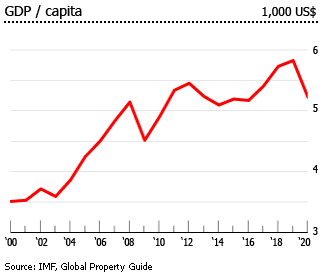 The number of tourists in Jamaica plunged by about two-thirds to just over 1.1 million visitors in the first ten months of 2020, after record arrivals in 2019.

There are no restrictions on foreign ownership of property in Jamaica.