Cayman Islands' housing market robust, with good yields, and limited supply
Lalaine C. Delmendo | December 06, 2019

After several challenging years, the Cayman Islands' property market is growing again rapidly.

"We are into unchartered territory in the property market," said Simon Watson of Charterland. "The market has recovered from the downturn of 2010 and is now way beyond the previous peak."

Growth is centered along Seven Mile Beach for condominiums, and Cayman Kai, on the island's north, for single-family homes. The most expensive housing is along Seven Mile Beach, a coral-sand beach on the western end of Grand Cayman island. Property prices can reach as high as KYD1,500 (US$1,800) per square foot (sq. ft.). Prices surged 33% in 2018.

At The Pinnacle, a luxury beachfront development on Seven Mile Beach, the average condominium sales price was KYD2.37 million (US$2.82 million) in 2018, up 25%, according to Charterland, Ltd;
At the Regal Beach Club, a beachfront condominium development of 57 units on Seven Mile Beach, the average sales price rose in 2018 by 19% to KYD951,300 (US$1.13 million).
At George Town Villas, another Seven Mile Beach seafront development of 60 condo units, sales prices increased 28% y-o-y to KYD655,500 (US$780,300).
In George Town's Garden, Coco, Mystic and Sunset Retreat, two-bedroom inland townhouses' prices rose 21% to about KYD247,400 (US$294,600) in 2018.

In 2018 property transfers on the open market were up 9% to 857, the highest level since 2005, according to Charterland, Ltd, with transaction values up 17.8% to KYD800 million (US$962.3 million). However in the first nine months of 2019, freehold property transfers fell both in number and value by 8.3% and 11.4%, respectively, due to limited supply.

Residential construction is falling. In Grand Cayman, residential building permits fell by 10% in 2018 from a year earlier. The total value of permits for houses was down by 13.3% and by 4.3% for apartments and condominium units. Likewise, approved applications fell by 15% to KYD 286.65 million (US$344.8 million) in 2018.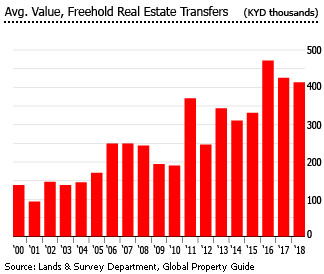 During the past decade, the movement of the average value of property transfers has been erratic because large-scale acquisitions by property developers distorted the market. For instance in 2011, Dart Group made significant acquisitions representing about 28% of the total value of all property transfers.

There are no restrictions on foreign ownership of property in the islands. The absence of taxes and restrictions on foreign ownership of land makes investing in the Cayman Islands very attractive.