The Philippines' housing market is in free-fall, amidst a struggling economy
Lalaine C. Delmendo | July 05, 2021
The Philippines' decade-long housing market boom is over, with a severe  coronavirus-induced economic recession. The government's failed pandemic response has made things even worse.
The average price of a luxury 3-bedroom condominium unit in Makati central business district (CBD) plummeted by a whopping 20.2%  during the year to Q1 2021 to PHP 196,410 (US$4,042) per square metre (sq. m.), according to Colliers International. This was in sharp contrast to a 0.8% rise in Q1 2020 and its biggest y-o-y fall ever recorded. In fact, when adjusted for inflation, prices declined even more by 23.6% y-o-y in Q1 2021.
Sources: Colliers, Bangko Sentral ng Pilipinas
On a quarterly basis, condominium prices in Makati CBD fell by 2.5% (3.8% inflation-adjusted) in Q1 2021.
The Philippines experienced a house price boom from 2010 to 2018, with Makati CBD prices rising by 125% (77% inflation-adjusted). But with a slowing domestic economy, coupled with the US-China trade war, the housing market slowed sharply in 2019, with house prices rising by a meagre 0.9% and falling by 1% when adjusted for inflation. In 2020 the COVID-19 pandemic aggravated the situation, sending the housing market to its knees. In fact the Philippines has been ranked as the worst performing housing market in the Global Property Guide's 2020 Global House Price Survey, with Makati CBD house prices plunging by 13.2% (-16.1% inflation-adjusted) last year. 
Nationwide, the house price decline is less severe. During the year to Q1 2021, the nationwide residential real estate price index fell by 4.2% (-8.3% inflation-adjusted), according to the BangkoSentral ng Pilipinas (BSP), the country's central bank. Quarter-on-quarter, the index dropped 1.6% (-2.9% inflation-adjusted) in Q1 2021. The residential real estate price index, published every quarter, is based on bank reports on residential real estate loans.
By property type:
For condominium units, prices fell by 1o.7% (-14.5% inflation-adjusted) in Q1 2021 from a year earlier
Duplex houses saw the biggest y-o-y price fall of 20.7% (-24.2% inflation-adjusted) in Q1 2021
For single detached/attached houses, prices rose by a minuscule 0.2% (but fell by 4.1% inflation-adjusted) during the year to Q1 2021
Townhouse prices rose by 8.3% (3.7% inflation-adjusted) over the same period
With continued global uncertainties brought by the COVID-19 crisis and rising political instability associated with the 2022 national elections, the housing market is expected to remain depressed this year, as potential homebuyers are expected to take a "wait-and-see" approach in the short term.
"Pandemic-induced disruptions have altered the Philippine economy and the property sector," said Colliers International.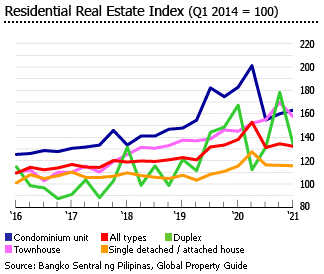 "The pandemic continues to hamper residential demand in both the pre-sale and secondary markets," Colliers added. "We expect this to result in further price and rental correction."
The Philippine economy continues to struggle in Q1 2021, with real GDP shrinking by 4.2%, marking its fifth consecutive quarter of y-o-y economic decline, according to the Philippine Statistics Authority (PSA). The reimposition of quarantine restrictions amidst the surge in infections hampered business and consumer activity.
Despite this, the government remains hopeful that it will achieve its 6.5% to 7.5% economic growth target this year, following a huge 9.5% contraction in 2020 – the biggest contraction since PSA started collecting data in 1946. Yet recently, the World Bank downgraded its 2021 economic growth forecast for the Philippines to 4.7%, from its initial projection of a 5.5% expansion.
The Philippines has the second highest number of COVID-19 cases and deaths in the Southeast Asian region.
Pandemic has dragged real house prices further below pre-Asian Crisis levels!
Surprisingly, despite so much price appreciation for a decade, the Philippine housing market has still not recovered from the crash after the 1997 Asian Financial Crisis. Between 1997 and 2004, luxury condominium prices dropped 28% (52% inflation-adjusted), in the biggest property crash of all countries affected by the Asian Financial Crisis.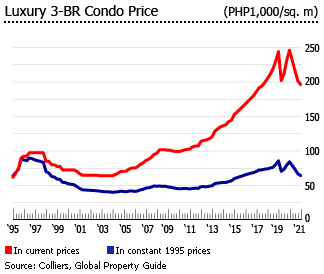 In current price terms, both rental rates and property values are already far above 1997 levels. Yet in 2019 before the coronavirus outbreak, residential property prices were still about 10% below pre-Asian Financial Crisis levels in real, inflation-adjusted terms.
Worse, the pandemic quickly offset most of the gains in recent years, causing real prices in Q1 2021 to fall back to almost 30% below pre-Asian Crisis values.
Condominium supply to rise strongly this year
The total condominium stock in Metro Manila's CBDs rose by a modest 2.6% to 133,460 units in 2020 from a year earlier – a slowdown from y-o-y increases of 9.4% in 2019 and 11% in 2018, according to Colliers International. Due to the pandemic, only about 3,370 units were completed in 2020, down from 11,200 completions in 2019 and from an annual average of 7,900 completions in the past ten years.
But as restrictions eased, the construction of condominium projects that were previously halted resumed and supply is expected to rise strongly again this year. In fact in Q1 2021, completions almost quadrupled to 4,145 units from just 1,080 units in the previous quarter. All of the new supply were in the Bay Area, with the completions of Six Senses Resort I – Scent Tower, Shore 2 Residences Building 3, and the 2,197-unit Coast Residences Tower 1, according to Colliers.
About 10,400 units are expected to be delivered in 2021, more than triple the 3,370 units completed last year. The Bay Area and Fort Bonifacio will account for more than 85% of total completions this year.
The Bay Area is the new top condominium submarket due to demand from offshore gaming employees, though Fort Bonifacio remains a preferred residential location because of its high-end malls, restaurants, office buildings, and international schools.
Overall, Metro Manila's condominium stock is expected to reach around 159,900 units by end-2023, an increase of almost 20% from last year.
METRO MANILA RESIDENTIAL STOCK

Location
2020
2023 forecast
% change
Bay Area
22,750
38,540
69.4
Alabang
4,880
5,900
20.9
Fort Bonifacio
39,100
43,060
10.1
Rockwell Center
5,270
5,830
10.6
Ortigas Center
18,730
22,190
18.5
Makati CBD
28,550
29,600
3.7
Araneta Center
4,550
5,150
13.2
Eastwood City
9,630
9,630
0.0
TOTAL
133,460
159,900
19.8
Source: Colliers International
Residential construction up
After plummeting last year, nationwide residential construction is now showing signs of improvement.
In Q1 2021:
The number of residential building permits rose by 6.2% y-o-y to 23,364, after falling by a whopping 30% during 2020, according to figures from the Philippine Statistics Authority (PSA).
The floor area of residential building permits rose by 4.2% y-o-y to 3.81 million sq. m., following a 40% decline during 2020.
Total value of residential building permits increased strongly by 19.3% y-o-y to PHP46.22 billion (US$950.31 billion).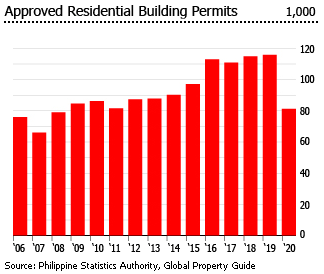 In Q1 2021, about 89.4% of residential constructions in the country were single-type houses. The average construction cost for a residential unit was PHP 12,128 (US$249) per sq. m. in Q1 2021. Condominiums recorded the highest average cost of PHP 20,258 (US$416) per sq. m. while single-type residential unit had the lowest at PHP 10,172 (US$209) per sq. m.
Rents falling; vacancy rates rising
Residential rents across Metro Manila fell by 19.8% y-o-y to an average of PHP 38,700 (US$796) per month in Q1 2021, according to JLL. On a quarterly basis, residential rents fell 1.2% during the latest quarter.
"Rental decline can be attributed to the slowdown in general lease activity used to be driven by halfway home seekers and expatriate housing," said JLL.
Among the major Metro Manila CBD areas, Muntinlupa registered the biggest decline in residential rents during the year to Q1 2021, at 9.7%, closely followed by Taguig City (-9.3%), and Makati City (-9.2%). Rents also declined in Pasay (-7.7%), Manila (-7.5%),Mandaluyong (-7.5%), Quezon City (-5.2%), and Pasig (-1.9%).
Only Parañaque City recorded a y-o-y rent increase of 4.4% in Q1 2021.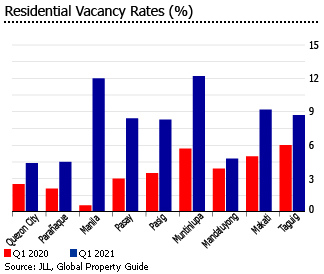 The rental market is expected to remain subdued during the remainder of the year.
"We expect further correction in 2021, albeit at a slower rate, after the significant drop recorded in 2020, when rents decreased 7.8%, exceeding the 3.7% drop during the Global Financial Crisis," said Colliers. "We expect rents to rise gradually starting in 2022."
RESIDENTIAL RENTS, Q1 2021

Location
Monthly Rents
Y-O-Y
Q-O-Q
PHP
USD
 
 
Taguig City
10,500-350,000
216-7,202
-9.3
-1.0
Makati City
15,000-240,000
309-4,939
-9.2
-1.5
Pasay City
19,000-120,000
391-2,469
-7.7
-1.1
Quezon City
10,000-70,000
206-1,440
-5.2
-1.6
Parañaque City
10,000-89,500
206-1,842
4.4
-0.2
Muntinlupa City
14,500-150,000
298-3,087
-9.7
-1.9
Pasig City
15,000-110,000
309-2,264
-1.9
-1.1
Manila City
10,000-80,000
206-1,646
-7.5
-1.8
Mandaluyong City
12,000-55,000
247-1,132
-7.5
-1.6
Source: JLL
In Metro Manila, the overall residential vacancy rate rose to 7.3% in Q1 2021, from 7% in the previous quarter and 3.5% a year earlier, due to a decline in lease demand especially in the luxury segment, according to JLL.
Muntinlupa has the highest vacancy rate of 12.2% in Q1 2o21, followed by Manila (12%), Makati (9.2%), Taguig (8.7%), Pasay (8.4%), and Pasig (8.3%).
Gross rental yields remain high, but beware of taxes
According to research by the Global Property Guide, gross rental yields in Metro Manila remain good, ranging from 7.01% on the very smallest condominium units of 45 sq. m. to 7.16% on 80 sq. m. condominiums.
These yields are before taxes and other expenses. They are for the high-end areas: Makati CBD, Ortigas CBD, Rockwell, The Fort, and Eastwood City.
This does not mean that foreign investors should necessarily rush to invest in Manila, because transaction taxes (known as 'capital gains taxes', but not actually such), and (if observed) official income tax rates applicable to non-resident investors, are high.
Key rates kept at record lows
In June 2021, the BSP kept its policy rate to an all-time low of 2%, following a cumulative 200 basis points rate cuts last year, in an effort to bouy economic activity as the country continues to struggle to curb the pandemic.
The overnight lending and repurchase facility (RF) and deposit facility were likewise kept unchanged, at 2.5% and 1.5%, respectively.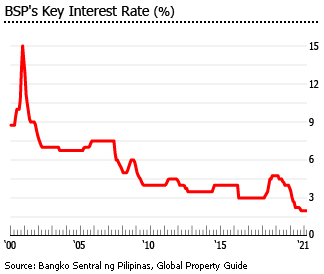 "On balance, the expected path of inflation and downside risks to domestic economic growth warrant keeping monetary policy settings unchanged," said the central bank. "The Monetary Board believes that sustained monetary policy support for domestic demand should help the economic recovery gain more traction, especially as risk aversion continues to temper credit activity despite ample liquidity in the financial system."
Mortgage market remains small
Few major banks in the Philippines offer housing loans. And although loan-to-value ratios of 90% are now in theory being offered and loan tenors can be as long as 30 years, in fact most loans are short-term. Banks are wary because land titling and registration problems are prevalent, as are lengthy delays in the foreclosure process due to the country's very weak court system.
Therefore approval of loan applications takes a long time. In addition inter-bank collusion prevails: different banks' loans have strangely similar terms and conditions.
Property buyers also face high transaction costs, corruption and red tape, fake land titles and substandard building practices. Plus, the large informal housing sector and their incentives make it less attractive for low to middle income families to buy or rent properties.
Because of these factors, the ratio of residential mortgage loans to GDP remains small, at around 4.6% of GDP in 2020, a slight increase from 2% of GDP in 2010. Most houses in the Philippines are sold for cash or pre-sold, with the developers offering financing.
In 2020, the total outstanding residential real estate loans rose by 9.1% to PHP 833.73 billion (US$17.13 billion) from a year earlier, according to figures from the BSP. It was far lower than the annual average growth of 17% from 2010 to 2019.
Currently, housing loan rates charged by major commercial banks range from 5% to 8% for one-year fixed loans, and from 8% to 10% for ten-year fixed mortgages.
OFWs buoy the low- to mid-range market
A visit to any 'Barrio Fiesta' in any city where Philippine OFWs work abroad is dominated by condominium offerings from developers like Megaworld, DMCI, Ayala Land, etc. The Philippines is one of the world's largest remittance recipients, with 10.2 million Philippine Overseas Foreign Workers (OFWs) living and working in 210 countries and territories worldwide, 47% of them permanent migrants, 41% temporary, and the rest "irregular migrants". Among the permanent overseas Filipinos, 65.2% live in the US, followed by Canada (13.1%), Europe (7.1%), Australia (6.8%), and Japan (3.4%), according to the Commission on Filipinos Overseas (CFO).
In 2020, total cash remittances amounted to US$29.9 billion (or about 8.3% of GDP), down slightly by 0.8% from a year earlier. It was the first time that remittances declined since 1999, mainly due to the pandemic.
Yet even before the coronavirus, remittances growth has already been slowing. The average annual growth of remittances from 2009 to 2020 was only 5.2% , compared to 15.5% annually from 2002 to 2008. The World Bank believes the slowdown in remittances is due to:
Stricter implementation of the migrant workers' bill of rights;
Political uncertainties in host countries; and
The slowdown in the advanced economies.
It is estimated that 60% of these remittances go directly or indirectly to the real estate sector, according to the World Bank. These OFW remittances power the low-end to mid-range residential property market, housing projects and mid-scale subdivisions in regions near Metro Manila, such as Cavite, Batangas, and Laguna Provinces.
There are three identifiable segments in Manila's housing market:
The high end. Local high-earners and expatriates occupy this segment.
The middle tier. The mid-end condominium sector, with monthly amortization of around PHP10,500 (US$200), presently requiring a dispensable income greater than PHP34,962 (US$680), to obtain a housing loan of PHP2 million (US$38,800). This segment has been targeted by many developers, and is attractive to overseas foreign workers (OFWs).
The low end. This is where the mass of the population live.
We believe that the middle tier is over-supplied. Many of these lower middle-class condominium developments have low take-up rates.
"Affordable" housing shortage
Nevertheless, the Philippines has a huge housing need at the low end. Nationwide, the country has a housing shortage of about 4 million units, according to the Subdivision and Housing Developers Association (SHDA). Most of this would need to be socialized housing - units with a selling price of under PHP450,000 (US$9,250). In Metro Manila, as many as 300,000 households reside in informal and semi-uninhabitable housing units, composing 8.7% of Metro Manila's total population. These people live in appalling conditions. Many others live in very poor conditions.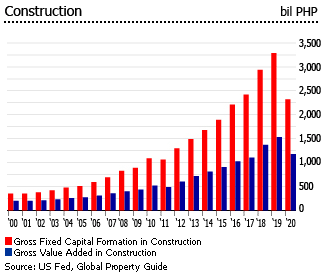 To meet the needs of these families, the government embarked on the National Shelter Program to provide housing for informal settlers and other families who do not have enough income to rent nor buy houses in the prevailing markets rates.
Socialized housing units, or those which cost less than PHP450,000 (US$9,250) can be purchased with a monthly amortization of PHP2,302 (US$47). The Pag-Ibig Fund, (which is the Filipino word for love), the country's state-owned and subsidized housing loan provider, provides a fixed rate of 3% for 30 years for socialized housing units.
The problem is that these low-end housing units are usually far from work.
Philippine peso continues to strengthen
The Philippine peso has continuously strengthened in recent years, gaining about 12.7% of its value against the U.S. dollar, from an exchange rate of PHP 53.986 = US$1 in September 2018 to PHP 47.901 =US$1 in May 2021. The gains partially offset the 16% depreciation of the peso against the US dollar from 2015 to 2018.
The recent gains can be mainly attributed to a steeper fall in demand for imports due to weak economy as the country went through an extended period of lockdowns and travel restrictions.
In 2020, the country posted a trade deficit of US$21.84 billion, down from US$40.67 gap in 2019 and a record US$43.53 billion shortfall in 2019.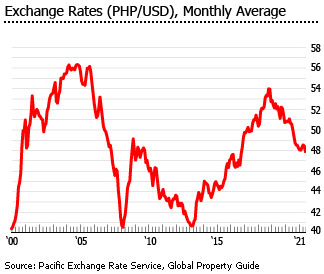 Exports were down 10.1% y-o-y to US$63.8 billion in 2020 while imports dropped 23.3% to US$85.6 billion. As a result, the country's balance of payments (BOP) recorded an all-time high surplus of US$16.02 billion in 2020, according to the BSP.
According to Nicholas Antonio Mapa, the senior economist of ING Bank N.V. Manila, the fragile global economic recovery would limit exports this year, while import demand will remain subdued due to weak investment activity from both businesses and households.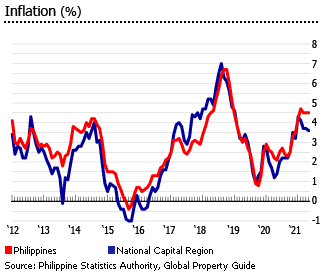 "The net effect of these trends will mean that the 2021 trade deficit remains below the pre-COVID-19 of $3.1 billion, which in turn would be supportive of (the Philippine peso) as corporate demand for the dollar remains soft," said Mapa.
"Higher net foreign borrowings by the [National Government] and lower merchandise trade deficit, along with sustained net inflows from personal remittances, foreign direct investments, and trade in services accounted for the favorable performance in 2020," the BSP said.
In May 2021, the headline inflation accelerated to 4.5%, up from the prior year's 2.1% and above the central bank's target band of 2% to 4%, mainly driven by an increase in transportation prices.
The BSP forecasts inflation to settle to 4% this year, from an annual average of 2.6% in the past two years.
Failed pandemic response sends economy into prolonged recession
The Philippine economy continues to struggle in Q1 2021, with real GDP shrinking by another 4.2%, marking its fifth consecutive quarter of y-o-y economic decline – the longest since the Marcos era, according to the Philippine Statistics Authority (PSA). The reimposition of quarantine restrictions amidst the surge in infections is hampering business and consumer activity, particularly in Metro Manila and nearby provinces.
The government has been widely criticized for its handling of the COVID-19 crisis, with its delayed imposition of a travel ban from China during the onset of the outbreak, failure to strengthen contact tracing and mass testing, insufficient protective gear and supplies for medical frontliners, slow vaccination, as well as the lack of transparency on the Bayanihan Acts 1 and 2 relief programs.
As such, it is not surprising to know that the Philippines has ranked 52nd out of 53 economies on Bloomberg's COVID Resilience Ranking, a global study that measures the resilience of countries to the pandemic.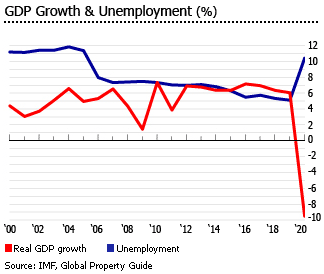 Despite this, the government remains hopeful that it will achieve its 6.5% to 7.5% economic growth target this year, following a huge 9.5% contraction in 2020 – the biggest contraction since PSA started collecting data in 1946. Yet recently, the World Bank downgraded its 2021 economic growth forecast for the Philippines to 4.7%, from its initial projection of a 5.5% expansion.
The economy grew strongly by an average of 6.4% annually from 2010 to 2019 – one of the fastest in the region.
The total number of foreign tourist arrivals plummeted by almost 84% to 1.32 million in 2020 from 8.26 million in 2019, according to the Department of Tourism. Likewise, tourism receipts fell by 83.1% y-o-y to PHP 81.4 billion (US$1.67 billion) last year, from PHP 482.2 billion (US$9.88 billion) in 2019.
In April 2021, unemployment stood at 8.7%, up from 7.1% in the previous month but substantially down from the record high of 17.6% in April 2020, according to figures from the PSA.
In 2020, the budget deficit increased to a whopping PHP1.37 trillion (US$28 billion), more than double the PHP660.2 billion (US$13.5 billion) shortfall in 2019, mainly attributable to government spending on coronavirus-induced relief programs such as the Bayanihan Acts 1 and 2.
As percent of GDP, the deficit was equivalent to 7.5% of GDP in 2020, sharply up from 3.4% in 2019 - and the biggest shortfall ever recorded.
The Philippines is again the "Sick Man of Asia"
The Philippine economy grew by an average of 6.4% annually from 2010 to 2016, thanks to the previous administration's socioeconomic reforms. Former president Benigno (Noynoy) Aquino III (president June 2010 - June 2016) instituted a no-holds barred anti-corruption campaign which wowed foreign investors and caused consumer confidence to surge. The Philippines' investment ratings were upgraded to investment grade by Moody, Standard &Poors', and Fitch Ratings. The Philippines' competitiveness improved sharply, with a Global Competitiveness Index rank of 47th out of 140 economies in 2015-16, up from 52 in 2014, 59 in 2013, and 65 in 2012.
Because of these positive developments, the Philippines was dubbed as "Asia's Rising Tiger". But this did not last.
During the May 2016 presidential election, former Davao City mayor Rodrigo Duterte, with a popular slogan "change is coming", won a landslide victory, capitalizing on discontent with rising inequality and on the perceived incompetence of Aquino's chosen successor, Mar Roxas. Duterte vowed to bring progress to all Filipinos, to eliminate government corruption and to substantially reduce crimes, especially the use of illegal drugs. The government's "war on drugs" has been very controversial having resulted in the death of over 7,000 Filipinos.
Aside from disappointments on the government's mishandling of the pandemic resulting to prolonged recession, critics claimed that corruption and impunity in the government have worsened during Duterte's term. Many government officials, who have been "fired" for misconduct, incompetence, alleged graft and corruption, or negligence, were just transferred to other agencies or even got promoted after several months. Several high-profile politicians, who have been jailed during the Aquino administration for graft and corruption charges, were freed.
Duterte's 'confused' foreign policy and inaction in relation to the Philippines' territorial dispute with China in the South China Sea has further increased discontent among Filipinos. The Congress' move in December 2020 to formally shut down ABS-CBN, the country's largest broadcast network that have been critical of Duterte, was also very controversial.
The country's competitiveness has also been falling in recent years. Its competitiveness rank slipped back to 57th in 2016, to 56th in 2017 and 2018, and to 64th in the 2019 ranking. The Philippines was not included in the 2020 report due to coronavirus-related restrictions.
Despite all these, Duterte's net trust rating remains either "excellent" or "very good" in Social Weather Stations (SWS) surveys.
But with barely a year until the next general elections, political unrest in the country is now escalating. And the recent death of ex-president Aquino has elicited a comparison between the previous and the current administration and could possibly shift the landscape ahead of 2022 polls.
Duterte's "Build, Build, Build" infrastructure program
In 2019, President Duterte's ambitious US$180-billion "Build, Build, Build" infrastructure program came under fire, after claims that only nine of the 75 flagship projects have started construction, due to red tape, poor planning, right-of-way issues, cost overruns and engineering issues.
In response the government revamped the list, scrapping items that were found to be "costly and challenging".
President Duterte's "Build, Build, Build" program, drawn up in 2016, is designed to modernize the country's infrastructure with new airports, railways, bus rapid transits, roads and bridges, seaports, energy facilities, water resource projects and irrigation systems, and flood control facilities, among others.
In June 2021, Presidential adviser on flagship programs and projects Secretary VivencioDizon said that 11 of the said projects, amounting to PHP126.7 billion (US$2.6 billion), were already completed. Another 29 projects, worth PHP238,5 billion (US$4.9 billion), are expected to be completed before the end of next year, after Duterte steps down on June 2022. This implies that he will leave his successor with numerous projects in the pipeline.
Sources: