The Philippines' residential property market is now two-tiered, with the Metro Manila CBDs losing steam, while the rest of the country continues to boom.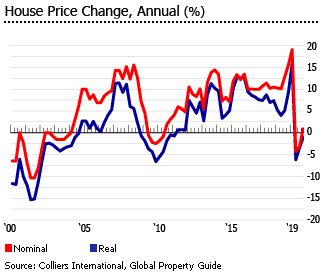 The average price of a luxury 3-bedroom condominium unit in Makati central business district (CBD) rose by a minuscule 0.87% during 2019 to PHP 232,000 (US$ 4,488) per square metre (sq. m.), a sharp slowdown from a y-o-y rise of 15.55% in 2018 and the weakest performance since 2009, according to Colliers International. In fact, when adjusted for inflation, prices declined 1.03% y-o-y last year.
On a quarterly basis, condominium prices in Makati CBD increased 9.43% (8.27% inflation-adjusted) in Q4 2019.
The Philippines experienced a house price boom from 2010 to 2018, with Makati CBD prices rising by almost 132%. But with a slowing domestic economy, coupled with the US-China trade war, the housing market slowed sharply last year.
However, strong house price growth continues nationwide. During the year to Q3 2019, the nationwide residential real estate price index surged 10.4% (10% inflation-adjusted), according to the Bangko Sentral ng Pilipinas (BSP), the country's central bank. Quarter-on-quarter, the index rose strongly by 9.5% (8.9% inflation-adjusted) in Q3 2019. The residential real estate price index, published every quarter, is based on bank reports on residential real estate loans.
By property type:
Condominium units saw the strongest y-o-y price increase of 29.1% (28.6% inflation-adjusted) in Q3 2019 from a year earlier
For single detached/attached houses, prices rose by a modest 2.4% (2.1% inflation-adjusted) during the year to Q3 2019
Duplex house prices surged 24.8% (24.4% inflation-adjusted) y-o-y in Q3 2019
Townhouse prices rose by 6% (5.7% inflation-adjusted) over the same period
But with continued global uncertainties andan additional blow coming from deepening COVID-19 crisis, the housing market is projected to slow sharply this year, as potential homebuyers are expected to take a "wait-and-see" approach in the short term.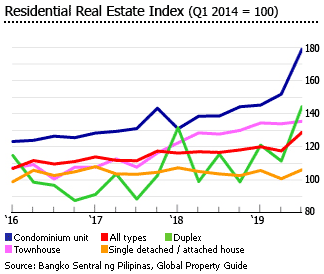 The Philippines' economic growth slowed to an eight-year low of 5.9% during 2019, following a 6.2% growth in 2018, mainly due to the delayed implementation of the 2019 national budget and soft global markets caused by the US-China trade war. Recently, the International Monetary Fund (IMF) maintained its 2020 growth forecast for the Philippines at 6.3%, even though the COVID-19 outbreak is expected to negatively affect tourism. The government is more optimistic, forecasting economic growth of 6.5% to 7.5% this year.
Philippine residential property is still below pre-Asian Crisis values!
Surprisingly, despite so much price appreciation, the Philippine housing market has still not recovered from the crash after the 1997 Asian Financial Crisis. Between 1997 and 2004, luxury condominium prices dropped 28% (52% inflation-adjusted), in the biggest property crash of all countries affected by the Asian Financial Crisis.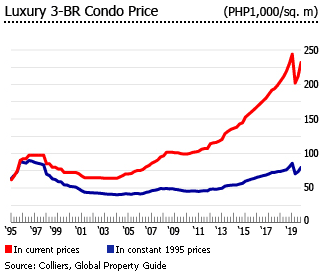 In current price terms, both rental rates and property values are already far above 1997 levels. However residential property prices in 2019 are still 10% below pre-Asian Financial Crisis levels in real, inflation-adjusted terms.
REIT Law's full implementation to drive the property market
In January 20, 2020, the government finally released the revised Implementing Rules and Regulations (IRR) of the Real Estate Investment Trust Act of 2009, removing stringent tax and minimum public ownership requirements that prevented the wider use of REITs.
This will allow companies to list property assets on the Philippine Stock Exchange as stand-alone vehicles. Colliers believe that it will redefine the Philippine real estate market. "The implementation is likely to develop the country's property and capital markets," said Colliers. "REITs should also stoke the construction and infrastructure sectors which have significant multiplier effects to the economy."
Condominium supply continues to rise
The total condominium stock in Metro Manila's CBDs reached 130,090 units in 2019, up 9.4% from a year earlier, following an 11% y-o-y increase in 2018, according to Colliers. In 2019 11,200 units were completed, slightly down from 11,800 units completed in 2018 but still up from an annual average of 7,500 units in the past ten years.
The major residential projects completed in Fort Bonifacio were The Montane (781 units), The Trion Towers T3 (548 units), and Uptown Parksuites T1 (712 units). In the Manila Bay Area, Pixel Residences added 170 units. Other completed projects included Proscenium Lorraine (269 units) in Rockwell; Garden Towers 1 (340 units) in Makati; and South Key Place (203 units) in Alabang.
Several condominium projects in the Bay Area are ahead of schedule, with developers seizing strong demand from offshore gaming employees. The Bay Area is expected to be the top condominium submarket in 2020, according to Colliers, though Fort Bonifacio remains a preferred residential location because of its high-end malls, restaurants, office buildings, and international schools.
Fort Bonifacio and Bay Area will account for 80% of completions from 2020 to 2022, based on Colliers estimates.
Overall, Metro Manila's condominium stock is expected to reach around 158,300 units by end-2022, an increase of about 22% from last year.
METRO MANILA RESIDENTIAL STOCK

Location
2019
2022 forecast
% change
Bay Area
22,430
41,730
86.0
Alabang
4,430
5,650
27.5
Fort Bonifacio
37,290
41,720
11.9
Rockwell Center
5,270
5,810
10.2
Ortigas Center
18,730
20,190
7.8
Makati CBD
28,220
29,350
4.0
Araneta Center
4,550
4,550
0.0
Eastwood City
9,170
9,290
1.3
TOTAL
130,090
158,290
21.7
Source: Colliers International
Residential construction activity is weak
Nationwide residential construction is actually weak, with the total number of approved residential building permits falling slightly by 0.4% y-o-y to 114,449 units in 2019, based on figures from the Philippine Statistics Authority (PSA).
The weakness of the construction sector is more evident when using other indicators:
The floor area of residential building permits fell by 10.1% y-o-y to 18,690,998 sq. m.
Total value of residential building permits dropped 7.7% y-o-y to PHP210 billion (US$4.07 billion).
During the year to Q4 2019, about 83.5% of residential constructions in the country were single-type houses.
Residential rents rising; vacancy rates falling
Residential rents across Metro Manila rose by 1.9% q-o-q in Q4 2019, according to Jones Lang La Salle, amidst strong local and foreign demand and falling vacancy rates. In fact, average rents in prime three-bedroom units in Rockwell, Makati CBD andFort Bonifacio rose by 3.5% in Q4 2019 from the previous quarter, based on figures from Colliers.
During 2019 rents rose very sharply in some CBD locations:
In Taguig City, monthly residential rents surged by 45.6% q-o-q to an average of PHP 1,310 (US$25.4) per sq. m.
In Makati City, monthly residential rents rose by 18.5% q-o-q to PHP 1,185 (US$23) per sq. m.
In Pasay City, monthly residential rents fell by 20.7% q-o-q to an average of PHP 1,070 (US$21) per sq. m.
"We see a sustained pace of rental growth from 2020 to 2022 due to sustained leasing of secondary units in key CBDs," said Colliers."We see afaster acceleration of rents in residentialtowers that complement POGO offices."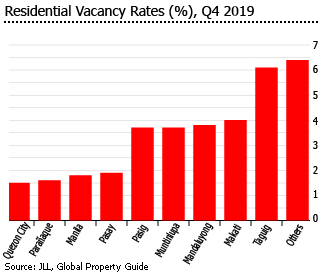 Colliers projects that Metro Manila will see an average rental growth of 7.5% annually from 2020 to 2022.
RESIDENTIAL RENTS, Q4 2019

 
Monthly Rents
Location
PHP per sq. m.
USD per sq. m.
Taguig City
700 – 1,920
14 – 37
Makati City
510 – 1,860
10 – 36
Pasay City
530 – 1,610
10 – 31
Quezon City
260 – 1,470
5 – 29
Parañaque City
280 – 1,450
5 – 28
Muntinlupa City
650 – 1,410
13 – 27
Pasig City
250 – 1,380
5 – 27
Manila City
330 – 1,140
6 – 22
Mandaluyong City
320 – 1,110
6 – 22
Sources: Jones Lang LaSalle, Global Property Guide
In Metro Manila, the overall residential vacancy rate fell to 2.9% in Q4 2019, from 3.2% in the previous quarter, according to Jones Lang LaSalle. Quezon City has the lowest vacancy rate of just 1.5% in Q4 2019, followed by Parañaque City (1.6%), Manila City (1.8%), and Pasay City (1.9%).
Gross rental yields remain high, but beware of taxes
According to research by the Global Property Guide, gross rental yields in Metro Manila remain good, ranging from 7.01% on the very smallest condominium units of 45 sq. m. to 7.16% on 80 sq. m. condominiums.
These yields are before taxes and other expenses. They are for the high-end areas: Makati CBD, Ortigas CBD, Rockwell, The Fort, and Eastwood City.
This does not mean that foreign investors should necessarily rush to invest in Manila, because transaction taxes (known as 'capital gains taxes', but not actually such), and (if observed) official income tax rates applicable to non-resident investors, are high.
Key rates slashed, other monetary easing measures introduced
In March 2020, the BSP slashed its policy rate by 50 basis points to 3.25%, following a 25-basis point rate cut in February, as the central bank tried to soften the economic fallout from the COVID-19 pandemic. The overnight lending and repurchase facility (RF) and deposit facility were likewise trimmed, to 3.75% and 2.75%, respectively.
This was the fifth consecutive easing by the central bank, unwinding the 175-basis point hikes imposed in 2018 to tame inflation.
In addition, the BSP also announced other measures, including a "time-bound" and temporary relaxation of the central bank rules on reporting of banks, calculation of penalties on bank reserves, and borrowing limits for a sole customer. Moreover, rediscount loans have been reduced to zero.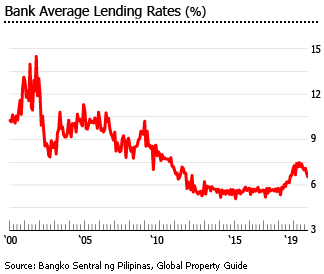 "The Monetary Board noted that while the enforcement of quarantine measures could help in slowing the spread of the virus, the resulting disruptions to industries and private spending are likely to reduce economic growth in the near term," said BSP Governor Benjamin Diokno. "Moreover, COVID-19 has likewise dampened prospects for the global economy, which could negatively impact tourism and trade, overseas Filipino remittances, and foreign investments."
Mortgage market remains small
Severe problems impede mortgage market growth. Few major banks offer housing loans. And although loan-to-value ratios of 90% are now in theory being offered and loan tenors can be as long as 30 years, in fact most loans are short-term. Banks are wary because land titling and registration problems are prevalent, as are lengthy delays in the foreclosure process due to the country's very weak court system. Therefore approval of loan applications takes a long time. In addition inter-bank collusion prevails: different banks' loans have strangely similar terms and conditions.
Property buyers also face high transaction costs, corruption and red tape, fake land titles and substandard building practices. Plus, the large informal housing sector and their incentives make it less attractive for low to middle income families to buy or rent properties.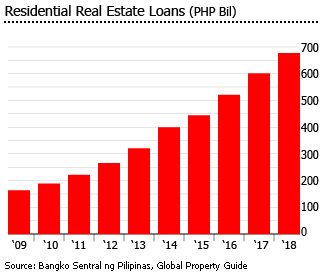 Because of these factors, the ratio of residential mortgage loans to GDP remains small, at around 4.1% of GDP in 2019, a slight increase from 2.03% of GDP in 2009. Most houses in the Philippines are sold for cash or pre-sold, with the developers offering financing.
In 2019, the total outstanding residential real estate loans rose by 13% to PHP 763.98 billion (US$14.82 billion) from a year earlier, based on figures from the BSP.
Currently, housing loan rates charged by major commercial banks range from 5% to 8% for one-year fixed loans, and from 8% to 10% for ten-year fixed mortgages.
Manila's segmented market
Lower down the income scale there is cause to worry.
There are three identifiable segments in Manila's housing market:
The high end. Local high-earners and expatriates occupy this segment.
The middle tier. The mid-end condominium sector, with monthly amortization of around PHP10,500 (US$200), presently requiring a dispensable income greater than PHP34,962 (US$680), to obtain a housing loan of PHP2 million (US$38,800). This segment has been targeted by many developers, and is attractive to overseas foreign workers (OFWs).
The low end. This is where the mass of the population live.
We believe that the middle tier is over-supplied. Many of these lower middle-class condominium developments have low take-up rates.
Demand and supply mismatch
A visit to any 'Barrio Fiesta' in any city where Philippine OFWs work abroad is dominated by condominium offerings from developers like Megaworld, DMCI, Ayala Land, etc. The Philippines is one of the world's largest remittance recipients, with 10.2 million Philippine Overseas Foreign Workers (OFWs) living and working in 210 countries and territories worldwide, 47% of them permanent migrants, 41% temporary, and the rest "irregular migrants". Among the permanent overseas Filipinos, 65.2% live in the US, followed by Canada (13.1%), Europe (7.1%), Australia (6.8%), and Japan (3.4%), according to the Commission on Filipinos Overseas (CFO).
In 2019, total cash remittances reached a record high of US$30.13 billion (or about 8.5% of GDP), up by 4.11% from a year earlier.
It is estimated that 60% of these remittances go directly or indirectly to the real estate sector, according to the World Bank. These OFW remittances power the low-end to mid-range residential property market, housing projects and mid-scale subdivisions in regions near Metro Manila, such as Cavite, Batangas, and Laguna Provinces.
According to the Philippine Housing and Land Use Regulatory Board, 452,198 condominium units were built in Metro Manila from January 2001 to March 2014. The condominium stock increased further in recent years, with an additional 67,699 units covered by licenses to sell in 2015, 99,524 units in 2016 and 104,196 units in 2017. In 2019, more than 23,000 units were completed in Metro Manila, following about 35,700 completions in 2018, according to Jones Lang LaSalle. The new supply mainly comes from Quezon City and Taguig City.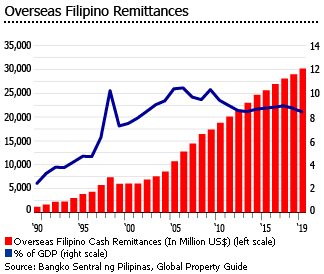 There are around 807,496 families or 27.5% of the NCR population who have a disposable income greater than PHP34,962 (US$680), which is the required monthly income to be able to afford the monthly amortization of PHP10,500 (US$200). PHP10,500 (US$200) is the minimum monthly amortization for a housing loan of PHP2 million (US$38,800), with accommodating loan rates of 90% LTV, with an annual interest rate of 5.375%, and a loan tenor of 30 years.
So for all these newly-built condominiums to be occupied by those who could afford to rent or buy (we calculate for the buying case, but given current interest rates it may be more expensive to rent), the majority of locals who have the financial capacity to occupy them would need to purchase or rent a unit, for the available supply of condominium units to be taken up.
These are problematic numbers given that many of these families already have houses in the first place. The World Bank assumes only 10% of these capable end-users as prospective end-users, indicating a gross oversupply.
In terms of affordability, property developers are building more mid-end condominium units than locally-based Filipinos can afford to occupy. Many of the buyers are OFWs, causing a mismatch between demand and supply.
The average annual growth of remittances from 2009 to 2019 was only 5.7% , compared to 15.5% annually from 2002 to 2009. The World Bank believes the slowdown in remittances is due to:
Stricter implementation of the migrant workers' bill of rights;
Political uncertainties in host countries; and
The slowdown in the advanced economies.
"Affordable" housing shortage
The Philippines has a huge housing need at the low end. Nationwide, the country has a housing shortage of about 4 million units, according to the Subdivision and Housing Developers Association (SHDA). Most of this would need to be socialized housing - units with a selling price of under PHP450,000 (US$8,700). In Metro Manila, as many as 300,000 households reside in informal and semi-uninhabitable housing units, composing 8.7% of Metro Manila's total population. These people live in appalling conditions. Many others live in very poor conditions.
To meet the needs of these families, the government embarked on the National Shelter Program to provide housing for informal settlers and other families who do not have enough income to rent nor buy houses in the prevailing markets rates.
Socialized housing units, or those which cost less than PHP450,000 (US$8,700) can be purchased with a monthly amortization of PHP2,302 (US$45). The Pag-Ibig Fund, (which is the Filipino word for love), the country's state-owned and subsidized housing loan provider, provides a fixed rate of 3% for 30 years for socialized housing units.
The problem is that these low-end housing units are usually far from work.
Philippine peso strengthens
The Philippine peso has continuously strengthened in recent months, gaining about 6.3% of its value against the U.S. dollar, from an exchange rate of PHP 53.986 = US$1 in September 2018 to PHP 50.784 =US$1 in February 2020. The gains partially offset the 16% depreciation of the peso against the US dollar from 2015 to 2018.
In 2019, the country posted a trade deficit of US$37.05 billion in 2019, down from the record US$43.53 billion gap recorded in 2018 but still up from US$27.38 billion in 2017 and US$26.7 billion in 2016, according to the PSA.
Exports were up slightly by 1.5% y-o-y to US$70.33 billion in 2019 while imports dropped 4.8% to US$107.37 billion.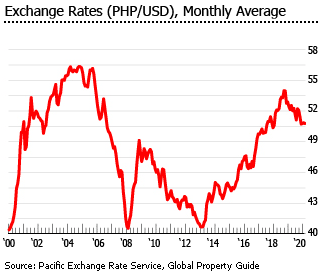 As a result, the current account deficit fell to US$5.6 billion in 2019, which was below 2% of GDP. But the CA deficit is projected to rise to US$8.4 billion this year or about 2.1% of GDP, as the government imports goods for an overhaul of the country's infrastructure, according to Dennis Lapid of the BSP.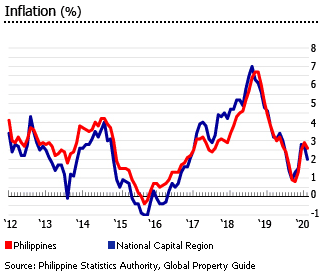 In February 2020, the country's inflation rate slowed to 2.6%, down from 2.9% in the previous month and 3.8% a year earlier, amidst a decline in global crude oil prices. But it remains within the government's target range of 2% to 4%.
The BSP forecasts inflation to settle at 3% this year, from 2.5% in 2019, 5.2% in 2018, 2.9% in 2017, 1.3% in 2016 and 0.7% in 2015,
Economic growth slowing; outlook uncertain
The Philippines' economic growth slowed to an eight-year low of 5.9% during 2019, following a 6.2% growth in 2018, mainly due to the delayed implementation of the 2019 national budget and soft global markets caused by the US-China trade war. But it still places the country as among the fastest growing economies in Emerging Asia.
The total number of foreign tourist arrivals rose strongly by 15.2% to around 8.26 million people in 2019 from a year earlier, according to the Department of Trade and Industry (DTI). South Korea remained the country's top tourism market with 24% share, followed by China (21.1%), the US (12.8%), Japan (8.3%) and Taiwan (4%).
Recently, the International Monetary Fund (IMF) maintained its 2020 growth forecast for the Philippines at 6.3%, though the COVID-19 outbreak is expected to negatively affect tourism. The government is even more optimistic, targeting an economic growth of 6.5% to 7.5% this year.
However, these projections seem infeasible now, given that the entire country is currently under a state of calamity due to the COVID-19 pandemic. Recently, Metro Manila and the entire Luzon were also placed under 'enhanced community quarantine' in an effort to contain the contagion. Schools were cancelled for weeks, civil servants and private employees were ordered to work from home, cross-border mobility was restricted, and businesses, excluding those identified as necessities, were closed.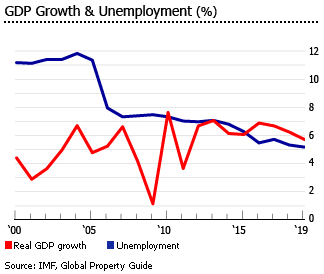 In January 2020, the nationwide unemployment rate stood at 5.3%, unchanged from a year earlier, according to the PSA. The average jobless rate fell to 5.4% from 2016 to 2019, from an annual average of 7.2% in 2006-15 and 11.4% in 2000-5.
The number of unemployed individuals increased to 2.39 million, up from 2.28 million in the same month a year ago.
The Philippine economy grew by an average of 6.3% annually from 2010 to 2016, thanks to the previous administration's socioeconomic reforms. Former president Benigno (Noynoy) Aquino III (president June 2010 - June 2016) instituted a no-holds barred anti-corruption campaign which wowed foreign investors and caused consumer confidence to surge. The Philippines' investment ratings were upgraded to investment grade by Moody, Standard & Poors', and Fitch Ratings. The Philippines' competitiveness improved sharply, with a Global Competitiveness Index rank of 47th out of 140 economies in 2015-16, up from 52 in 2014, 59 in 2013, and 65 in 2012.
However, the country's competitiveness has been falling in recent years. It's competiveness rank slipped back to 57th in 2016, to 56th in both the 2017 and 2018, and to 64th in the 2019 ranking.
During the May 2016 presidential election, former Davao City mayor Rodrigo Duterte won a landslide victory, capitalizing on discontent with rising inequality and on the perceived incompetence of Aquino's chosen successor, Mar Roxas. Duterte vowed to bring progress to all Filipinos, to eliminate government corruption and to substantially reduce crimes, especially the use of illegal drugs. While the government's "war on drugs" has been very controversial having resulted in the death of over 7,000 Filipinos, Duterte's net trust rating remains either "excellent" or "very good", based on the Social Weather Stations (SWS) surveys.
Duterte's push for a charter change to shift to a federal system of government from the current unitary system was also very controversial.
Duterte's "Build, Build, Build" infrastructure program revamped
Last year, President Duterte's ambitious US$180-billion "Build, Build, Build" infrastructure program came under fire after claims that only nine of the 75 flagship projects have started construction. The slow progress was mainly due to red tape, poor planning, right-of-way issues, cost overruns and engineering issues.
As a response, the government revamped the list and scrapped items that were found to be "costly and challenging". From the original 75 projects, the new list now includes 100 leaner projects, with higher proportion of public-private partnership.
President Duterte's "Build, Build, Build" program, which was drawn up in 2016, is designed to modernize the country's infrastructure by rolling out various projects, including new airports, railways, bus rapid transits, roads and bridges, seaports, energy facilities, water resource projects and irrigation systems, and flood control facilities, among others.
The government's economic managers project that half of these 100 projects will be completed by June 2022 – the end of Duterte's presidency. This implies that he will leave his successor with the remaining half of projects in the pipeline.
These projects are expected to sustain strong economic growth, raising annual infrastructure spending by about 3% to 7% of GDP until 2022.
Unsurprisingly, the Philippine government breached its budget deficit cap last year, as expenditures exceeded target and outpaced the increase in revenues. In 2019, fiscal deficit reached PHP660.2 billion (US$12.8 billion), up 18.3% from the PHP558.3 billion (US$10.3 billion) gap recorded a year earlier, according to the Bureau of Treasury.
As percent of GDP, the deficit was equivalent to 3.55% of GDP in 2019 – overshooting the 3.25% target for the year.
Sources:
Philippines - More data and information