The Philippines' housing market is showing signs of improvement, amidst strong economic growth. During 2022, the average price of a luxury 3-bedroom condominium unit in Metro Manila's central business districts (CBDs) rose by a modest 3.93% to PHP 195,750 (US$3,588) per square metre (sq. m), based on figures from Colliers International. However when adjusted for inflation, prices for luxury properties in CBDs actually fell by 3.82% last year.

On a quarterly basis, house prices rose by 1.59% in Q4 2022 but declined slightly by 0.62% in real terms.

Demand is also improving. During 2022, pre-selling activity in the CBDs rebounded with 20,000 units sold, up by 54% from just 13,000 units sold in 2021, according to Colliers. Though, it remains far below the pre-pandemic sales of about 40,000 to 50,000 units.

The Philippines experienced a house price boom from 2010 to 2018, with house prices in CBDs rising by 125% (77% inflation-adjusted). But with a slowing domestic economy, coupled with the US-China trade war, the housing market slowed sharply in 2019, with house prices rising by a meagre 0.9% and falling by 1% when adjusted for inflation. In 2020 the Covid-19 pandemic aggravated the situation, sending the housing market to its knees. In fact the Philippines has been ranked as the worst performing housing market in the Global Property Guide's 2020 Global House Price Survey, with CBD house prices plunging by 13.2% (-16.1% inflation-adjusted). Housing market woes continued in 2021, with prices falling by 6.5% (-9.8% inflation-adjusted) – making it still the second weakest housing market in the Global Property Guide's 2021 Global House Price Survey.

The housing market is projected to continue its recovery this year.

"We are optimistic of better recovery prospects this year. Colliers is projecting improvement in vacancies across Metro Manila's secondary market and this should result in rebound in rents and prices," said Mr. Joey Roi Bondoc, the Research Director of Colliers International Philippines.

"We see continued queries from expatriates while demand from local employees has been raising rents in major business districts such as Makati, Fort Bonifacio, and Ortigas. We expect developers to continue lining up new condominium projects in 2023. Over the near to medium term, developers and investors should keep an eye on persistently high inflation and its potential impact on interest and mortgage rates."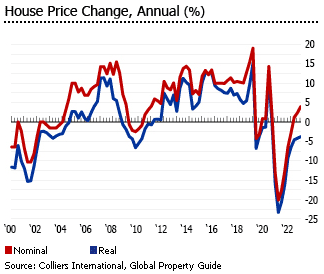 The Philippine economy grew by 7.6% for the full year of 2022, following a 5.7% expansion in 2021 and a 9.5% decline in 2020, mainly buoyed by strong growth in wholesale and retail trade, manufacturing, repair of motor vehicles, and construction, according to the Philippine Statistics Authority (PSA). It was its best showing since 2010. Prior to the pandemic, the Philippine economy had been growing by an average of 6.4% annually from 2010 to 2019.

The Philippine government expects the economy to grow between 6% and 7% this year.