The Philippines residential property market is now two-tiered, with the Metro Manila CBDs losing steam, while the rest of the country continues to boom.

The average price of a luxury 3-bedroom condominium unit in Makati central business district (CBD) rose by a minuscule 0.87% during 2019 to PHP 232,000 (US$ 4,488) per square metre (sq. m.), a sharp slowdown from a y-o-y rise of 15.55% in 2018 and the weakest performance since 2009, according to Colliers International. In fact, when adjusted for inflation, prices declined 1.03% y-o-y last year.

On a quarterly basis, condominium prices in Makati CBD increased 9.43% (8.27% inflation-adjusted) in Q4 2019.

The Philippines experienced a house price boom from 2010 to 2018, with Makati CBD prices rising by almost 132%. But with a slowing domestic economy, coupled with the US-China trade war, the housing market slowed sharply last year.

However, strong house price growth continues nationwide. During the year to Q3 2019, the nationwide residential real estate price index surged 10.4% (10% inflation-adjusted), according to the Bangko SentralngPilipinas (BSP), the country's central bank. Quarter-on-quarter, the index rose strongly by 9.5% (8.9% inflation-adjusted) in Q3 2019. The residential real estate price index, published every quarter, is based on bank reports on residential real estate loans.

By property type:

Condominium units saw the strongest y-o-y price increase of 29.1% (28.6% inflation-adjusted) in Q3 2019 from a year earlier
For single detached/attached houses, prices rose by a modest 2.4% (2.1% inflation-adjusted) during the year to Q3 2019
Duplex house prices surged 24.8% (24.4% inflation-adjusted) y-o-y in Q3 2019
Townhouse prices rose by 6% (5.7% inflation-adjusted) over the same period

But with continued global uncertainties andan additional blow coming from deepening COVID-19 crisis, the housing market is projected to slow sharply this year, as potential homebuyers are expected to take a "wait-and-see" approach in the short term.

The Philippines' economic growth slowed to an eight-year low of 5.9% during 2019, following a 6.2% growth in 2018, mainly due to the delayed implementation of the 2019 national budget and soft global markets caused by the US-China trade war. Recently, the International Monetary Fund (IMF) maintained its 2020 growth forecast for the Philippines at 6.3%, even though the COVID-19 outbreak is expected to negatively affect tourism. The government is more optimistic, forecasting economic growth of 6.5% to 7.5% this year.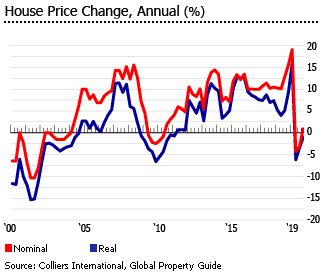 Foreigners cannot own land, but can own condominium units or apartments in high-rise buildings as long as the foreign proportion does not exceed 40%. They can also buy a house but not the land on which it is built. Leases on land up to 50 years, renewable for another 25 years, are available.