This is a housing market which seems poised for growth.  Robust economic growth, declining inflation, a large rental market and good yields.  What more could you wish for?

During the year to Q3 2019, the nationwide residential property price index rose by a modest 3.25% (1.3% inflation-adjusted), following a y-o-y decline of 6.9% in Q2 2019 and annual rises of 9.4% in Q1 2019, 7.1% in Q4 2018 and 1.7% in Q3 2018, according to the Uganda Bureau of Statistics (UBOS).

The latest quarter was unusually strong. Nationwide house prices rose strongly by 6.2% during the latest quarter, Q3 2019 (5.5% inflation-adjusted).

In Kampala, Central and Makindye, residential property prices surged 18.5% during the year to Q3 2019 (16.3% inflation-adjusted).

In Nakawa, house prices rose by a minuscule 0.6%, but actually fell 1.3% when adjusted for inflation. In contrast, modest house price falls were registered in Wakiso(-3%) and in Kawempe and Rubaga (-2.5%) during the year to Q3 2019.

Demand is rising, amidst improving investor confidence. The total amount of mortgages outstanding rose by 11% y-o-y to UGX1.34 trillion (US$362.33 million) in September 2019, according to the Bank of Uganda. Likewise, credit advanced to the real estate sector as a whole, comprising of building, mortgage and construction, increased 12.8% y-o-y to UGX 3.19 trillion (US$860.9 million) over the same period.

"Business and consumer confidence considerably improved, in line with improved performance of the economy," said Arthur Mukembo of Re/Max Uganda.

"The increase in enquires for modern standalone houses registered in H1 2019 is expected to push up demand for the limited stock of existing modern standalone houses," said Knight Frank in its Kampala Market Update H1 2019. "This, in turn, is expected to positively impact house prices in the range of 5%-10%."

Yet residential construction remains weak. The construction sector price index for residential buildings fell by 0.2% in August 2019 from a year earlier, according to UBOS.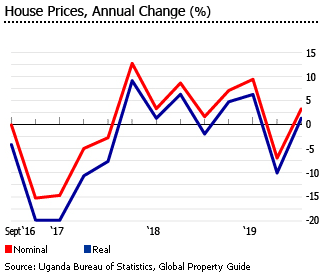 Uganda's economy grew by a robust 6.1% in 2018, up from the prior year's 5% growth and the highest expansion since 2011, according to the International Monetary Fund (IMF). The economy is projected to grow by 6.2% this year.

The 1995 Constitution grants land ownership rights solely to citizens of Uganda. Foreigners cannot own land freehold. They may, however, obtain leases for 49 or 99 years. Foreigners can either rent/lease from citizens or from the Government.