Cape Verde's tourism boom to continue
Cape Verde´s economic growth has been largely propelled by tourism. During the first three months of 2018, the country welcomed 215,000 tourists, a 10.3% increase from Q1 2017. And Cape Verde´s government has recently made the country even more investor-friendly by approving laws that grant permanent residence permits to foreign nationals who purchase a second home in Cape Verde.
Permanent Residence Cards, known as the Green Card, will be issued to foreigners who acquire real estate properties worth minimum amounts of €80,000 (US$ 94,112) or €120,000 (US$ 141,168), depending on the GDP of the municipality where the property is situated. The permit will be granted for an indefinite period, and its benefits will be extended to the holder´s spouse and children aged below 14.
The new bill also includes tax benefits such as:
the exemption of Single Property Tax on the property involved, and a 50% tax reduction over the next ten years; and
Personal Income Tax exemption for retired Green Card holders with incomes generated outside Cape Verde.
Tourism has grown rapidly, with tourist arrivals rising from 150,000 in 2003 to around 716,000 in 2017, bringing travel and tourism´s direct contribution to 17.8% of Cape Verde´s GDP, and its total contribution to 44.9% of GDP, according to the World Travel & Tourism Council´s (WTTC) 2018 report. Cape Verde´s government hopes to boost tourist arrivals to 3.15 million by 2030, creating more than 30,000 jobs and an estimated CVE 4.4 billion (US$ 47 million) tax revenues, according to Tourism Director-General Carlos Jorge Anjos.
In 2017, most tourists came from the United Kingdom (17.8%), Germany (11.2%), France (9.7%), and Portugal (9.5%). The island of Sal had the most visitors in 2017, with 48% of hotel stays, followed by Boa Vista (28.8%), and Santiago (10.9%).
Attractive climate
Why does Cape Verde attract so many visitors? Above all its beaches, its consistent year-round temperatures varying from 22 to 30 degrees celsius, and sea temperatures a pleasant 22 to 28 degrees. There is comparatively little poverty, and no political or religious strife.
Sal, known as "the sunniest island" in Cape Verde, receives most tourists, since it houses the country´s sole international airport capable of accepting charter flights from Europe. Its hotels accommodate almost half (46%) of total overnight stays in Cape Verde. It has Africa´s longest runways, and is undergoing a large amount of infrastructure work, ranging from roads to luxury developments.
Boa Vista island now has around 3,000 hotel rooms, similar to Sal, mostly in the five star category.
Efforts are also being made to encourage vacationers to visit other islands, which include São Vicente with its lively capital Mindelo, the hilly and scenically attractive Santo Antão and the volcanic island of Fogo.
The capital city, Praia, on Santiago Island, is not yet considered a top destination, but the island contains a World Heritage Site and beach facilities are being improved. In mid-2000s, a new airport was also built in the capital to accommodate the influx of travellers, both business and leisure.
"The fact that Cape Verde is experiencing a tourism boom tells us there is a continued demand for holiday rental properties, from private villas right through to beachfront holiday resorts," said Rich Moore, UK sales director for The Resort Group, in OPP Today.
Cape Verde´s marvelous political stability
Aside from beaches and good weather, Cape Verde has another plus: it is politically very stable. In fact it has experienced a near-miraculous journey to Africa´s best-rated democracy.
A Marxist one-party state was established following independence in 1975. But in 1991, after pressure for a more pluralistic society, multi-party elections were held. Since then, the then-ruling party (African Party for the Independence of Cape Verde [PAICV]), and the opposition (Movement for Democracy [MPD]) have alternated in government.
Elections are free and fair, the rule of law is respected, and there is press freedom. Freedom House grants Cape Verde rankings of "1" for political rights. and "1" for civil liberties, the only African country with this status. Cape Verdean property law, which derives from Portuguese colonial rule, is one of the best in Africa. Cape Verde maintains close links with Portugal and the Euro zone. Special partnership status has been granted by the EU, and in 2008 Cape Verde joined the World Trade Organization.
Such gains cannot be taken for granted, however. Cape Verde only ranked fourth place in the 2017 Ibrahim Index of African Governance (IIGA), following Mauritius, Seychelles, and Botswana. The country got a score of 72.2%, 0.7% higher than in 2007, based on four criteria: Safety and Rule of Law, Participation and Human Rights, Sustainable Economic Opportunity and Human Development.
President Jorge Carlos Fonseca of the MPD won a second term as President in the October 2016 presidential elections with an overwhelming victory of 74.1% of the total votes, against independent candidates Albertino Graça (22.5%) and Joaquim Monteiro (3.4%).
Prior to President Fonseca´s win, the MPD won the parliamentary elections in March 2016, taking back the power enjoyed by the PAICV for 15 years, and Ii April 2016, MPD leader Ulisses Correia e Silva was sworn into office as Cape Verde´s new prime minister.
The hotel boom rolls on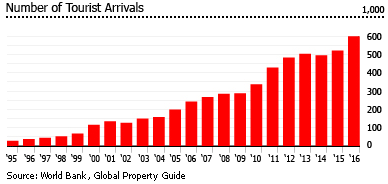 In the next few years, an upsurge of new hotels is expected in Cape Verde.
The construction of the Hilton Praia hotel is expected to begin this year, with 201 suites and guestrooms, near the Nelson Mandela International Airport (RAI) and the Port of Praia, built by The Resort Group, Cape Verde´s leading developer, which is building another 400-room Hilton in Boa Vista.
Belgium´s Rezidor Hotel Group is opening its first Cape Verde resort on Sal in Q3 2019 - the Radisson Blu Beach Resort, with 240 guest rooms.
Meliá Hotels International, which now has three hotels in Sal, will add five more within the Cape Verde archipelago in the next five years. The first two, with a combined 1,097 rooms, are the Melia White Sands Hotel & Spa in Boa Vista, and Meliá Salamansa Hotel in Salamansa, both expected to open in 2018. In addition Santiago Island will be the home of three other Melia hotels, which are projected to have a total of 600 rooms, and are expected to open between 2019 and 2020.
The New Horizons Hotel and Resorts complex is also opening two hotels in thr winter of 2017/2018 on Sal, with 600 rooms.
Fastest GDP growth in seven years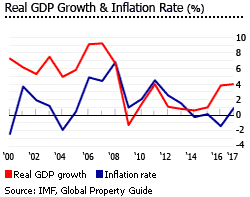 Cape Verde grew last year at its fastest pace since 2011, with GDP rising by 3.9% in 2017, according to the National Statistics Institute (INE), Cape Verde, supported by the strong performance of manufacturing, electricity and water, housing and catering, public administration, according to the Bank of Cabo Verde´s (BCV) Monetary Policy Report in April 2018.
Growth in gross domestic product (GDP) per capita averaged 7.1% between 2005 and 2008, well above the average for sub-Saharan Africa. From 2002 to 2010, the national poverty headcount rate dropped from 37% to 27%, while the extreme-poverty rate dropped from 21% to 12%. But growth slowed to a trickle after the financial crisis.
In 2018, the economy is expected to continue its recovery, and is predicted to expand from 3.5% to 4.5%, according to the BCV.
Inflation stood at 1.2% in April 2018, up from 0.3% in April 2017 and -0.9% in April 2016. Unemployment stood at 12.2% in 2017, down from 15% in 2016, according to INE Cape Verde.
Moderate interest rates; public debt falls for the first time in 10 years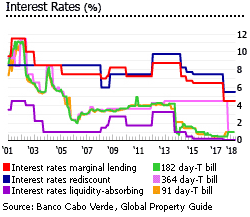 In an attempt to stimulate the economy, the Bank of Cabo Verde (BCV) reduced the key interest rate by 25 basis points to 3.5% in February 2015. Reserve requirements were also cut to 15% from 18%. The BCV´s marginal lending rate is currently 4.5%, while the rediscount rate stands at 5.5%.
Cape Verde´s public debt, which has been one of the highest in sub-Saharan Africa, dropped for the first time in a decade to 126% of GDP in 2017, according to the IMF. Finance Minister Olavo Correia, has noted that the country´s public debt "presents no risk" since it is "exclusively subsidized".
The Public Investment Programme, which addresses Cape Verde´s infrastructure needs, seen by the IMF as a contributor to the significant rise of public debt in the country, has been shrunk from 11.8% of GDP in 2012 to 3.5% of GDP in 2016. The government is expecting to cut it further to 2% of GDP in 2020, according to the African Development Bank (AFDB). As a result the government has successfully cut the overall deficit from 10.3% of GDP in 2012 to around 3% of GDP in 2017. The AFDB noted that the country´s fiscal consolidation will continue in 2018 and in the medium term, as the government plans to introduce a "debt ceiling".
The Homes for All Program scandal
Cape Verde has been keen to use the fruits of tourist development to pursue social goals, drawing up a series of measures to promote social housing across the country. In 2009 it formed the Casa Para Todos (Homes for All) Program to reduce the national housing deficit, which now stands at 40,776 dwellings in terms of quantity and 66,013 dwellings in terms of quality.
Subprograms include the Habitar CV Program, which aims to build about 8,496 housing units; the Pro Habitar program to build at about 1,000 homes in rural areas; and Reabilitar to rehabilitate approximately 16,000 households.
The project was mainly financed by a credit line from the Portuguese government of around €200 million (US$ 214.74 million), but also required Cape Verde´s government to co-finance 10% of the total. However, the project, managed by the Imobiliaria, Fundiária e Habitat (IFH), later brought "financial difficulties" to the company, which made it difficult for the government to pay the agreed 10% co-financing contribution. Cape Verde ended up not receiving the full financing amount from Portugal, as the latter closed the credit line in January 2015. At end of April 2015, contractors and subcontractors decided to halt more than 30 construction works due to lack of payment. A year later, the IFH was reported to be "in technical bankruptcy" with a debt of more than CVE 2 billion (€18 million), according to Infrastructure Minister Eunice Silva.
In 2016, it was revealed that although around 83% of the €200 million were already consumed, the number of completed dwellings are still less than half of the proposed target.
The Government of Cape Verde asked the Public Prosecutor´s Office for an investigation into the IFH´s management between 2010 and 2016. The Ministry of Finance reported facts regarding the IFH´s management to the Attorney General´s Office in July 2017 that "may shape the commission of possible criminal offenses, such as passive corruption, embezzlement or illegal participation in business," according to Finance Minister Olavo Correia.
In February 2017, Prime Minister Ulisses Correia e Silva was reported to be negotiating a possibility of a debt restructuring with Portugal.
Cape Verde - More data and information