Milan's bustling Chinatown is located in Zone 8. Chinese food, products and leather goods are available here. The zone has a large immigrant population, with several working-class and industrial districts.
Fiera Milano City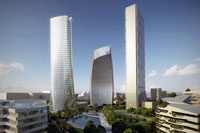 Fiera ("Fair") takes its name from the International Fair Grounds, one of the largest trade-fair complexes in Europe. It is still used for global trade events today, although an even larger trade-fair area, Fiera Milano in Rho, has since been developed.

During trade fairs, Fiera Milano City and its surroundings can get congested with crowds and traffic. But overall it is a good residential area, especially for families. It is a scenic neighbourhood graced with tree-lined avenues. Its houses come in a variety of styles, with modernist 1950s homes mingling with palazzi dating from the '30s and still in fine condition. The city centre is easily accessible from Fiera Milano City by subway, tram, or bus. French, International, and Japanese schools are located close by.
Arese
A small town just outside Milan, Arese started as a housing project for the employees of the local Alfa Romeo factory, which is now defunct. Surrounded by farms, Arese offers a provincial lifestyle within easy distance from central Milan.

Its typical residences are detached or semi-detached houses, most of them set within gated communities. These often include community centres with a swimming pool, children's playground, and tennis courts. Most homes are 3-bedrooms with a small garden; you can also find larger houses with 4-5 bedrooms and a bigger garden, at a higher price. Expatriate families are drawn to Arese, especially if they have children attending one of the international schools in the nearby San Siro and Fiera areas.
Arese has a small town centre, but there is not much to it: just a few shops, restaurants, and cafes. But it is a simple matter for locals to get to central Milan; high-speed rail transit services are available close by, and several major highways approach Arese.
---