Milan's Zone 2 (prime area) is a strip of land that extends northeast from the central zone. It has the largest immigrant population among the Milan zones, with 16% of residents originally from other countries.
Monza & The Brianza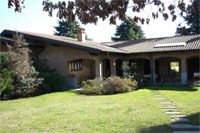 The Brianza is a recently-created Western Lombard province 10 minutes away from central Milan by train. (Previously, it was considered a comune within the province of Milan.)

The Brianza is a pleasant green suburb with many old palazzi and villas. Monza, its metropolitan area (and the provincial capital) may be the third-largest city in Lombardy, but it hangs on to a medieval town atmosphere in its historical centre. Lovely Gothic structures populate the centre, including the Duomo of Saint John and the 13th-century Arengario, or town hall.
Not far from the centre is the Renaissance-era Villa Reale, a landmark of neoclassical architecture built as a residence for the Archduke Ferdinand of Austria. (Many of the villas in Monza and the Brianza were built for the Austrian aristocracy during the period of their domination over Lombardy.) In 1878, the Villa Reale was chosen by King Umberto I of Italy to serve as his summer retreat.
Monza is home to the Autodromo Nazionale, a motorsports arena that hosts the Italian Grand Prix. The racing track is part of the largest enclosed park in Europe, Parco di Monza. Twice the size of New York's Central Park, Parco di Monza features such sports facilities as a tennis club and a private golf course.
Monza is an alluring place with plenty of green spaces and recreational venues. The city also possesses some excellent good medical facilities used to catering to foreigners?it has clinics run by English-speaking dentists, for example. Monza has three English-speaking schools for pre-teen children; older kids can take school buses to international schools in Milan. For expatriate families, the city of Monza certainly offers a lot of advantages.
North Loreto & Central Station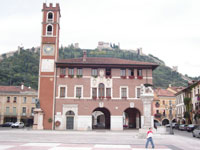 This area of Milan is mainly defined by the city's Stazione Centrale, an imposing structure designed by the Florentine architect Ulisse Stacchini using the Union Station in Washington, D.C. as inspiration. Today, aside from being the prime transportation hub for Milan, it serves as the heart of a vibrant commercial district. Along the surrounding streets you will find any number of busy shops selling relatively low-priced goods (for Milan). The landmark Pirelli Tower, the city's tallest building, stands just west of the central station.

Although this is obviously a bustling commercial area, you can also find a few pleasant streets lined with charming old houses amid relative tranquility.
---