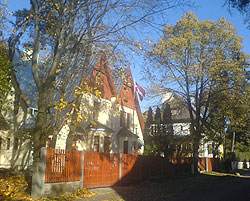 Northern Riga's most prominent neighbourhood is Mežaparks (a prime area), which is one of the city's wealthiest residential areas. Originally known by the German name "Kaiserwald" (Kaiser's Park), the neighbourhood emerged in the early 20th century when Riga's social elite decided to make themselves a garden-city suburb by the Kisezers lake. It was a place for them to get away from the bustle of the city centre and get a little closer to nature.

Over a century, not much has changed. The lovely old villas of the wealthy still endure here, though many could use renovation. These homes command some of the highest real estate prices in Riga.
Mežaparks is the location of the Riga Zoo and an amusement park. It is also a popular watersports destination, as it lies right beside the large Kisezers Lake.
Vecmīlgrāvis
Vecmīlgrāvis is another prime neighbourhood in Northern Riga. It is even further north than Mežaparks, and it also lies beside Kisezers. Part of it is cut off from the city mainland by a small river, the Mīlgrāvis.
Vecmīlgrāvis is a mixture of various eras. It has wooden buildings architecture dating to the early 20th century, as well as Soviet-era housing blocks mostly built in the 1980s.
Sarkandaugava
Sarkandaugava lies just west of Vecmīlgrāvis. The name originally came from a small river in this area, which had an interesting history: the Sarkandaugava was a place of medieval punishment for those accused of witchcraft. (The accused would be tied up and tossed in the water—and if they rose to the surface, that would "expose" their ties to the Devil.) Later on, the Sarkandaugava locale became the prime location for manufacturing in Riga. The river itself has largely been filled in, although a small bay remains.
---