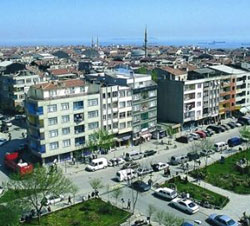 Working-class Zeytinburnu is filled with shanties, or gecekondular. Its maze of streets leads to illegally built brick cottages and many multi-storey apartment buildings with small textile sweatshops on its ground floors. Most of these structures are occupied by migrants from Anatolia working in the manufacturing industry. Zeytinburu's Maltepe Quarter is one of the city's major industrial centres, with about 70,000 employees working for its 170 large companies and thousands of smaller businesses.
Some of these factories are in the neighbourhood of Kazliçeşme, but there are plans to convert it into a more tourist-friendly destination. It is accessible from the airport, and luxury hotels are going up in the area.
Zeytinburnu also suffers from poor drainage systems and the lack of public schools and hospitals. Crime rate and unemployment are also high as literacy rate remains low.
---