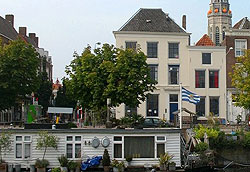 The southwestern province of Zealand consists of a delta at the mouth of several large rivers and five islands created and expanded by man, their land reclaimed from the sea and protected from the waters by a chain of dikes.

The name "Zealand" can be translated as "sea-land", appropriately enough for a province that is one-third water and is in a perpetual struggle against the sea.  Some polders have been taken back by the North Sea, their dikes destroyed or left to decay, while others have been retained, reinforced and expanded.
Zealand is home to 380,000 inhabitants, about two-thirds of whom live in the towns of Middelburg, Vlissingen, Goes, Terneuzen and Schouwen-Duiveland. About 70% of jobs are in the services sector: banking, businesses, and insurance, and non-commercial fields such as medicine, law, education and government.
More than half of the 160,000 homes in Zealand are owned (as opposed to rented). About 10,000 of these are holiday homes and are not occupied all the time.
Visitors to Zealand can enjoy miles of bicycle routes through the low-lying marshlands where many species of birds live, through small country lanes next to orchards, and dikes overgrown with wildflowers. 17 million tourists visit Zealand every year.
---