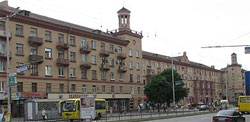 Zaporizhzhya's fertile black soil, favourable geographical location along the Azov Sea and its moderate continental climate make this oblast an important industrial and agricultural hub, as well as tourist destination and health resort.

Khortytsya Island was the home of the Zaporizhzhya Cossacks—whose state is said to be one of the earliest republics in the world. The geological nature monument Kam'yana Mogyla in Melitipol, the Kam'yani Mogyly Nature Park in Rozivka and the architectural museum of Sadyba Popova in Vasylivka are also well-known tourist haunts.
Zaporizhzhya leads in the manufacture of domestic aircraft engines and transformers. Europe's biggest nuclear power plant can be found here.
---