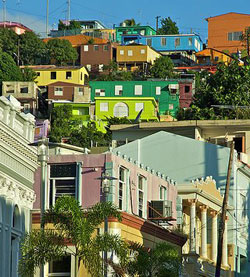 The town of Yauco was once known as the Coffee Capital of the World. However, the coffee trade suffered a tremendous blow thanks to market policies in the 20th century and Puerto Rico's decision to focus instead on developing and improving the trade of sugar.

Although Yauco is still a coffee-growing municipality, it has also been cultivating other crops such as sugarcane, oranges, cotton and tobacco. It is also focused on textile and light material manufacturing.

Natural places of interest are two lakes that generate electricity for the municipality. The first is the man-made Lago Loco, which is also a breeding lake for tilapia, catfish, bass, guavinas, and bluegill sunfish. The second is the much larger Lago Lucchetti. It is not far from the wildlife sanctuary Refugia de Vida Silvestre, which is also a good camping and bird-watching site. Both lakes are excellent spots for fishing.
There are quite a few historical sites in Yauco, such as the Iglesia Catolica Nuestra Senora del Rosario. The Centro de Arte Alejandro Francheschi Museum is housed in a historical mansion built in 1907. Another good place to see is the Spanish colonial-style house Casa Barrera, which was built in 1884.
Yauco's special coffee has a full-bodied, rich, sweet flavour, with fruit overtones to tickle the tastebuds.
---