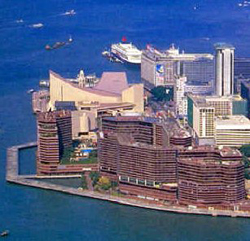 The district of Yau Tsim Mong is the cultural and commercial centre of Hong Kong SAR.

Everyone seems to converge in Tsim Sha Tsui, the southernmost point of the district and the peninsula. The historic Peninsula Hotel and the enormous Harbour City shopping centre are here. The best view of the Hong Kong skyline is from the Tsim Sha Tsui Promenade, which stretches nearly a mile and connects the Hong Kong Cultural Centre, the Hong Kong Museum of Art and the Hong Kong Science Museum. Shops and restaurants, galleries and libraries, banks and skyscrapers crowd this highly urbanized and popular section of the city. Along the Avenue of Stars, fans crouch to take photos next to the handprints of their favourite film personalities. Fronting the harbour, the lobbies of luxury hotels with their high glass windows are the watering holes of the region's smart set.
Ignoring the view, hurried commuters cross this area daily. This is also the hub of transportation. Three MTR lines intersect here, and the rail systems bring thousands of passengers to and from China daily. In addition, the efficient ferry terminals connect to outlying islands, Macau and China. Luxury liners head for the cruise terminals next to Harbour City.
This district is cut through by Nathan Road, lined on both sides by shopping centres. The narrow side streets are crowded with shops and eateries. Shop signs stick out of the sides of buildings and sometimes reach the other side of the street. Every inch of street frontage is used to sell something.
Specialized shopping areas have developed. Fish, aquariums and pet accessories have taken over Tung Choi Street. Other streets are dedicated to flowers, sporting goods, birds and cell phones. The Temple Street night market starts in the afternoon and continues until after midnight. In the middle of all this flurry of activity, Kowloon Park is an oasis of trees, lawns, ponds and shaded walkways. The Hong Kong Polytechnic University also takes up a large swath of precious land.
Amidst the noise and chaos of unrestrained commerce, Yau Tsim Mong residents live in tightly packed mid-rise housing and luxury condominium complexes.
---