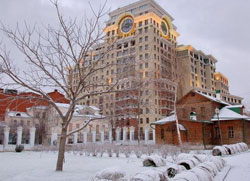 Yakimanka takes its name from the saints Joachim and Anne. A church built here in their name in 1493 was torn down by the Bolsheviks, but there are other very old buildings here that are still standing.

A few homesteads survive from the 18th century, when this area was occupied mainly by farmers. The 200-year-old First City Hospitals are still standing. The Tretyakov State Gallery, which has the largest collection of Russian fine art in the world—more than 150,000 paintings, sculptures, ikons, manuscripts and graphics—was established towards the end of this century.
Some of the surviving historic buildings have been repurposed. For instance, industrial buildings constructed in the 19th century are now being used as office buildings. Fortunately, Yakimanka experienced very little damage under Stalin's regime.
Some opulent Stalinist buildings were constructed here, along with the famous amusement park, Gorky Park, but most of those that were planned were never actually built. One that still survives is the Writer's Apartment Building, which has been expanded over the years. It has housed famous authors, including Boris Pasternak. Other good projects from this period which did push through were the Moscow Canal, which eradicated flooding in the area, and the widening of bridges.
Later there were major changes in the district. Many older buildings were demolished to be replaced by characterless high-rise residential buildings. Apartment blocks of this type continued to be built here as the years went by.
---