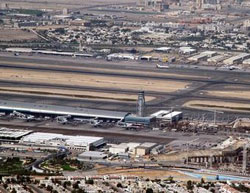 This district (a prime area) centres on the Al Maktoum International Airport, named after the emirate's former ruler.

This new airport under construction is also called Dubai World Central International Airport and is expected to be ten times the size of Dubai's current airport. It will also have a lot of amenities for travellers. The Dubai World Central International Airport complex will have 6 parallel runways, three passenger terminals, several hotels and shopping malls and a high-speed express rail system.
The entire World Central free zone will develop six different sub-districts: Dubai World Central Residential City, Dubai World Central Logistics City, Dubai World Central Enterprise Park, Dubai World Central Commercial City, Dubai World Central International Airport and Dubai World Central Golf Resort.
The golf resort has two 18-hole golf courses, a clubhouse with several restaurants, and a luxury boutique hotel with a spa resort. It will open in 2010.
Dubai World Residential City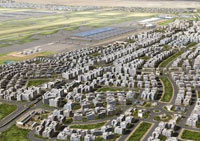 The massive development known as the Dubai World Residential City will house more than a quarter of a million people when it is completed. Apart from the residential buildings (mainly two-storey villas and apartment blocks), the city will have hotels, a large shopping mall, restaurants, sports and recreation facilities, schools, medical centres, a post office, a police station, public libraries and many open public spaces. Many of its residents will be the airport's employees.
---
Find properties for sale in World Central District, United Arab Emirates