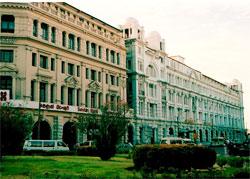 The Western Province (a prime area) consists of the districts of Colombo, Gamphara and Kaluthara. The official capital of Sri Lanka, Colombo , and its main business centre and harbour, Colombo City, are in this province.

This is one of Sri Lanka's most densely populated provinces, with a mixture of Sinhalese, Sri Lankan Tamils, Indian Tamils, Indian Moors, Burghers, Malays and Sri Lankan Hetti. Almost all of Sri Lanka's premier educational institutions are here.
The west coast is Sri Lanka's beach country. It is blessed with golden sandy beaches interspersed by lush coconut groves, an ideal place to get that sun tan. Starting from the fishing village of Negombo all the way down south to Bentota, there are miles of sandy beaches to explore. The west coast road has made it easier to travel here. Going down it, you pass through the beach settlements at Kalutara, Beruwela and Hikkaduwa.
Negombo City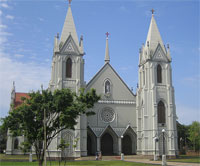 Negombo is a small port town that depends mainly on tourism. It also produces brassware and ceramics. There are some tranquil beaches with good swimming and diving spots near the coral reefs. A popular site is wreck of a ship, which has become an artificial reef.

The town has many Old Dutch buildings, many of them still in use. Close to the sea front are the ruins of an Old Dutch fort. The Muthurajawela Marsh just south of town is a unique wetland habitat and the largest marsh in Sri Lanka.
The fish market is held downtown near the Old Dutch Fort gate, away from the tourist area. You can buy all kinds of catch here, including seer, skipjack, pomfrets and amberjack. Lobsters and prawns are served as exotic delicacies in the many seafood restaurants and bars that dot the area. Many canals built by the Dutch are still navigable and extend all the way north to Puttalam, 120 kilometres away.
An hour's drive south of Colombo, past the Kalu Ganga Bridge, are beautiful sandy beaches and mangrove-lined lagoons. The beach settlement of Kaluthara is famous for its mangosteens. People canoe down the Old Dutch canals across Richmond Castle, an old spice plantation house.
The safe, gentle waters of Bentota are ideal for family holidays. There is also a turtle hatchery down south at Kosgoda.
There are other small settlements along the way. Hikkaduwa was once a favourite hippy haunt with a seedy reputation. It now attracts the younger crowd, independent travellers and backpackers. The beach here is narrower, with strong currents in places. Its coral reef is slowly dying, but still attracts tourists. Hikkaduwa has simple restaurants, beach bars and beachside night clubs. Its ambience is like that of Goa.
Colombo District

Colombo District is the smallest and the most densely populated district in Sri Lanka. Sri Lanka's commercial capital, Colombo City, and the administrative capital, Sri Jayewardenepura Kotte, are both in this district.
Colombo City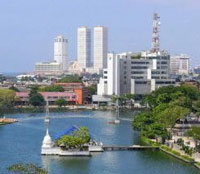 Colombo is Sri Lanka's largest city and home to almost 2 million people. It is a city of old churches, temples and buildings, including the old parliament, the Independence Building and the National Museum. The museum has more than 4,000 ancient palm leaf manuscripts. The closest beach resort is Mount Lavinia, about 10 kilometres from the city.