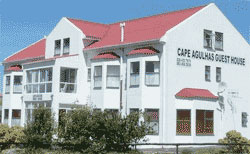 The Western Cape is at the southernmost tip of Africa, bordered by the Indian and Atlantic Oceans. Cape Agulhas is its southernmost point, only 3,800 kilometres away from the coastline of Antarctica.

The vegetation here is rich and diverse. The Cape Floral Kingdom, the smallest of the world's six kingdoms of flora, is exclusively endemic to the province. Table Mountain, by itself, houses within it more plant species than the entire United Kingdom. Some types of these floral species are shrubs, flowering plants, and small trees. The Garden Route is a temperate forest region, dominated by the Afromante Forest.

The varying land characteristics, warm water coming from the Indian Ocean, and cold water coming from the Atlantic all contribute to a diverse climate throughout Western Cape. Majority of the province experiences a Mediterranean climate—cool, wet winters, and warm, dry summers. The semi-arid Karoo experiences cold, frosty winters and hot summers punctuated by occasional thunderstorms. The southern coastal areas, including the Garden Route and the Overberg, have a beachy climate, with cool, moist winters and mild summers.
Western Cape's largest industry is the clothing and textile industry, though high-tech industries, international call centres, TV production, fashion, advertising and tourism are steadily growing. The province has the lowest unemployment rate in South Africa.
The province has an excellent network of highways, comparable to those in first-world countries, so sound is no problem at all. All highways and main rural roads are efficient and well-maintained, but during holidays they can get jammed with traffic. Most areas have internet access, and mobile phones have excellent reception. There are national bank branches almost everywhere, including small towns. The Western Cape is also home to three universities.
The Western Cape's dynamic coastline has sweeping beaches used for swimming and sunbathing. Cliffs and valleys provide natural hiking trails, and nestled between them are small, quiet villages. The Cape Winelands provide a peaceful getaway—magnificent Cape Dutch homes stand against a backdrop of majestic indigo mountains, and the delightful local food and wine are sure to please any gourmet's palate.
---