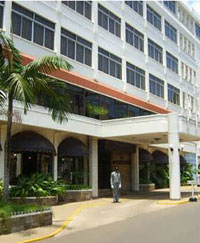 The Western Province of Kenya is one of Kenya's seven administrative provinces. The provincial capital is Kakamega.

The topography in Kenya's Western Province is diverse. At one end are rolling hills that peak at Kenya's second highest mountain, Mt. Elgon. It also has vast plains at the other end, which dip at the lowest point in the waterfront town of Busia, by Lake Victoria. On average, the weather in the Western Province is tropical. While the climate drops a few degrees down the higher you go, the air still remains humid. This is due to the heavy rainfall the region experiences all year round.
The most lucrative economic activity in the province is sugar production. Maize, cassava, dairy farming and poultry-raising are also grown here in large amounts. Living standards are low, with amenities such as electricity and water not readily available to most residents.
The region is not a usual stop for tourists, though the visitors that do come usually check out Lake Victoria, visit the Kakamega Forest Reserve or hike up the slopes Mt. Elgon. The rich vegetation and calm rolling hills of Western Province include expanses of wildlife sanctuaries. Animals roam freely in the game preserves of Tsavo, Amboseli and Masai Mara.
Kakamega
Kakamega is the provincial headquarters of Western Province. Most of the local population belongs to the Luhya tribe, and fishing and agriculture are the main sources of economy.
Kakamega is close to the Kakamega Forest Reserve, the remains of a rainforest that is the home of several hundreds of species of birds. It is the main tourist attraction here. The reserve has good camping areas, where many visitors to the town prefer to stay.
The new Masinde Muliro University of Science and Technology is in Kakamega.
---