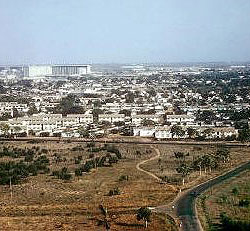 The popular Ghanaian saying "the best comes from the West" Refers to the country's Western Region, a land of great natural beauty and rich in resources. It has a tropical climate and experiences more rainfall than any other part of Ghana.

With its warm sandy beaches and lush forest, the Western Region is a popular tourist destination. It also has many interesting remnants of its rich history, such as old mines, forts, and castles. The traditional communities are delightful, especially the water villages on stilts. The different ethnic groups in the region celebrate a variety of exciting festivals.
The Western Region is accessible from any point in Ghana through its major port, Takoradi, by railway and by road.
Sekondi-Takoradi
Sekondi-Takoradi is the third largest city in Ghana and the capital of the Western Region. It is the centre of its business and industry; it has an important deep sea port and is part of the rail route from Accra to Kumasi. Tourists visit its beaches and its historic monuments, such as the 16th century Fort St. Sebastian, the 17th century Fort Orange and the wildlife sanctuary Monkey Hill.
---