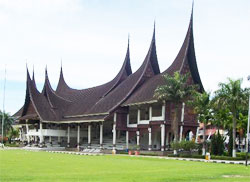 The province of West Sumatra is situated in the middle of the western coast of Sumatra island. Its landscape features volcanic highlands formed by the Barisan mountain range, three valleys, sparkling lakes and the Mentawai Islands. The ancient kingdom of Minangkabau used to be here, known for their skill in woodcarving, embroidery, silver crafting and hand-weaving.

Scattered across the landscape of West Sumatra are unique, traditional homes. These structures have horn-shaped roofs and rest in coconut groves, which cluster around mosques. In the communities here, women take care of the property while men are more known for their entrepreneurship and wanderlust. Travel is a mark of success here. The people here are known to be friendly and eloquent in their poetic style of speech.

West Sumatra's capital is Padang. It has a large and busy port.
Padang
Padang is West Sumatra's capital and main port. It is predominantly Muslim and retains a conservative atmosphere. Padang's bustling harbour usually serves as a gateway to surfing sites in Batu and Mentawai Islands and to Bungus Bay on the south, though the city has its own fine beach, also named Padang, lined with food stalls.
The most interesting site here is the traditional Minang house, which contains the Adityawarman Museum.
Bungus Bay
The crescent-shaped Bungus Bay lies south of Padang. It is a picturesque bay of verdant hills and inland rice fields and plains. Coconut palm trees tower over its beautiful white sand beach.
Bungus Bay has warm, clear waters great for swimming and snorkelling. The beach has a laidback appeal with several restaurants serving seafood dishes.
---