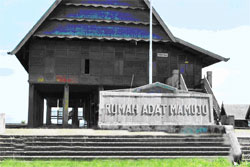 The province of West Sulawesi was created in 2004. West Sulawesi consists of five regencies, with Mamuju as provincial capital. Urbanization was slow on the island and it lacked much public service facilities. This is what urged the creation of the province.

The province is strong in the mining and energy industry as it is rich in coal, iron, copper, limestone and granite; and in the agricultural industry, with large production of coconut, cacao, cashew, and coffee.
As West Sulawesi now has better infrastructure and facilities, it is geared to develop as an potential investment destination.
Mamuju
Mamuju, once part of South Sulawesi, is now the capital of West Sulawesi. The small city is quiet and peaceful, as there are night-watch stations in each community. It is mainly agricultural and here, locals still travel in traditional rickshaws.
Despite being predominantly Muslim, Mamuju has several Christian churches. A few practice Hinduism and Buddhism.

Majene
Majene is a town in West Sulawesi. It has a long coastline of white sand and a large dock.
Majene has two markets: the traditional one sells fresh fruits and vegetables and seafood, and the modern one sells mobile phones and accessories, electronic supplies, and textile. The town is famous for its silk sarong. It has a church and several mosques.
---