>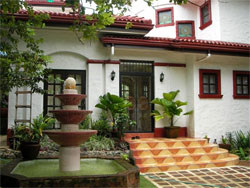 With a landscape rich in forest areas, plateaus, and craggy mountains, the West Region of Romania holds much potential for a thriving tourism industry. Much of the region is relatively untouched by modernization.

Comprised of 4 counties (Arad, Caraş-Severin, Timiş, and Hunedoara), the West Region has a population of over 2 million. Multicultural and multiethnic, locals trace their roots to an assortment of cultures, including nearby Hungary, Serbia, Bulgaria, and the Ukraine.
Timis
Timis is Romania's largest county. It is the westernmost part of the country and shares borders with Hungary and Serbia. It has a dynamic economy, being a magnet for foreign investment and benefiting from its transnational connections.
The capital of Timis is the beautiful city of parks, Timişoara. It is one of Romania's most important centres of commerce, and it has considerable contemporary historical significance for Romanians. The bloody Romanian Revolution that toppled the Ceauşescu dictatorship began in Timişoara.
Timişoara
Timişoara is sometimes called the City of Roses. It is certainly a city of parks and gardens, with several of them situated near the beautiful Piaţa Unirii (Union Square) in the old city centre. Timişoara is the capital of Timis and Romania's second most important centre of commerce and culture.
The city was built on the site of a star-shaped Roman fortress; more and more of its ruins are being uncovered, adding to the beauty and historic character of the city.
The anti-government demonstrations that led to the unseating of the dictator Nicolae Ceauşescu began in Timişoara. Victims' memorials and other mementos, including bullet holes in the sides of buildings, remain and serve as stark reminders of the period. Opera Square, where thousands of protesters had gathered, was renamed Piaţa Victoriei (Victory Square).
Timişoara's public spaces are well worth a visit. Piaţa Unirii is flanked by palaces, churches, galleries and cafés; Piaţa Victoriei by the City Hall, the Opera House and the Metropolitan Orthodox Cathedral. Not far from the squares are the city's famed parks that provide a respite after a day's work or sight-seeing.
With all its memories of days and revolutions past, Timişoara is a modern city. Restaurants, bars, clubs and cafés have sprung up in the squares, and art and youth festivals help make Timişoara a lively, cosmopolitan place. Some of the squares even have wireless Internet connection.
Timişoara has enjoyed an economic boom since the Revolution. Foreign investments, particularly in the high-tech sectors, have poured into the city in the last two decades. It has become somewhat of a magnet for Italians, who have set up hundreds of businesses and factories here.
Timişoara also has Romania's second-largest airport, the Traian Vuia International Airport.
---