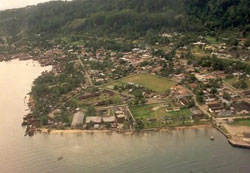 The easternmost part of Indonesia is West Papua. It is the western and Indonesian half of New Guinea. In 2001, Papua was granted special autonomy, though many of its laws have been minimally implemented if implemented at all. The name was officially changed to West Papua (Papua Barat) in early 2007.

The region is a tropical island with lush rain forests, raging rivers, great stretches of marshland, verdant meadows, placid lakes, towering mountains and beautiful beaches. The highest mountain is snow-capped Mount Jayawijaya.
West Papua is rich in natural resources, raising conflict between the locals and the central government. The most populated and developed areas here are by the Baliem Valley and Paniai Lake.
Manokwari
The small city of Manokwari is West Papua's provincial capital. It is surrounded by verdant hills and deep blue seas. The Arfak Mountain, Anggi Lake, and Table Mountain rain forest make the city ideal for nature and pleasure trips. The black sand Amban Beach is a good place to surf. Gunung Meja Park provides a scenic view of the whole town and the surrounding landscapes.
Manokwari's deep-water bay is the site of over 20 shipwrecks, about six of which are popular dive sites. The marine life that now resides in the shipwrecks adds to their interest.
Manokwari is rapidly growing, and many facilities not only cater to tourists but to numerous Christian missionaries as well.
Baliem Valley
West Papua's Baliem Valley combines jungle-covered mountains and wilderness with cultivated plains and charming hut villages. Terrace fields and crop farms dominate the rural landscape, with the town capital Wamena as the only area with buildings, taxis, and large streets. Wamena has a large population of Christian missionaries.
Baliem Valley is a great place for trekking, but more than the beautiful scenery, it is the tribal villages that make the area a much more interesting place.
The Dani inhabitants of Baliem Valley maintain their culture and practices despite pressures from the government and the Christian missionaries. The Dani had endured a history of violence and suppression from the government, but remain firm in their traditional standpoint.
---