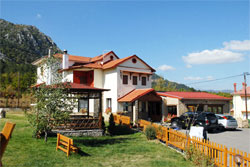 West Macedonia is not as prosperous as the rest of Greece, and is mostly rural. It has a beautiful terrain of hills and mountains, with scenic lakes and forests. It has many secluded villages and only a few large towns. Known for its excellent wines and cuisine, it has long been isolated, but recently the Egnatia motorway has made it more accessible.
West Macedonia is focusing on developing tourism in the ski resorts in Lorina and Grevena, as well the towns of Kozani, Ptolemaida and Florina. All three have culturally significant sites.
Florina
Europe's only cedar forest is in Florina. It also has a national park that encompasses six lakes, lush valleys, and Byzantine monuments in Prespes. Its famous ski centre is found in the compact Vernon, Varnoutas, and Voras mountains.
Florina, its capital, is a cultural centre where local arts and customs are exhibited. In the quiet hillside village of Sklithro, many old homes are being renovated.

Grevena
Grevena is one of Greece's coldest regions and has one of the best ski resorts in Europe, in Vasilitsa. It has thermal springs in nearby Kavasila.
Grevena, regarded as an important site for geological research, has a very small population. It has no pollution, as no industrial development takes place. It experiences slight but frequent earthquakes.
Kastoria
Kastoria is famous for the high-quality fur coats it has been manufacturing since the 13th century. It exports them to Russia and supplies well-known European fashion houses.
Kastoria, its capital, is a charming traditional town with very interesting residential architecture. Seventeenth-century stone mansions owned by rich traders line its cobbled streets. Along the scenic lakes, one finds charming 16th century white houses with tile roofs. There are many stone churches in the area.
There aren't many cars here. Bicycles are the more common form of transport.

Kozani
The mountain prefecture of Kozani is known for its saffron production. Mostly dry and barren, Kozani also relies on mining, its primary industry. Lignites mined in the region is used as fuel in much of Greece.
In Kozani, old houses have stone foundations and wooden upper storeys, with balconies overlooking courtyards with wells. These houses have rooms specifically built for summer or winter entertainment.
An 18th century clock tower in the town centre is a local landmark.
---