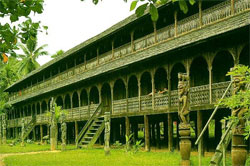 West Kalimantan is a province woven with thousands of rivers, a main line for hinterland transportation even with the availability of large roads. The province also consists of hundreds of smaller islands around the mainland, not all inhabited. Its provincial capital is Pontianak, lying exactly on the equator.

The main attraction in West Kalimantan is the culture of the local Dayak ethnic groups. Their homes are long houses that crisscross the land.

Popular excursions in the province include taking river trips and making overnight stops at villages to watch dance performances, which to the Dayaks, are expressions of heroism, respect and welcome.
Pontianak
The industrial city of Pontianak is West Kalimantan's capital. The noisy city sprawls right on the equator, which inspired the celebration of the Equatorial Culture Festival.
Pontianak's commercial centre lies on the Chinese quarter, filled with restaurants, coffee stalls, hotels and travel agencies. The city has interesting sights, such as the Equator Monument, the ironwood palace Istana Kadriyah, and the Sumatran-style royal mosque Mesjid Jami. Close to Pontianak is the Saham Longhouse, one of the oldest and longest traditional Dayak houses.
---