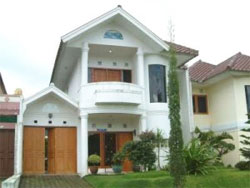 West Java is on Java Island. Its population of more than 41 million makes it the most populated province in the country. Its capital city, Bandung, is situated in a mountainous area, unlike other provincial capitals which lie on the coasts.

The province's landscape is made up of rivers, rich agricultural land, natural sea harbours, steep terrains and volcanic mountains. It is also the historical heartland of all Indonesian islands, filled with stories of great trade and the rise and fall of powerful kingdoms. It is the first place Indonesian colonizers set foot upon. As they led politically, economically and culturally through the centuries, other regions have followed. Some say this makes West Java the most prideful as well. Despite this, the Sudanese people are known to be soft-spoken, and the women are famous for their beauty.
Bandung
Bandung is West Java's capital and Indonesia's fourth largest city. It is surrounded by mountain ridges, hot springs, volcanoes, and tea plantations, and enjoys a pleasant climate.
The city combines Art Deco architecture with modern shopping malls, bars, restaurants, business hotels, and industries competing for space along its congested streets. Bandung has numerous suburbs and is still expanding, as the city continues to attract workers, artists, and expats. The more upscale residential areas are found on the north. This is where most expats choose to live, as it has less pollution and traffic, and there are beautiful parks around.
Bandung is also an educational centre, with about 50 higher education institutions. Its economy relies heavily on tourism, textile, and retail. Bandung's shopping centres houses famous international clothing brands and restaurants.
---