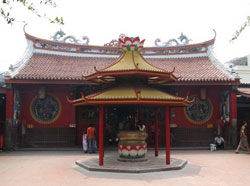 West Jakarta is a city in Jakarta well known mostly for its busy Chinatown. It has its share of restaurants and videoke joints as well.

West Jakarta is a culturally diverse and vibrant part of Jakarta. A great tourist spot is the Skyrink, a number of ice skating rinks. An ice skating rink can also be found in Taman Anggrek mall, popular for shopping and passing time.

Jakarta's Chinatown, otherwise known as Glodok, makes up most of West Jakarta. Once a Chinese ghetto, it has developed over the years and is now home to thousands of small businesses. It is full of traditional markets and hawker stalls that are alive with activity. Glodok also has ancient temples such as Vihara Dharma Bhakti that give residents a spiritual sanctuary from the money making world outside its temple walls. The area was also the site of horrible bloodbaths that took place not only in 1740 but in the may 1998 riots, where thousands of nationals, many Chinese, were massacred.
West Jakarta has some interesting cultural sites such as the Puppet Museum and Jakarta History Museum. There are a number of old interesting buildings as well, such as the Chinese Langgam building, Toko Merah building, and the Angke Mosque.
Jakarta Old Town
Jakarta Old Town, or old Jakarta, was once Indonesia's commercial centre which flourished during the Dutch rule. The city is a heritage area with notable historic sites to explore such as the Batavia fortress, and the Freedom Square where Soekarno's national monument stands. The historic buildings of Old Jakarta are reminiscent of past Dutch rule, though some of them are abandoned and deteriorating.
At the north of the monument is the older part of Jakarta, the Kota area where the Dutch settled. There are several museums here, the most important being the Jakarta Historic Museum, which houses 17th century Batavian art. The old port of Jakarta is in Sunda Kelapa.
Jakarta Old Town has a serious traffic problem and revitalization plans included the building of pedestrian areas.
---