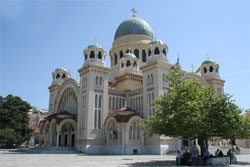 West Greece boasts stunning beaches along its Ionian coast.

During the hot dry summer, it is a good place for water sports and mountain climbing. In winter, snow blankets the mountains of Erymanthus, Panachaicus and Aroania. The area has a milder climate than most of Greece.

The capital of West Greece is Patras. Known as Greece's Gate to the West, Patras is the country's third largest urban centre, famous for its colourful spring carnival. The city is very supportive of local performing artists and writers. It has a large population of students and scholars, with a technological institute and two public universities.
There are no particularly famous sites in West Greece, but like the rest of the country, it has its share of cultural treasures. There's Aigio, one of Greece's oldest cities, and the town of Amaliada, where you can find Elis, an ancient Olympic Games venue.
Achaea
Achaea (Achaia) has high mountains, lush forests, and deep gorges. Villages dot the mountains and along the coast. Popular tourists resorts occupy the beaches. There is a wide range of hotels, shops, bars, restaurants, and water sports facilities around. The region's main skiing area is Helmos. The beaches of Monodendri are the most suitable for swimming, and the resorts in Akrata receive the most number of visitors. Organized camp sites are located in the coastal and inner areas.
Patras
Achaea's capital is Patras. It is divided into two sections. The more charming neighbourhoods are in the upper castle section, while the city's well-planned squares, parks, and public gardens are in the lower section.
       
Patras has some interesting architecture. The massive Cathedral of Saint Andrew rises over the lower area. The ancient Roman Odeon is well-preserved and holds concerts and performances of ancient Greek plays.
The least attractive side of Patras can be found in the neglected coastlines, due to lack of planning. In some areas, there are businesses that operate without permits.
Colourful festivals and masked balls in the streets are often held here. It is also known internationally for its wine, produced by the Achaia Claus Winery.


Elia/Eliai/Elis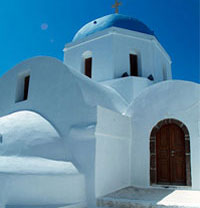 Elia has beautiful sandy beaches, rivers, and forests. The therapeutic springs in Kylini and Kaifa are well-known in Greece. Traditional houses, taverns and hostels are scattered throughout the small region. It also features a few ancient ruins, Byzantine monasteries, old stone bridges, and traditional watermills.

Pyrgos is Elia's capital. It has a port for large cruisers and a very modern and efficient marina.
Olympia
Olympia, known as the site of the first Olympic Games, is famous for its ancient ruins, including one of the earliest temples in Greece, dedicated to Hera.
The town is surrounded by mountains and forests. The neighbourhoods are filled with whitewashed houses with tile roofs. There are many bars, restaurants, and hotels. Many shops cater to tourists, selling jewellery and mass-produced statues. The town has a railway station and tour buses.
Aetolia-Acarnania
Aetolia-Acarnania is a mountainous prefecture connected to the Peloponnese by the modern Rio-Antirio Bridge. It has many scenic lakes and reservoirs. Athens benefits from its abundant water supply. Its capital, Messolonghi, is its largest and most populated town.

Its second largest town, Nafpaktos, is more picturesque. Lovely residential homes line the coasts. Many modern cafés and restaurants are found on the beach and its beautiful harbour. Within the area are many farm lands.

Aetolia-Acarnania has many schools, libraries, and sports facilities.
---