West Delhi offers every modern convenience. A popular area, it has a variety of inhabitants, some rather wealthy. Many luxury hotels are found here.
Rajouri Garden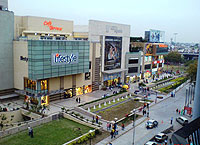 Rajouri Garden is home to many Punjabi Hindus and Sikhs. A residential neighbourhood popular for its markets, it has modern and attractive malls, with plenty of parking, just by the metro station. These malls have really boosted the neighbourhood.
Punjabi Bagh
Punjabi Bagh has some of Delhi's most upmarket properties. Its exclusive Punjabi Bagh Club offers sports facilities plus a bar and restaurant. Punjabi Bagh has lots of restaurants, health clubs, banks, and other establishments. Some of Delhi's most prestigious schools are here, plus some specialty hospitals.
With a good bus service and roads, there's easy transport to different areas of Delhi. There is a metro station just 3 kilometres away.
---